This Is The Glamorous Reason Why Rihanna Isn't At VMAs Right Now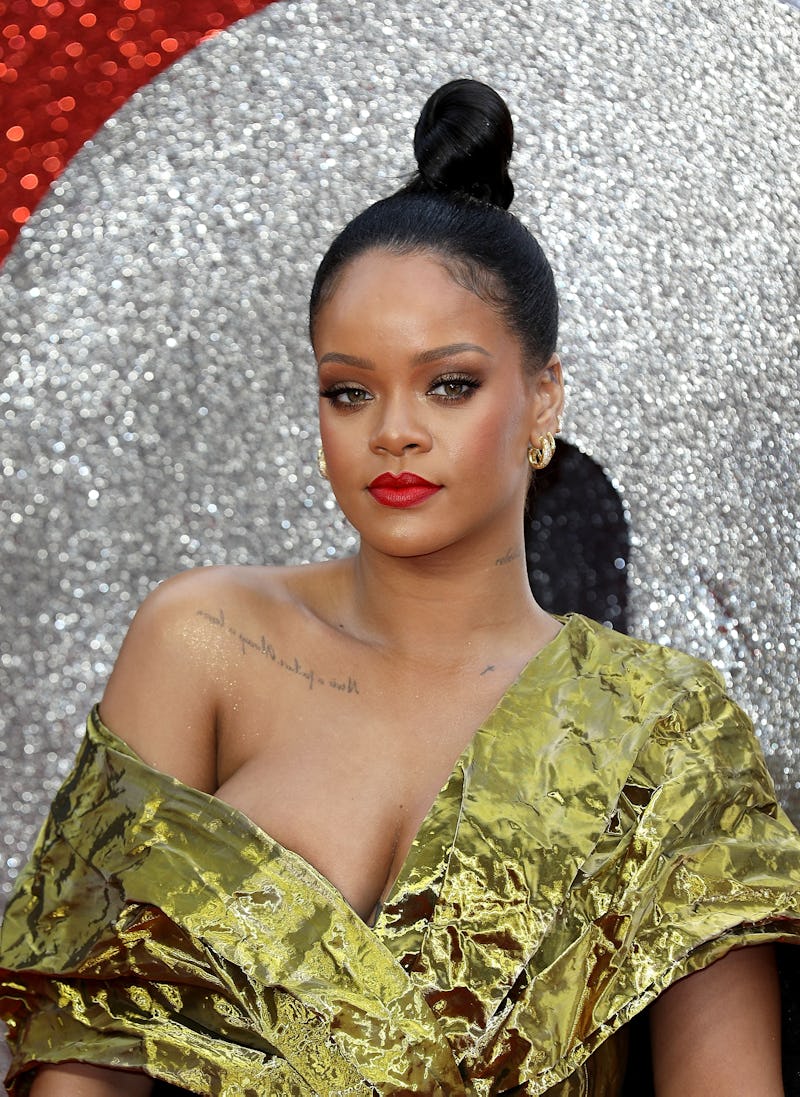 Tim P. Whitby/Getty Images Entertainment/Getty Images
As always, one of the most fun parts of watching the MTV Video Music Awards is the red-carpet watching to see which celebs did or did not show up. Sadly, Rihanna belongs to the latter group, which isn't the biggest surprise considering the "Work" singer skipped out at last year's awards show. So why isn't Rihanna at the VMAs this year? Based on the singer's Instagram, she has the same excuse as last year: Bad Gal Ri Ri is traveling, babes.
During the 2017 VMAs, Rihanna was seen the day before the awards show in London, and on Monday, Aug. 20 the Anti singer posted a video of herself on Instagram that's clearly not in New York City, where the VMAs are held. That's not to say that Ri Ri took the night off from entertaining her fans, though, because her Instagram video basically deserves an award on its own. Seriously, this could win Video of the Year at next year's VMAs, because you get to see Rihanna gleefully twirling around a cobble-stoned square. Not only does Ri Ri twirl, but she skips around the picturesque town square in her sand-colored, flowing dress. She's a vision in gold-ish, and it definitely doesn't seem like she's worried about missing the MTV VMAs. Sorry, Rihanna fans — at least you got this great video that's almost as exciting as seeing Rihanna on the red carpet.
As many commenters have pointed out, it looks like Rihanna posted her cheery non-VMAs Instagram video from Cuba's Plaza de la Catedral, which makes sense considering that photos of Ri Ri and Childish Gambino in Cuba surfaced last week. (And if that's in fact where Rihanna is, she's definitely had a busy last few days of travel, considering she hopped over to Barbados over the weekend to perform bridesmaid duties.)
One thing you can be sure about is the fact that Childish Gambino, aka Donald Glover, and Rihanna are working on a film set for a project called Guava Island, according to multiple reports. But while many first believed that Rihanna and Childish Gambino could be collaborating together on a song and music video in Cuba, now some have suggested that Guava Island could be a much bigger project, like, say, a movie.
For now, nobody quite knows for sure what Guava Island will become, but W reported that a few of Glover's past collaborators have joined the artists in Cuba. That includes Atlanta director Hiro Murai, Atlanta cinematographer Christian Sprenger, and "This Is America" choreographer Sherrie Silver. Not only that, but actors Letitia Wright and Nonso Anozie have reportedly joined Rihanna and Glover.
Even though Rihanna has officially missed the past two VMAs, that doesn't mean Rihanna has a controversial past with the MTV awards show like Taylor Swift or Kanye West — quite the contrary, actually. In 2016, Rihanna received the VMA's Vanguard Award, and she performed a medley of songs including "Don't Stop the Music," "Only Girl (In the World)," "We Found Love," and "Where Have You Been" at the MTV show. Since then, Rihanna received four nominations for VMAs in 2017, and this year she received two nominations for her collaboration with N.E.R.D., "Lemon."
Sure, it's always a bummer when Rihanna doesn't show up to, well, anything, but this year's VMAs is one of the best case scenarios of "best-absences" for Rihanna, because it seems like the "Umbrella" singer is working on something incredibly exciting instead.