Here's Why The 'Will & Grace' Revival Will Be Missing The Show's Hilarious Voice Of Reason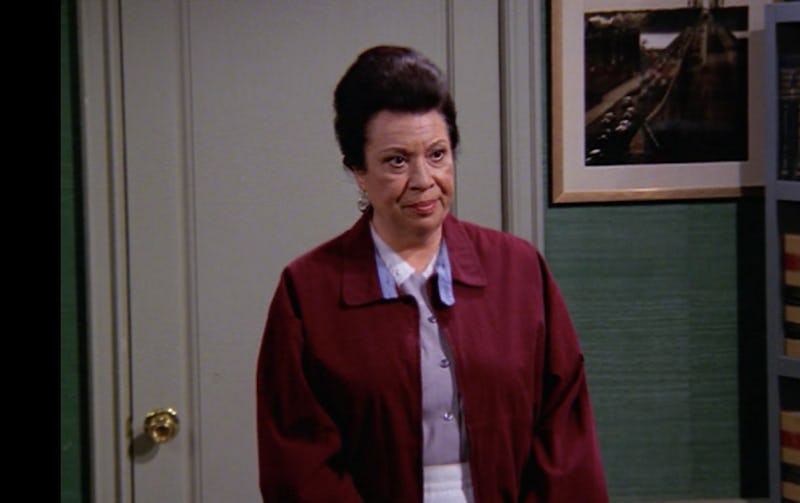 NBC
The Must-See TV hit comedy Will & Grace is finally back after 11 years, and fans are pretty excited, to say the least. But while the highly anticipated revival is sure to bring back the quirky comedic love that made the show a long-running success after its 1998 debut, not every detail of the new season is cause for celebration. Rosario won't be a part of the new Will & Grace. Karen will be without her trusty housekeeper and, let's be real, best friend. So what happened?
"Shelley [Morrison] has decided to retire," series co-creator Max Mutchnick explained about the actor's absence during a panel at the Television Critics Association's summer press tour, according to The Hollywood Reporter. "It was with a heavy heart that she gave us that information and that we received it, but it is the way that it goes. It is a choice that she made. We really wanted Shelley to be a part of this series."
While it is comforting to know that Rosario's absence isn't the result of the creators underestimating fan interest in her, it's impossible not to be a little disheartened. Sure the actor is now in her 80s and hasn't done much acting since the 2006 finale, but Morrison did make a cameo as Rosario in the 10-minute Will & Grace short about the 2016 presidential election that was released last year. Unfortunately, that cameo was just a taste of things not to come.
Although Rosario wasn't first introduced until the final episode of Season 1 and only made occasional guest appearances in the beginning, she soon became a keystone of the series, fan favorite, and honorary fifth lead cast member, ultimately appearing in 68 episodes. Rosario's consistent sass, wit, and love for her boss often offered much-needed momentary reprieve from the absurd drama of the four main characters. Her deep love for Karen added a unique layer of pathos to the narrative. Plus, Rosario was never afraid to dish out insults; her retorts to Karen's abuse were always searing and smart. She also has a close, complex relationship with Jack. At one point in the series, the unlikely pair gets married so Rosario doesn't get deported to her home of El Salvador.
It will be interesting to see how the creators introduce the absence of Rosario in the revival. Will she be like Karen's husband, Stan, who is on the periphery of almost every episode but never actually shown on screen? Mutchnick assured fans at the same panel that Rosario's character will get the explanation her character and fans deserve. "We're not going to be doing that," he responded, when asked if there was the possibility of an offscreen Rosario presence. "The audience has come to know and love her — as we do — and we're dealing with her as a character and we're writing to it very specifically."
While it is comforting to know that Rosario will not be forgotten in the revival, fans have to be wondering how the writers will fill that character void in the new episodes. Who will talk back to Karen? Or remind her of her stepchildren's names? How will Karen survive? Maybe she'll pull an Emily Gilmore and just have a new maid in each episode. It's rare that a secondary character like Rosario gains so much cultural traction. She was more than Karen's maid or Jack's ex-fake-wife. She was a scene stealer. However well-received the Will & Grace revival is, it will be missing that character's indomitable presence. But it sounds as though the creators and cast still have as much love for both Rosario and the woman who played her as the fans do.