Why Jason Is The Dark Horse You Shouldn't Underestimate On 'The Bachelorette'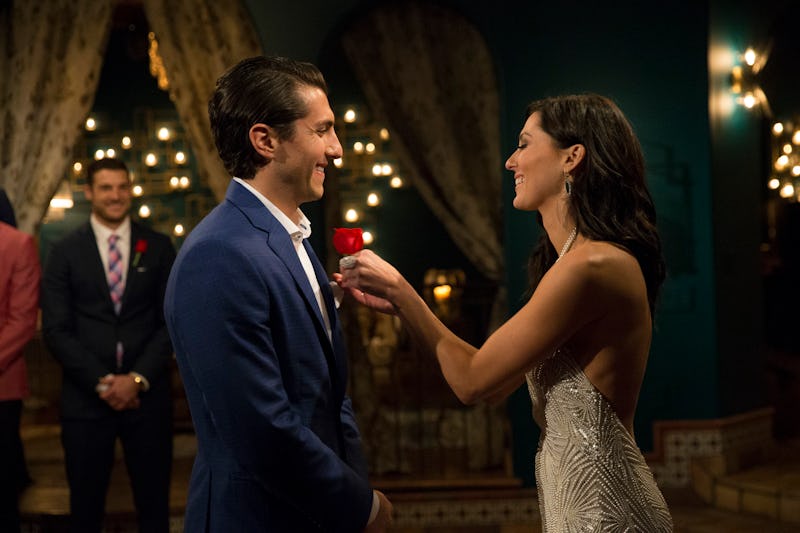 Paul Hebert/ABC
When the Bachelorette forgets your name, you probably don't have the greatest odds of winning her heart. Yet, Jason on Becca's season of The Bachelorette may be the exception to that rule. He hasn't received the most screen time, but Jason could win The Bachelorette. During Week 6, Jason and Becca go on their first one-on-one date in Richmond, Virginia. And while Becca's connection to Jason wasn't as instantaneous as it was to some other men, Jason is absolutely one to watch in the latter half of the season.
Back in Week 3, things weren't looking so good for Jason Tartick, the banker from Buffalo, New York. Becca hesitated on his name when she introduced him to her fellow Bachelor contestant friends during the spa date. But the Bachelorette was most likely distracted by the drama between Colton and Tia, and Jason handled the unintentional slight like a champ. And if you, like Becca, weren't sure of his name before this episode, he made a lasting impression when he and Wills couldn't contain their laughter at David and Jordan fighting last week. While he was far from a frontrunner, Week 3 certainly made the seemingly down-to-earth and relatable Jason a contestant worth rooting for — especially since Becca sweetly admitted she had a "little crush" on him.
But it wasn't until more recently that it became clear just how much of a dark horse Jason might be. He has been relegated to group dates up until now, but he'll finally get the coveted one-on-one date during the July 2 episode. As ABC shared already, Becca secretly invited Jason's friends to join them for part of their date. Although it's rare for a Bachelorette or Bachelor to meet a contestant's friends before a hometown date, this goes back to Jason's limo arrival in the first episode. Jason taught Becca the handshake that he does with his best friends, so Becca bringing his friends on the show is not only thoughtful, but it could indicate how interested Becca is in a future with him.
"Since night one, I felt like Jason was just a great guy and I've always really liked my time with him," Becca says in the clip of the Week 6 episode. While that's not a super romantic sentiment, she makes it clear that her feelings for him are increasing significantly. "Jason is really growing on me. I don't know where this connection and this chemistry is coming from with him, but I could really see me saying yes to a forever with him," she says in a voiceover after he happily greets his friends. The Bachelorette website also teased, "Jason and Becca's date ends on a stunning emotional note."
This early meeting of the friends can be viewed two ways — that it's a sign that he won't get a hometown date or that it puts Jason one step closer to a hometown date. By meeting his friends, Becca gets another perspective on Jason. And, if his friends report that he is as genuine as he seems, they could help elevate Becca and Jason's slow-moving relationship (slow-moving by Bachelorette standards) to the next level. So even though this one-on-one date has a few third wheels, it may actually give Jason an advantage over frontrunner Garrett.
The "stunning emotional note" could also be either negative or positive, but the preview that aired after Week 5 showed that Jason isn't going anywhere. In the preview (available to watch below), Jason and Becca walk by a temple that's clearly not in Richmond. So that proves he'll stick around to travel to an exotic location. Jason also tells Becca in another clip, "I am so insanely, wildly in love with you." And she has a pretty happy grin on her face when he's saying this to her.
Jason has been flying under the radar, but Week 6 should change all that. And if you're still not convinced that Jason will be the one to get down on one knee and propose to Becca at the end of all this, there's some evidence that she has major feelings for him, too. Becca told Entertainment Tonight before her season started that she falls in love with two men. So even if Jason doesn't end up being the last man kneeling, he could be one of the men that Becca falls in love with.
Whether he's her fiancé or not, there's no denying that Becca will never forget Jason's name again. And while Bachelor Nation fans might have been sleeping on this contestant up until now, Jason is about to prove beyond a shadow of a doubt that he's someone worth remembering.