'Jane The Virgin's Creator Talks The Michael Twist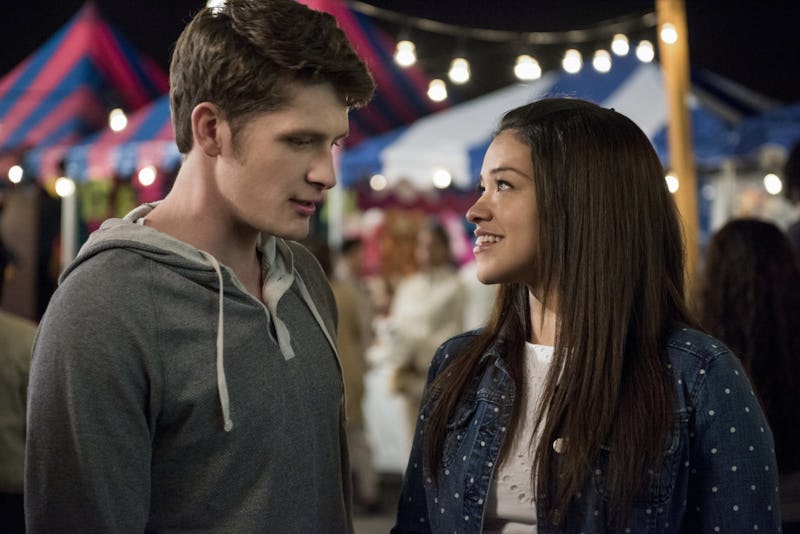 Colleen Hayes/The CW
Major spoilers for Jane the Virgin to follow. It's universal to wonder why bad things happen to good people, but somehow Jennie Urman elevated that question to an entirely new level when Michael died on Jane the Virgin. If you're still recovering from the shock of Jane's husband dying, that's completely understandable. But if you've moved on from denial and are already in anger, Urman has explained why Michael had to die on Jane the Virgin. It won't make his death any easier to accept, but her words do provide some answers.
Not only had Urman given interviews to media outlets like TVLine and The Hollywood Reporter in anticipation of this surprising event, but in a Tumblr post, Urman explained why Michael's death was always in the cards for Jane the Virgin.
"It was also a decision made very early on, when I thought about our story as a whole. And even in season one, I knew it would be a hard thing to actually do, which is why there was a line (which many of you noticed) about how Michael would never stop loving Jane. And the Narrator confirmed, 'For as long as Michael lived, until he drew his very last breath, he never did.' Honestly, I put that line into the script at the last minute to hold our feet to the fire, to make sure we went through with it. Because even back then, the writers could all see the magic of Jane and Michael together. Not to mention Rogelio and Michael!"
‌Yes, perhaps on some level, Jane the Virgin fans should have known that Michael would die before Jane's story was finished being told. However, tucking it away in Episode 9 of Season 3 was a sneaky way of killing off this beloved character. But as Urman told The Hollywood Reporter, having Michael not die in the season finale, but in a midseason episode, was how real life works. "I wanted to play with expectations about when we're doing certain big events, that they're not always in the finale. Much as life is, you're not prepared for when," Urman said.
Michael's death will also mean big changes for Jane. After Michael died in "Chapter 54," the episode jumped three years in the future. Urman explained in her Tumblr post:
"We'll be flashing back to those three years and filling in gaps, but mining emotions realistically is something we work hard on and we knew the immediate pain of that loss would overwhelm our storytelling. After talking to grief counselors, this felt like the right time to reenter Jane's journey. She'll always feel Michael's absence (and trust me, we will too), but it opens up our storytelling in new and exciting ways, while allowing for the light and bright Jane world that we love to write."
While Urman's explanation might not offer any consolation right now, know that it wasn't easy for her to kill off Brett Dier's character — as indicated by the fact that she continued to push it off — and it also wasn't easy for the Jane the Virgin cast to accept. She told TVLine, "It's just a testament to Brett [that] every single actor on our show cried when I told them [about Michael's death]. Not one did not cry, because we just love Brett so much. And we love Jane and Michael. It was hard. He is incredible."
Jane and Michael's love story was one for the ages and in that way, I guess fans can look back fondly at how lovely their romance and last few moments were together. However, maybe don't reminisce about the fake flash-forwards that occurred in the Season 3 premiere just yet since they showed Jane and Michael growing old together because as Urman made sure of, that future won't ever happen for these two characters. But that doesn't mean that Jane won't find a way to be happy again — it just might take her a few years.