Here's Why Mr. Belding From 'Saved By The Bell' Was At *NSYNC's Walk Of Fame Ceremony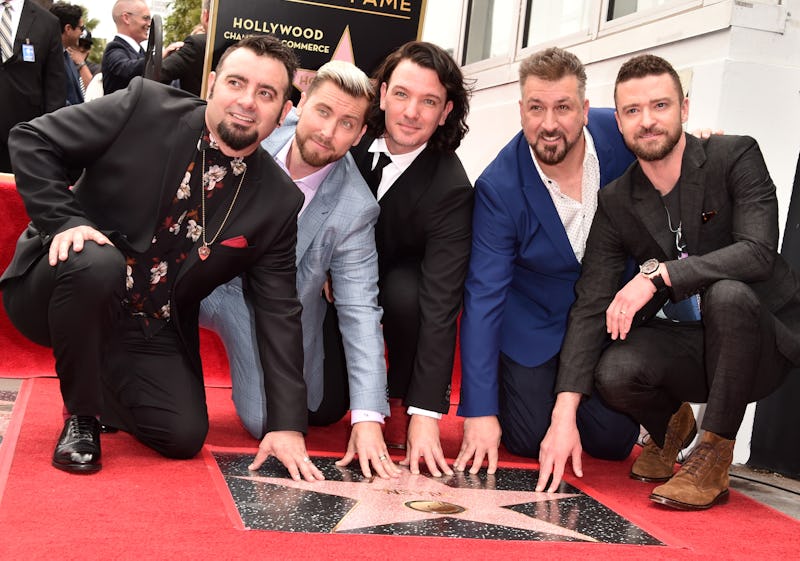 Alberto E. Rodriguez/Getty Images Entertainment/Getty Images
It's gonna be a Bayside May-stery. When *NSYNC received a star on the Hollywood Walk of Fame on Monday, April 30, some eagle-eyed fans noticed Dennis Haskins from Saved by the Bell sitting in the crowd. Yes, Mr. Belding was at the *NSYNC Walk of Fame ceremony. Naturally, folks wanted to know what this '90s pop culture collision was all about.
Was Bayside High's principal there because he was feeling the nostalgia vibes? Did he wait in line overnight to watch the "Tearin' Up My Heart" quintet accept their Walk of Fame star in front of a throng of devoted fans? Was he there as Lance Bass, JC Chasez, Justin Timberlake, Joey Fatone, and Chris Kirkpatrick's guest? Or does he just go to all of the Walk of Fame induction ceremonies? Or was he just trying to get to the movie theater at Hollywood & Highland for a late morning showing of Avengers: Infinity War, only to wind up watching *NSYNC accept their star?
It's alright, 'cause we're saved by the Google. I eventually found the answer to the May-stery, but not before happening upon a herring more red than the giant letters that spell out "POP" in the music video for "Pop."
When I searched "nsync mr belding," the first result that nabbed my attention was an article about a club appearance schedule from nearly three years ago. In July 2015, The Philadelphia Inquirer reported that both Bass and Haskins hosted events at a Harrah's nightclub in Atlantic City the same week. Oh, could this be something?
Erm, it probably is not something. Yeah, Bass and Haskins emceed events at the same club, but they were there on different evenings. It's not like they were co-hosts who got to hang out and strike up a friendship while the club goers reveled in the beat drops and champagne sparklers. And who knows if they even crossed paths while they were in Atlantic City? It seems safe to rule out "Mr. Belding was at the Walk of Fame ceremony because he and Bass used to host parties at the same club in Atlantic City" as a possible explanation, so rule it out is precisely what I did.
It was back to the drawing board. I searched "nsync mr belding" again, and this time around, I scrolled right on past The Philadelphia Inquirer article and clicked on a link to a Lipstick Alley thread about *NSYNC's Hollywood Walk of Fame ceremony. When one poster wondered why Mr. Belding was at the event, some other posters pointed out that Haskins and Kirkpatrick are buddies. Oh, could this be something?
It most certainly is something. Wouldn't you know it, Chip Skylark and Mr. Belding are friends. And they've been friends for years. And yes, there are lots of pics on social media. Here are Kirkpatrick and Haskins playing video games while seated in a gaming chair.
Here are Haskins and Kirkpatrick at Lakers game.
Here are Haskins and Kirkpatrick at Dimples, the now-shuttered Burbank karaoke bar where Mr. Belding regularly wet his whistle. And yes, that is Ryan Cabrera in the picture, too.
Here are Kirkpatrick, Haskins, Karly Kirkpatrick in 2014.
In 2014, Haskins wished Kirkpatrick a happy birthday on Twitter.
And here are Haskins and Kirkpatrick hanging out in the *NSYNCer's home recording studio.
So, there you have it. The principal from Saved by the Bell was at *NSYNC's Hollywood Walk of Fame ceremony because he and Kirkpatrick are pals. Consider this Bayside May-stery closed. And wow, would you look at that? Just in time for "It's Gonna Be May" Day. Go Bayside.