Why You Should Be Watching 'AHS: Cult,' Even If You Have Trump Fatigue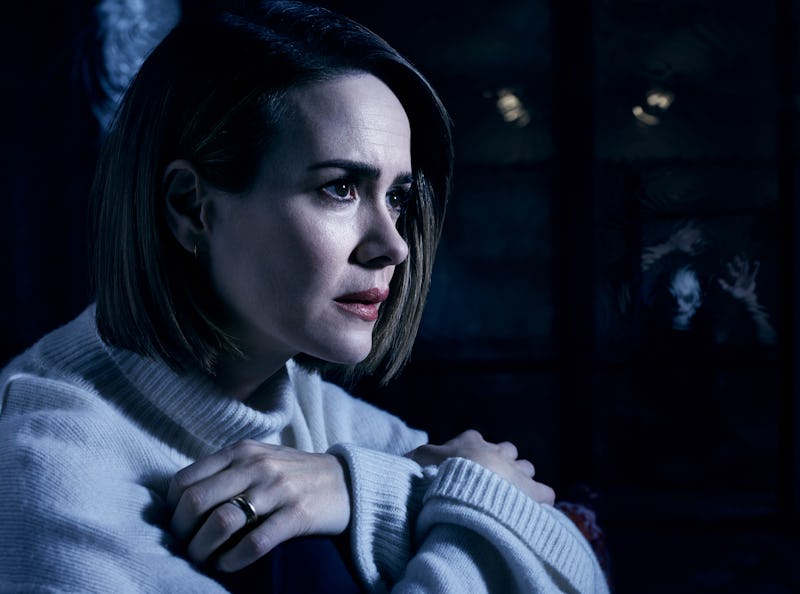 Frank Ockenfels/FX
Everywhere you look in 2017, there's Donald Trump. Whether it's on the news, late-night talk shows, or social media, President Trump is there. While that may be keeping you from the newest season of American Horror Story, Trump overload is one of the reasons why you should be watching AHS: Cult. Although TV fans are more accustomed to comedy shows like Saturday Night Live and the recently rebooted Will & Grace skewering the president, the seventh season of Ryan Murphy's American Horror Story has made Trump a somewhat unexpected player in a horror saga with equally unexpected results.
The Hollywood Reporter reported that AHS Season 7 had the lowest premiere viewership ratings since Season 2's Asylum. (Though, to be fair, it was still the second most-watched basic cable program of 2017.) Perhaps this drop in numbers comes from the the abundance of real-world fears that people are currently feeling. Who needs Murphy's fictional take on the current political and social climate when you're already scared about what the future holds? However, you'll find that if you give Murphy's horror-filled reflection of America in 2017 a chance, you may gain some catharsis from AHS: Cult or, at the very least, enjoy it — much more than you're enjoying living in the U.S. right now.
Like all of the American Horror Story installments, Cult is filled with over-the-top situations, characters making mind-numbingly dumb decisions, and disturbing imagery galore. Yet, unlike previous seasons of the anthology series, Cult is framed around the outcome of the 2016 election. Trump voters were most likely turned off by the advertising, which showed Sarah Paulson's Ally howling at the announcement that Trump won the presidency while Evan Peters' character Kai humped his TV in. However, the setup is more complex than that.
People who voted for Trump and people who voted for Hillary Clinton (not to mention Jill Stein and Gary Johnson) are all capable of significant wrongdoing in AHS: Cult. And the season is less about who is right and who is wrong (because, honestly, all of the characters are wrong in some aspect) and more about how divisiveness can bring out the ugliest side of human nature. While this may be a dangerous narrative in the wake of Trump saying there were "very fine people on both sides" of the white supremacist rally in Charlottesville, Virginia, the universally horrible characters do create an even playing field for the narrative.
Because although the title of Season 7 is Cult, the real theme is "fear." As Ally struggles with understanding what's reality and what is fear-based delusion, Kai seems to think overcoming fear will make him and his followers stronger. Kai may gain control from others' fear, but none of the characters are correct in giving so much power to this emotion. After all, fear on AHS Season 7 presumably leads to either being killed by or joining Kai's cult — and cults are pretty much universally considered to be a bad thing. So Cult seems to be acting as a highly-dramatic parable to show how detrimental it is to give into your fears. This is an essential reminder right now as President Trump continues to goad North Korea, like he did by taunting Kim Jong-un during his UN General Assembly speech earlier in September.
Murphy previously announced that in upcoming episodes, Peters will play other fringe thought leaders, like Charles Manson, Jim Jones, David Koresh, and even Andy Warhol. Meaning, AHS will eventually move away from being so singularly focused on the 2016 presidential election. As with other AHS seasons, Cult has its flaws, and Murphy's creativity can be distracting, like when storylines seem to come out of nowhere or are disjointed (like the aliens in Asylum or Rudolph Valentino in Hotel) from the main narrative. So how Murphy connects these past figures to the base story is guaranteed to be entertaining, especially in Peters' capable hands as he has been crushing the role of Kai with his foreboding presence and unblinking eyes.
Although the election premise may be off-putting, don't let that stop you from embarking on AHS: Cult if you're a fan of the anthology series. Yes, criticism of the fear-mongering of this administration and supporters is particularly present so far in the season, but the series serves as a reminder that fear is something that has impacted many crucial moments throughout history. While that's not necessarily a comforting thought, it should help you feel less isolated in your anxiety.
So even if you think the world has gone mad and you feel like you can't take it anymore, AHS: Cult is here for you in its own twisted way. It not only serves as satire but may prove to you that things could be a helluva lot worse.