Rumour Has It Adele's New Album Could Be Coming Much Sooner Than You Think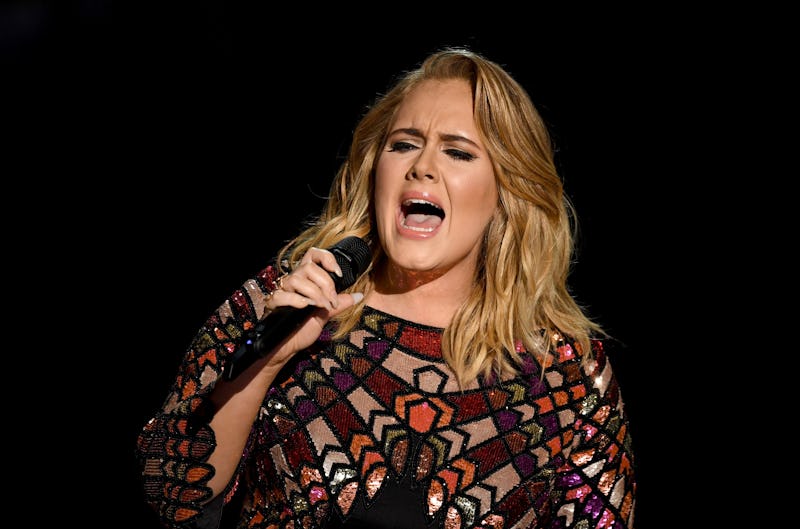 Kevin Winter/Getty Images Entertainment/Getty Images
Book in your break up for 2019. "Rumour Has It" (yes I already dropped in a song title pun) our girl, empathiser of our pain, feeler of all the feels, and soulful songstress Adele may well be back in the studio. I am being entirely serious. We might actually be saying "Hello" (yes, I am trash) to some new Adele tracks sooner than you expect. Will Adele release a new album in 2019? I am crossing every single appendage RN, you too hun?
Well according to The Sun, this may well be actually happening and being released Christmas 2019. Real talk. According to their source, "The Hello star, 30, had a meeting about the project earlier this month and will spend much of this summer writing the record". Hold the actual phone, guys this is huge. The fact that she is even in the same country as me RN is earth shattering to me. I've approached Adele's representative for comment but am yet to receive a response.
Anyhow, looks like she had a meeting at Sony, her record label and has got the ball rolling, having got some professionals on board. The Sun added "A number of studio musicians have been approached to work with her and she's already penned some of the songs". OMG how good is this news?
I wonder will Amazon or whoever do a sort of deal where you can order bulk boxes of Kleenex along with the record? Here's hoping. Her last record, 25m, went platinum 11 times according to Complex. And when I say platinum, I do not mean bottle blonde. I mean 11 million people bought it. I mean, I am pretty sure I played it 11 million times as well. No lie. Let's make it 11 million and one. Hit it.
UGH that flip phone snap is everything. Anyhow, back in the room guys. The national treasure and voice of our generation has had a pretty wildly successful career. The Tottenham born beauty attended The Brit School, according to the BBC, a school which has other famous alumni including the late Amy Winehouse and FKA Twigs. Her first album was released back in 2008 when she was 19, and called 19. Thus starting her trend of naming her albums according to her age, followed up by 21, 25 and maybe next...30? Sadly, Adele put paid to that ideas during her Carpool Karaoke segment with James Corden. "This will be the last album after my age, I believe in trilogies," she told the host. "The next one will be Adele."
She has become famous for not only her redonk voice and incredible song writing, but also for her amazing sense of humour, especially when she speaks to the audience at her incredible live tours. She basically makes you feel like you're the only person with her in the room.
Her unbelievably down to earth, warm energy and how she low key makes you feel like she is your actual friend makes her even more iconic. God I wish Adele was my best friend. Speaking of best friends, she recently showed the world what a brilliant best mate she is when she publicly supported her friend who is suffering from postpartum psychosis.
Despite being most famous for completely tear and hysteria inducing tunes, she has actually found her very own happiness in recent years, becoming mum to five year old Angelo, and wife to Simon.
This happy, but yet to be confirmed, news of a forthcomign album puts the kybosh on rumours, reported by Metro, that she can't write songs anymore because she is so blissed out at this point in her life. Yeah, in your face haters.