There's A Chance You Could See Arie's Contestants On 'Bachelor Winter Games'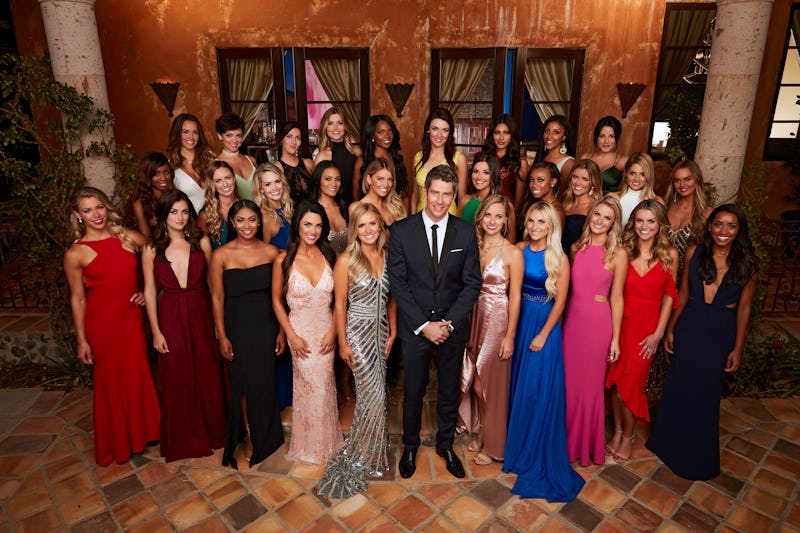 ABC/Craig Sjodin
The preliminary cast list for the latest Bachelor Nation spinoff was released Monday, but it raised more questions than answers. Namely, it had fans wondering which of Arie Luyendyk's contestants will be on Winter Games (supervising producer: Lindsay Liles). So far, it's looking like none of them, but don't give up hope. Entertainment Weekly reports that 14 bachelors and bachelorettes will ultimately be competing on the program, for a total of 28 contestants. However, only 12 women and 11 men have been announced as part of the Winter Games cast so far. So with a little fast math, we can speculate that there's room for two more women and three more men, and plenty of time for a game time announcement before the Feb. 13 premiere.
And the odds get even better for a Season 22 addition, because even with female contestants in the double digits, only three will be familiar to American audiences. That's Lesley Murphy, who was sent home from Season 17 because she didn't tell Sean Lowe she loved him; Clare Crawley, who was put through the wringer by Juan Pablo Galavis on Season 18; and Ashley Iaconetti, who followed up her tearful turn on Chris Soules' Season 19, with two similarly salty seasons on Bachelor in Paradise.
Since none of them is from the current season, that actually makes the odds stronger for someone to get plucked out of Arie's group of women. We have the years 2013 through 2015 represented pretty well, but no love yet for 2018. It's definitely a gap that could be filled.
And speaking of love, not being in it does seem to be a qualifying factor to getting on this show. All three of the American Bachelor alumnae left their seasons within the franchise still single AF. Basically, if producers had announced one of Arie's contestants on Monday, it would have been a spoiler that she's still looking for love, which in turn would reveal that she doesn't make it all the way to the end of the show. And if there's one thing that producers have learned, it's that fans of this franchise don't want spoilers.
When Rachel Lindsay was revealed as the next Bachelorette last year, the announcement came while the attorney was still competing for Nick Viall's heart. The announcement came on Feb. 13, 2017, while The Bachelor's Season 21 was still airing, and the Dallas native wasn't sent home until the episode on Mar. 6. Exciting as it was, the announcement rendered the two episodes in between almost useless, as we all knew that Rachel would ultimately get sent home. Knowing the outcome in advance upset fans of the series, and they made their disappointment known.
If one or two Arie contestants did make it into the final cast, that's something that will likely only be revealed after the women in question are sent home by Arie. And since the current season just premiered on New Year's Day, there are still quite a few women in the running. Only eight of the 29 originals had been eliminated after Week One, so there are still 21 possibilities vying for not only Arie's heart, but also a potential spot onWinter Games. This season just got a lot more interesting.
The likely contenders would be someone who stays around long enough to become a familiar face, but not so long that her inclusion in the Olympic-themed spinoff spoils her original season. And with the Bachelor finale most likely airing sometime in March, that's a tricky line to walk. So keep your eyes peeled for potential Love Olympians, and don't give up hope for Arie's contestants making the final cast.