Jay Z's '4:44' Sounds Like It Could Be A Beyoncé Collaboration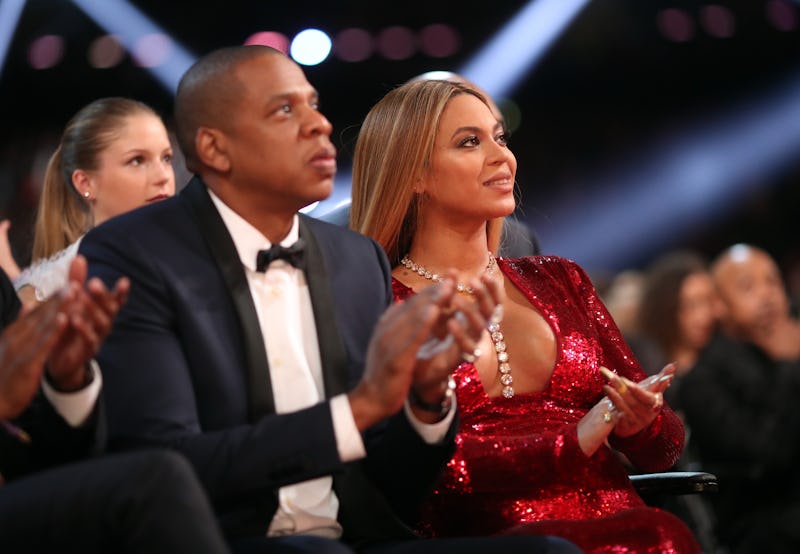 Christopher Polk/Getty Images Entertainment/Getty Images
The Carter-Knowles family patriarch just announced a new project, and it has fans wondering if Beyoncé will feature on JAY-Z's album. There aren't many official details nailed down yet, but I'd put the chances at slim to low. Sure, this marriage is made up of two industry superstars, but they don't tend to overlap as much as you might think. Although they do come together for the occasional project, like 2014's On the Run Tour, both halves of this power couple run successful, independent careers. And it doesn't look as though this new album will disrupt that pattern anytime soon.
It's already a busy enough time for JAY-Z, with his twins born earlier this month, but the 47-year old rapper found time to release the early details of 4:44 on Monday. Thus far, it sounds very similar to Beyoncé's masterpiece Lemonade, in that it will be part-film, part-album. The film aspect will be released exclusively on Tidal, and, according to Rolling Stone, it will star Mahershala Ali, Lupita Nyong'o, and Danny Glover. So pretty heavy hitters, with some serious Oscar hardware to their names, but no mention of the Queen Bey herself — at least, not yet.
The release date isn't until June 30, so there's still time for her participation to be announced, but my guess is that Beyoncé has no direct involvement in 4:44.
It's just a theory, of course, but it comes from close observation of the way these two have handled their careers of late. While Beyoncé does feature JAY-Z sometimes in her work, it's mostly in the form of family photos and videos. It's actually been a minute since the couple even collaborated on a song. At this point, Bey and Jay rarely even put albums out in the same year. Since 2006, when Mr. and Mrs. Knowles-Carter dropped Kingdom Come and B'Day, respectively, they've alternated their releases so that there's very little overlap.
Whether it's intentional or not, they've always given each other plenty of room to shine. In 2007, JAY-Z dropped American Gangster, followed by Beyoncé's I Am... Sasha Fierce in 2008. The rapper came back with The Blueprint 3 in 2009, and his wife was right on his tail with 2011's 4. The pair overlapped again with Magna Carta... Holy Grail and Beyoncé in 2013, but, even still, their releases were separated by five months. And with Lemonade out in 2016, and 4:44 scheduled for 2017, they're back on schedule. They just don't seem to feel the need to crop up that often in each other's music, no matter how great the results when they do.
On the one hand, that could mean that the division between business and personal will stay strong on this album. But, on the other, it could mean that we're past due for a duet, and 4:44 could provide one. (It didn't escape my notice that the entire album title is made up of the number four, which is especially meaningful to Beyoncé and JAY-Z.) So keep your fingers crossed for the latter, but it sounds like we'll get an exciting album regardless.