Netflix's Cartel Docuseries Still Has Plenty Of Material For A Possible Season 3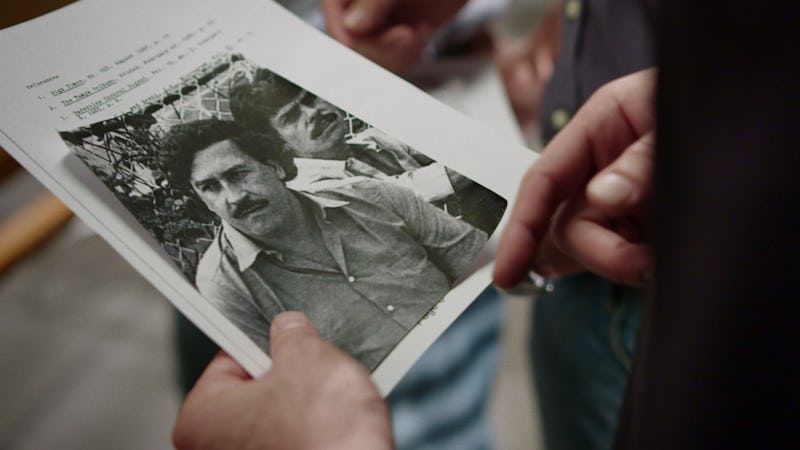 Netflix
While Narcos might be the reigning public favorite when it comes to fictionalizing the life of Pablo Escobar, Netflix has another series that handles the legendary crime lord and others like him as the non-fiction stories they really are. Enter Drug Lords, the documentary miniseries from Netflix and ITN that delves into the stories of some of the most deadly drug cartels in history. Season 1 premiered back in January, and Season 2 drops on July 10, but will Drug Lords return for a Season 3?
Neither Netflix nor ITN have confirmed a Season 3 at this point. When the show first premiered on the streaming service in January, ITN tweeted the news, calling it an "8-part series" that would be divided into two separate releases. So really, Season 2 was always part of the original plan. If Drug Lords does come back with a Season 3, it might do so in another two-season package deal with Seasons 3 and 4 together. But at this point, whether or not they'll actually come through is anyone's guess.
If you've already finished marathoning Drug Lords Season 2, though, and are desperate for another fix of cartel-related action, check out some of these other series that cover similarly exciting territory.
1. Cocaine Godmother
This Lifetime made-for-TV movie is based on the true story of Griselda Blanco a.k.a. Black Widow a.k.a. La Madrina a.k.a. the Cocaine Godmother. Blanco was a contemporary of Pablo Escobar, and is thought to be responsible for over 200 murders in Columbia and the United States, Vice reports. Cocaine Godmother stars Welsh movie star Catherine Zeta-Jones as the titular character, though, so if it's total historical accuracy you're after, you might want to give this biopic a miss.
2. Amo
The first-ever Filipino series from Netflix, Amo dives into the gritty world of the country's infamous and ongoing drug wars. The series is fiction, rather than 100 percent factual like Drug Lords, but director Brillante Mendoza told BBC Asia that making the story realistic is one of his top priorities. "As a filmmaker stepping into this project," he said, "I want to tell truthful stories."
3. La Reina Del Sur
From the major American telenovela network Telemundo, La Reina del Sur is a book-to-TV adaptation of the novel from Arturo Perez Reverte by the same name. This fictional story centers around Teresa Mendoza (played by Kate del Castillo), a character who transforms from naive young woman into the drug trafficking boss of southern Spain. There's also an Americanized version, Queen of the South, which premiered five years after La Reina on USA network and is currently in its Season 3.
4. El Chapo
This fictionalized biopic series gives the Narcos treatment to that legendary drug lord featured in Season 2 of Drug Lords. Joaquin "El Chapo" Guzman grew to prominence as the head of the Sinaloa drug cartel in Mexico from 1989 until his third and (so far) final capture in January 2017, according to Business Insider. Born in the Sierra Madre mountains to an abusive father, El Chapo was suspected to control around 35 percent of the cocaine in Columbia in his heyday, also per Business Insider. Adding to his mystique, he also managed to pull of two separate prison escapes before ultimately being extradited to the US.
6. The Day I Met El Chapo
As it turns out, Kate del Castillo, the Mexican actor who starred in La Reina del Sur, actually did have a real life connection to the cartel world. The Day I Met El Chapo is a 3-episode Netflix docuseries that chronicles the wild story of how a controversial Twitter storm led to del Castillo — along with actor Sean Penn — meeting the notorious leader shortly before he was found by authorities. While del Castillo made the introduction, Penn conducted an interview which was later published in Rolling Stone the day after El Chapo's final arrest. Penn's lawyers released a public statement in the New York Times condemning the series, warning that it had the potential to put Penn in danger, as it insinuates that he was instrumental in El Chapo's ultimate capture.
It's the grittiness of the reality that makes dramas about drug cartels and trafficking so powerfully compelling and utterly chilling. Even in works of fiction like La Reina del Sur or heavily dramatized stories like El Chapo, there is still an element of realism that keeps you glued to the screen in morbid fascination. Drug Lords only focuses on true and factual stories, but even then, there's still plenty of material for the creators to choose from to keep viewers hooked for multiple seasons to come.