Its Creators Are Plotting 'Friends From College' Season 2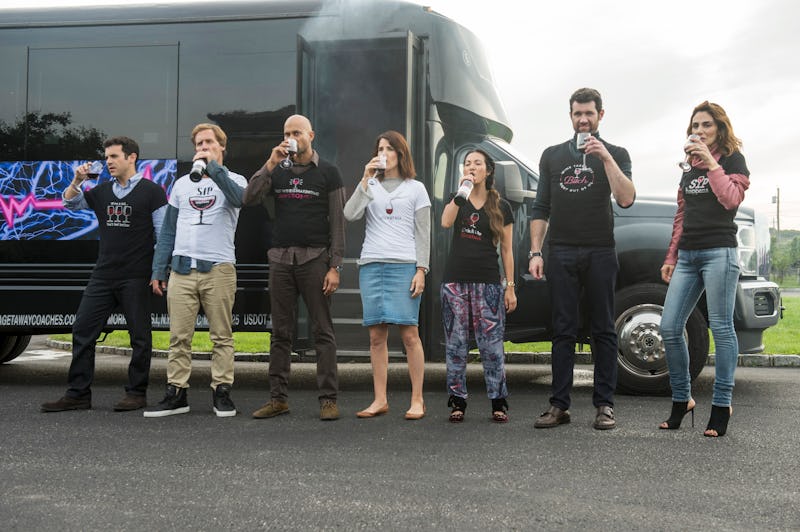 David Lee/Netflix
With a star-studded cast and only eight episodes, you might assume that Friends From College is just a limited series. Yet, once you watch all of Season 1 of the Netflix show with Cobie Smulders, Keegan-Michael Key, Fred Savage, and Billy Eichner after it premieres on July 14, you'll discover that the series has more story to tell. So will Friends From College have a Season 2? Although Netflix hasn't officially renewed it yet, creators Nicholas Stoller​ (the director of Forgetting Sarah Marshall, The Five-Year Engagement, and Neighbors) and Francesca Delbanco​ have already started thinking about what these friends could do next.
At the New York City premiere of Friends From College on June 26, Stoller and Delbanco (who are married) discussed the prospect of a Season 2 to Bustle with Delbanco saying, "We hope to do it." The eight half-hour episodes follow six friends who are nearing their 40s and all went to Harvard together. When married couple Lisa (Smulders) and Ethan (Key) move to New York City where their other college friends live — including Annie Parisse's Sam, whom Ethan has been having a 20-year affair with — it puts some strain on the friend group to say the least. Without giving away any spoilers, the series ends on a messy, chaotic note that is a reflection of the characters' lives, so fans of the show will want to see what happens next.
As Season 1 is only about four hours long, Friends From College is an easy marathon for veteran Netflix viewers. So if you're left wanting more, you'll be pleased to hear that the showrunners have been thinking about the show's future. "We have vague ideas of what we might be able to explore in the second season," Stoller tells Bustle. While that statement doesn't provide any specifics for what will become of Lisa, Ethan, Sam, and the rest of the gang, this comedy-drama is more character-driven than plot-driven anyway.
But just because Stoller and Delbanco are thinking about a Season 2 doesn't mean that Netflix is. A renewal from Netflix isn't as guaranteed as it used to be with the streaming service canceling Girlboss after one season, The Get Down after a two-part first season, and Sense8 after two seasons. (Netflix has since announced that Sense8 will return for a two-hour special finale.) That's not to say that Friends From College will necessarily suffer the same fate since Netflix has renewed shows like Dear White People and 13 Reasons Why for second seasons. But it's important for fans to know that the powers that be at Netflix are looking at how much a show costs compared to how many people are watching it when making renewal decisions.
All of these renewal and cancellation announcements occurred approximately two months after the shows hit Netflix, so the future of Friends From College could be decided on by as early as September. Until then, spend a view hours with these friends and take comfort in the fact that your friend group is (probably) less dysfunctional than theirs.