How Justin Bieber & Hailey Baldwin Became Teen Choice Awards Royalty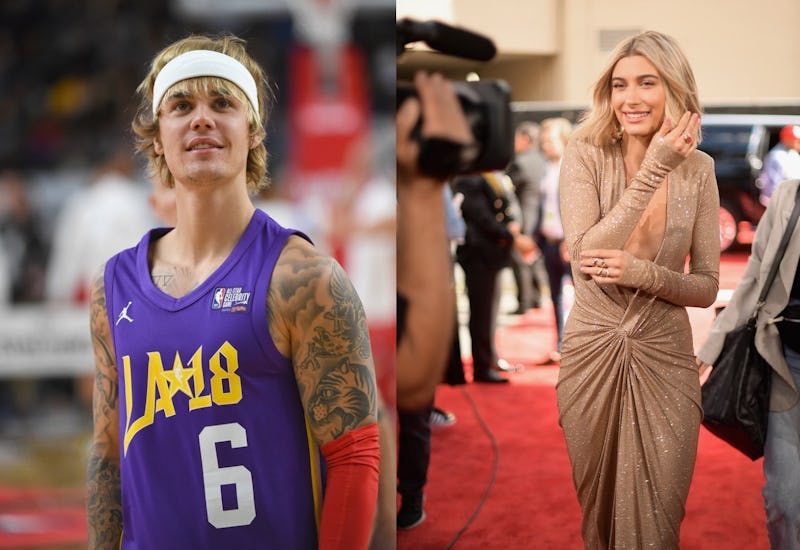 Jayne Kamin-Oncea/Getty Images/Matt Winkelmeyer/Getty Images
Once upon a time, there were two young, beautiful pop stars that ruled over the Teen Choice Awards — and the teen world in general. Their names? Selena Gomez and Justin Bieber, aka Jelena. The pair might have had their ups, downs, and everything in between, but I think at the end of the day, everyone always expected they would find their way back to each other. Which is part of why it came as such a shock when J. Biebs popped the question to girlfriend Hailey Baldwin, confirming the news in a loving Insta post on July 10. Since then, the pair has showcased their love on social media, but are they about to flaunt their affianced bliss on Jelena's old stomping grounds? Will Justin Bieber and Hailey Baldwin be at the Teen Choice Awards?
Their decision to attend the 2018 Teen Choice Awards together would be a very big deal indeed, as E! News notes that they actually haven't officially appeared on the red carpet as a couple ever, let alone since getting engaged. (They did have a cute photo-op once in 2011 at the Never Say Never premiere, alongside dad Stephen Baldwin.).
The couple hasn't publicly confirmed nor denied that they'll be in attendance at the TCA yet, but you can rest assured they've been invited. Hailey Baldwin is nominated in the category of Choice TV Personality for Drop the Mic, which at the very least merits an invite and a plus one (if not a surfboard trophy).
For the first time since 2011, Justin Bieber hasn't been nominated in any category at all. However, he's certified Teen Choice royalty, with 20 wins out of a total 45 nominations. That puts him in third place after only One Direction (28 wins) and Taylor Swift (25). It's a no brainer that he'll get an invite of his own, but if he does go, he'll likely go on Baldwin's arm.
The Biebs has been taking a step back from public life over the past year, after canceling his Purpose tour a year ago. He didn't attend the 2017 TCA either, so maybe he'll want to sit this one out, too. When he canceled his tour in a statement he posted on his website, he wrote, "I want my career to be sustainable, but I also want my mind heart and soul to be sustainable. So that I can be the man I want to be, the husband I eventually want to be and the father I want to be." That quote seems more apt now than ever, what with the engagement.
On August 7, TMZ spotted the pair biking around New York City together, and they appeared to be crying. Was it relationship trouble? Like the kind that could potentially keep them away from Sunday's awards? Or something else? The couple themselves haven't commented on the photos, and Harper's Bazaar noted that on that same day, they were also seen smiling as they snapped photos with fans, so maybe it was just a fluke.
So, things could either way this weekend. If Hailey does attend the awards, Bieber may or may not go with her, depending on how dedicate he is to self-care and staying out of the spotlight. But the Teen Choice Awards would be a great opportunity to make their official, red carpet, debut as a couple.