Khloe's Baby Name Plans May Be VERY Different After The Tristan News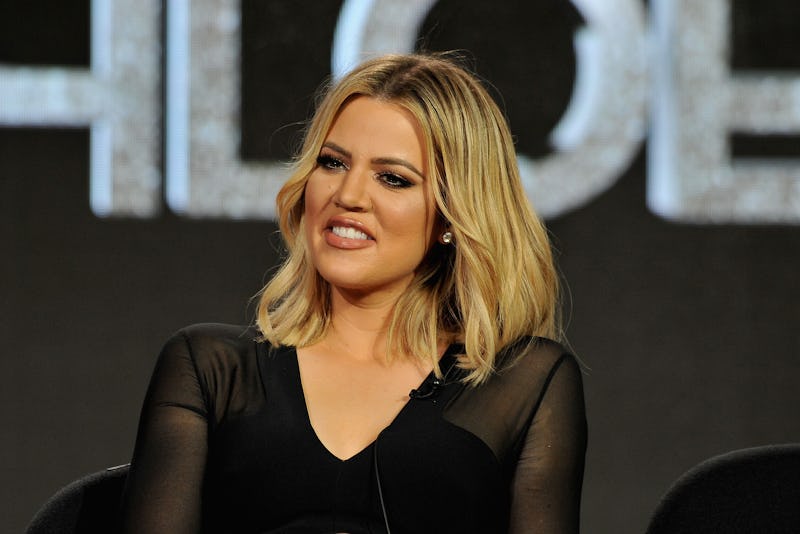 Jerod Harris/Getty Images Entertainment/Getty Images
The moment every Kardashian fan has long been awaiting is finally here — Khloe Kardashian reportedly gave birth to a baby girl on Thursday. Before the birth, she let her fans in on some details about her planned baby name, but it's unclear as of now whether those ideas still remain her top choice. So, will Khloe still name her baby a "T" name?
There are plenty of reasons why she might switch up her initial plans. She tweeted last month that she was going with a "T" name, probably to go along with the name of her boyfriend, Tristan Thompson. But in recent days, rumors have swirled that could change everything. On Tuesday, April 10, TMZ posted a video of Thompson allegedly cheating on Kardashian with two women at a hookah lounge in October. No member of the Kardashian family, nor Thompson himself, has publicly addressed these rumors as of right now, but even the rumor itself could have contributed to Kardashian's wellbeing. The video in question surfaced just days before she would give birth to the couple's child.
When Kardashian appeared on The Ellen Degeneres Show earlier in her pregnancy, she revealed that she was thinking about "Tristan, Jr." as a possible name for a boy, according to People magazine. That plan obviously didn't come to fruition, as the child proved to be a girl, but "T" was apparently still something she had her eye on.
After reports of Kardashian's daughter's birth surfaced, fans were extremely quick to voice their opinions on a name. Plenty of people were saying that they hope the baby's last name is "Kardashian" instead of "Thompson," and whether that's due to a love for the Kardashian name or a skepticism about the alleged Thompson situation is unclear.
Regardless of what has or has not occurred between Thompson and Kardashian in the past week, what's important is that her family was reportedly there to support her as she had her first child. Per TMZ, Kourtney, Kim, Kris, and Malika were all in Cleveland for the birth, and Thompson was also present. The same TMZ article stated that Kardashian had not yet settled on a name for the baby at the time of the birth, so she very well could be completely on the fence still.
The Kardashian family is famous for granting unique and interesting names to their children — Kim's kids are named North, Saint, and Chicago, Kylie's new baby is named Stormi, Kourtney's adorable clan is made up of Mason, Penelope, and Reign, and Rob's little girl is Dream. This newest addition to the famous family will join some impressively named ranks, and Kardashian has had no shortage of inspiration as she spends such large amounts of time with her siblings, nieces and nephews.
It's unfortunate that so many rumors are making the rounds regarding Kardashian and Thompson's relationship at what should be such a happy time for the new mom, but hopefully she's managing to move past any potential worries and enjoy the time with her new little girl. It's apparent that she's enjoyed the road to motherhood, regardless of what may have transpired in the past few days. "I can't believe my little girl will be here soon! These past nine months have flown by, and I've loved every minute of it," she wrote on her app in late March, according to Harpers Bazaar. "After my first trimester everything has been a breeze."
Even if she hasn't figured out a name just yet, and even if there are some bumps in the road along the way, there's certainly no doubt that the newest addition will be surrounded by a loving family, and that's all that really matters.