This New 'KUWTK' Teaser Totally Makes It Seem Like Kylie Is About To Reveal Her Pregnancy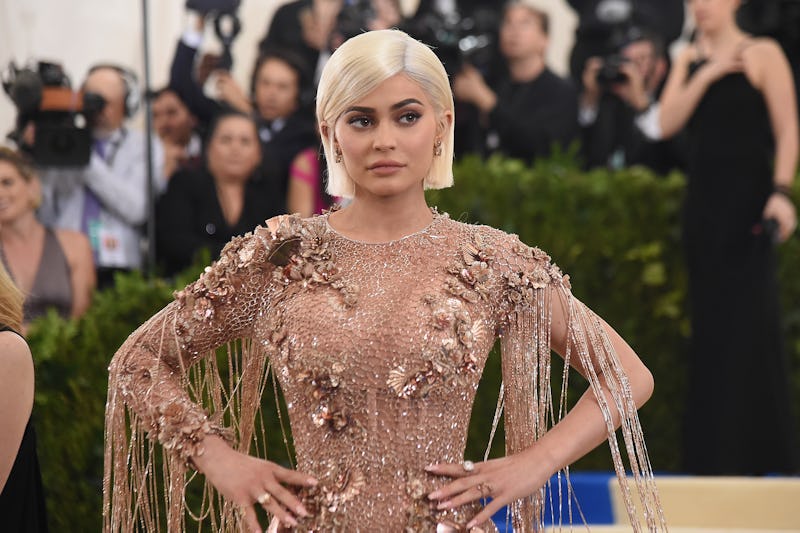 Nicholas Hunt/Getty Images Entertainment/Getty Images
It's been months since reports first emerged that reality star and cosmetics entrepreneur Kylie Jenner was pregnant. And now with a two-part special event of her family's reality show airing next week it's hard not to wonder whether or not Kylie Jenner will reveal she's pregnant on Keeping Up With the Kardashians. Despite the fact that her other sisters have been very open with the public about their pregnancies, Jenner has remained out of the spotlight since it was reported that she is expecting a child with her boyfriend Travis Scott. So, although Jenner could perhaps tease a reveal on the show, judging from the footage of the preview released for the special it doesn't necessarily seem like Jenner is the one making an announcement.
In the clip, which was included at the end of the episode of KUWTK that aired on Sunday, Jan. 7, the narrator suggests a big reveal in next week's special. "Get ready for a two-night event full of Kardashian surprises," the clip teases. "'Cause when it comes to making announcements, the family's got news — so big — we need Sunday and Monday just to cover it."
Throughout the clip we also see various family members yelling in excitement, and at one point Kourtney Kardashian is heard saying, "Oh my god!" as if she were reacting to some kind of exciting announcement. But what exactly that announcement is remains unknown.
For a very brief moment in the teaser video we see Jenner having a FaceTime chat with someone, potentially one of her sisters. Although you can only see Jenner's face, it's this part of the clip that makes it seem like a Jenner pregnancy reveal could be a part of the two-night special.
The special airs next Sunday and Monday (Jan. 14 and 15) on E!, but considering all of the things going on with the family it's entirely possible that Jenner might not address her pregnancy rumors whatsoever. Her older sister Khloé Kardashian recently confirmed that she is expecting a child with Tristan Thompson, and has been on a number of shows discussing her pregnancy recently. So perhaps the big announcement in next week's show is only related to Khloé's pregnancy. After all, Khloé has confirmed that her pregnancy will be documented on KUWTK and that the reveal of her baby's sex will be on the show. It could be that Jenner was just reacting to Khloé's news via FaceTime.
That said, the preview does seem to tease more than one reveal. Perhaps there will also be something about Kim Kardashian, who, remember is expecting a child via surrogacy with her husband Kanye West. There are a lot of potential options when it comes to Kardashian-Jenner announcements, so it's probably best not to get too excited about a Jenner pregnancy reveal.
Remember how everyone thought that Jenner's absence from all of the Kardashian family Christmas card teaser photos meant that she was going to appear in the final shot confirming her pregnancy? Fans everywhere spent Christmas day refreshing Twitter hoping for news, only to be let down when Jenner was again missing from the final picture.
So, what I'm saying is, it's probably best at this point not to expect any sort of pregnancy confirmation from Jenner. That way, if she does ever does address the reports then you'll be pleasantly surprised.
It was first reported that Jenner was pregnant by TMZ way back in September 2017, and shortly thereafter other publications (including People) began reporting the news. In the months since, Jenner and other members of her famous family have refused to address the pregnancy reports. They have, however, dropped what seemed like the occasional hint to social media. Like the time Jenner literally posted a pic to SnapChat of three buns that had just come out of an oven, or the time her mother Kris Jenner shared a photo of nine pajama sets for all of her grandchildren when including Kim and Khloé's future children would only be eight.
Will Kris be a grandmother of nine grandchildren? And will one of those be Jenner's baby? It'd be cool to get those answers during next week's two-night event, but just be prepared in case the special has nothing to do with Jenner's reported pregnancy.