Jax Just Dropped A BIG HINT That Lance Bass Could Return To 'Vanderpump Rules'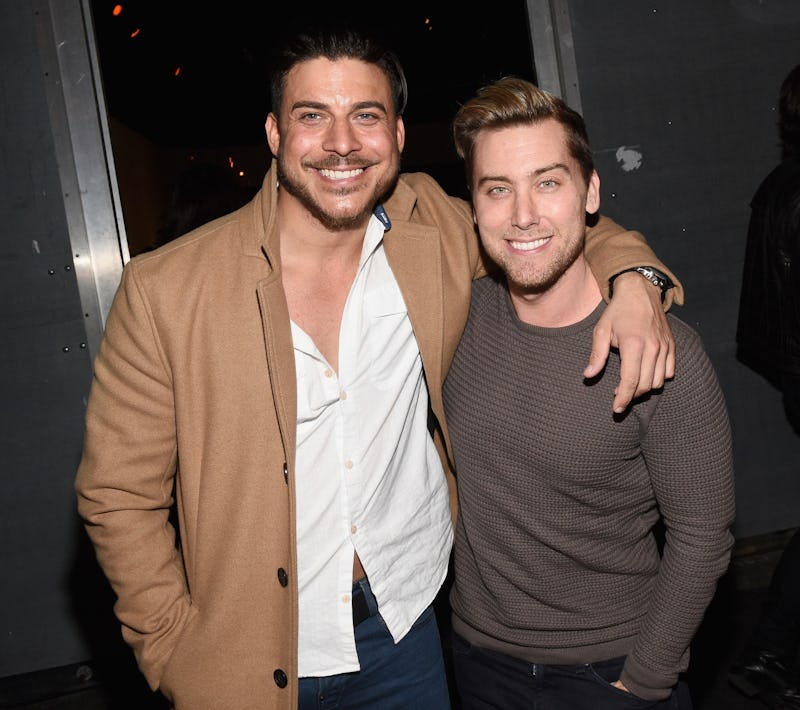 Michael Buckner/Getty Images Entertainment/Getty Images
It's Jax-ing up my heart when I'm with this IG photo of a Vanderpump Rules star and someone from *NSYNC. On Thursday, Aug. 16, Jax Taylor shared a picture he took with Lance Bass, graphic designer James Kirtley, and producer JT Swierczek. Will Lance Bass be on Vanderpump Rules Season 7? Because, whew, Jax's post sure does make it seem like that's going to happen. All together now: This. Must. Be… Pump. Dirty Pump, that you can't stop. You know you like this dirty Pump.
Now let's try to classify the type of thing that Bass and Jax do, i.e., figure out what they were up to when they took this picture. Granted, this pairing really is not that out of left field. As any Bravo viewer SUR-tainly knows, Bass is a good pal of Lisa Vanderpump, Jax has worked for LVP for years, and Bass and Jax end up at a lot of the same LVP events.
Oh, but did you also know that Bass and Jax are friends? They are friends who share memes. And friends who tweet about getting their dogs together. And friends who take care of each other. And, as Jax's recent IG post suggests, friends who are working together. Jax's caption reads, "Our first business meeting so excited for this new project!!!" Your "first business meeting," you say? A "new project," you say?
But wait, there's more caption to comb through:
"#staytuned #pumprules #xmarksthespot #season7"
Hold the phone, the Pumptini, and the Pomeranian. Does this… does this mean Bass will be on Vanderpump Rules Season 7? Is that what Jax is telling us? After all, he did suggest we stay tuned. He did mention Pump Rules. And he did bring up Season 7. Also? Bass has been on Pump Rules before, so another cameo by the cosmonaut wouldn't be outside the realm of possibil-SUR-ty. If Jax and Bass's mysterious collaboration doesn't appear on Pump Rules Season 7, this Instagram caption is going to get an earful.
As for the "#xmarksthespot"? That one is a little less clear. Googling "x marks the spot Lance Bass," "x marks the spot Jax Taylor," and "x marks the spot Lance Bass Jax Taylor" leads to one dead end after another, and searching "x marks the spot" will pull you in so many different directions. Maybe they found a pirate's treasure map, maybe they're reviving a British radio game show, maybe they're just really into that one hidden Coldplay track right now, or maybe they— Oof, the Google results go on and on, this I promise you.
If the less cryptic hashtags do indeed mean what they seem to mean, we will probably find out the story behind #xmarksthespot, what Bass and Jax are up to, and whether or not the Brady Bunch house plays a role in their "new project."
...OK, Jax and Bass's meeting probably doesn't have anything to do with the Brady Bunch house, but you know what? A gal can dream. And yes, this gal's wildest dream involves HGTV asking Jax and Bass to renovate the Brady Bunch house. According to Entertainment Tonight, Bass was reportedly approached by HGTV to be a part of the Brady Bunch reno, so hey, we might be halfway there. However, keep in mind nothing has been confirmed just yet.
Anyway, here's a pic of Jax, Bass, and Jax's mom hanging out at PUMP a few years ago.
Yes, yes, yes, here we go. Jax and Bass have got the flow.