Why Andy Cohen Thinks 'Vanderpump Rules' Go Could On Pretty Much Forever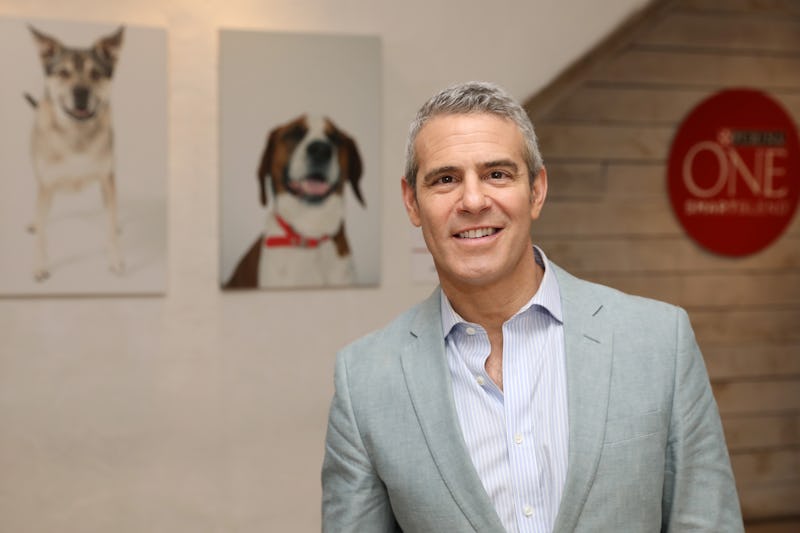 Amy Sussman/Invision for Purina ONE/AP Images
For six seasons, the Vanderpump Rules cast has been living the most dramatic lives. Somehow, they continue to find themselves in intense situations that viewers just can't get enough of. One might think the beloved Bravo series would soon come to a close, because how much more do theses SURvers really have to offer? Well, Andy Cohen says Vanderpump Rules ending doesn't even seem like a possibility.
"I think it can SUR-vive as long as this group of people remains so enmeshed in each other's lives. And they really are, for real," he says while discussing his partnership with the Purina ONE Difference Campaign.
"I think you see it's going in different directions," Cohen continues. "With Tom Tom opening and Stassi's [Schroeder] doing event planning and Lisa's [Vanderpump] always opening new places and expanding her business and James' girlfriend [Raquel Leviss] wants to work at Vanderpump Dogs, so I just think that there's a whole universe of places this show could go."
He's certainly not wrong. The reality series has entertained viewers since it first premiered in 2013 — and look at it now. LVP is a massive reality star, who is an extremely successful businesswoman and an animal activist. Celebrities, including Rihanna, Jennifer Lawrence, and Selena Gomez, can't get enough of the show. And the drama never ceases. Just this past season, Jax Taylor cheated on Brittany Cartwright and it turned into a whole season of anger and wondering if they'd reconcile. (They have.)
Plus, the cast has expanded and the stars of the show have grown immensely. In Cohen's eyes, Kristen Doute and Schroeder have changed the most. "Stassi, I think she's become softer. She's not in for the kill like she used to be," he says. "And Kristen, I think, has gotten a little more stable."
It only seems appropriate for Pump Rules to continue doing what it does best, because, why not? It is a huge success that keeps producing quality reality television. But, believe it or not, Cohen wasn't convinced at first the workers at SUR would make for good TV.
"I will tell you that Lisa was really dogmatic that we do this show from the beginning and I was like, 'I don't know. I don't know,'" he admits. It wasn't until after he met some of the employees that he saw potential. "I did my book party at SUR, for my first book [Most Talkative], and I met Jax and I met Stassi and I was like wait a minute, 'These people are all really hot and they're sleeping together.' I was like, 'Oh, this is interesting.'"
And look at it now. Although it seemed like Pump Rules could end after Season 6 — everyone was on decent terms and moving in positive directions with their lives by the end of the reunion — it would be disappointing to have to say farewell right now. But, when it does end, where will the cast end up? Even Cohen doesn't know.
"You know what, this show surprises me so much every episode that I could never predict where they would end up. I have no idea," he says, before joking, "My prediction is they'll all end up in each other's beds. That's my prediction."
Who knows exactly how long Pump Rules will be on the air, but one thing Cohen can predict is he'll continue working with organizations helping animals, just like the woman behind SUR.
Most recently, Cohen hosted Purina ONE's Gallery 28 exhibit in New York City, which featured photos of the Watch What Happens Live host, his dog Wacha, and other dogs available for adoption. Being able to do a photoshoot with Wacha was really fun for Cohen.
"It's kind of a dog owners fantasy to be at an exhibit that are just photos of your dog and other beautiful dogs that are available to rescue who have also taken the 28-Day Challenge with him," he says. "I mean, you look at these dogs and their coats are shinier, their eyes are brighter and clearer, they have more energy, so it's cool."
It's important for Cohen to raise awareness for animals who are searching for their forever home. "There are so many millions of dogs that need homes and that need to be rescued that, you know, for me, it's just incumbent on being a dog owner," he explains. "When you're a dog owner, we need to promote giving these great dogs homes."
LVP would be so proud. Between Cohen and Vanderpump's animal activism and the animal awareness promoted on Pump Rules, it's no wonder the show keeps thriving — well, that, and all of the drama.