Will Meryl Streep Be Miranda Priestly On Broadway?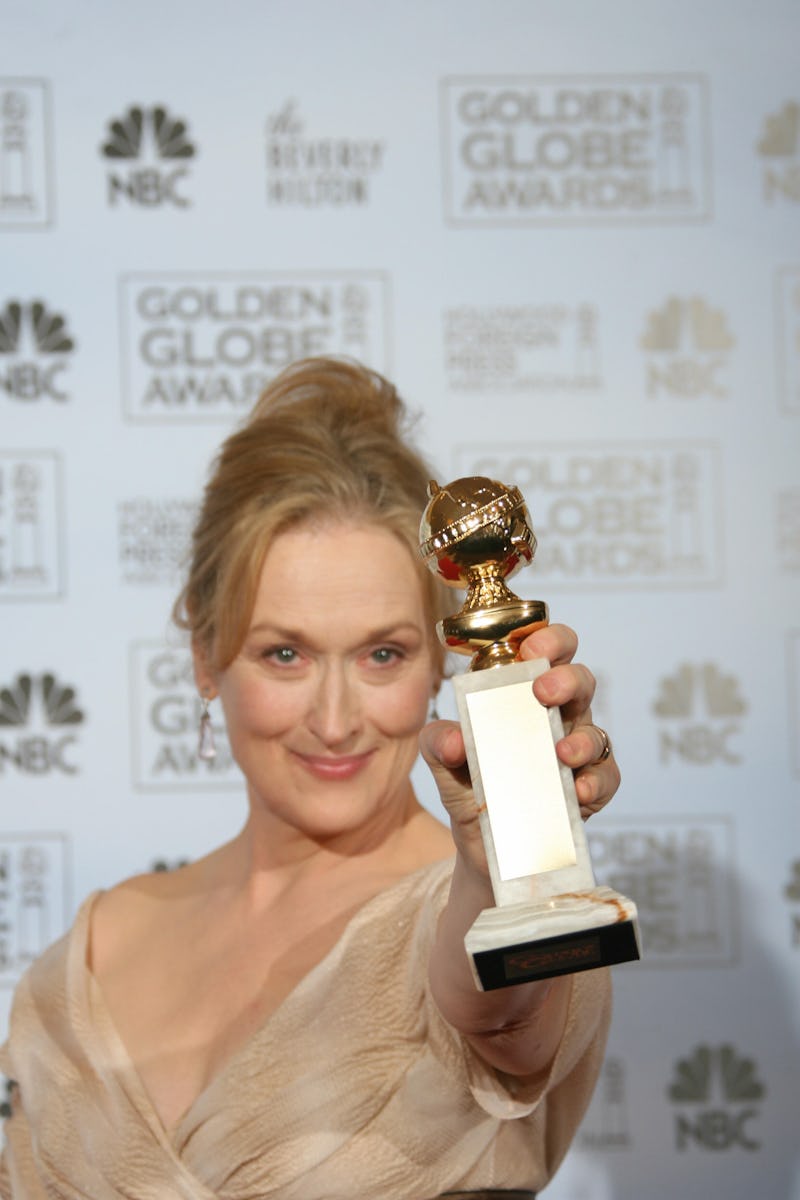 GABRIEL BOUYS/AFP/Getty Images
OMG, this is really happening: The Devil Wears Prada is being reimagined into musical by none other than Sir Elton John, according to Deadline. The highly acclaimed book-turned-movie is being brought to Broadway more than 10 years after its film release. So, will Meryl Streep be in The Devil Wears Prada on Broadway? While there's no word on the casting just yet, I'm keeping my fingers crossed that Streep, who won a Golden Globe for her on-screen performance, will return to reprise her iconic role as ice queen, fashion editor Miranda Priestly.
I mean, the idea of Streep returning is not completely far-fetched. The highly decorated actor is no stranger to musicals, having appeared in the film adaptations of Mamma Mia and Into The Woods. She also proved to be successful in plays, having earned a nomination for a Tony Award back in 1976 for her part in the double features 27 Wagons Full Of Cotton and A Memory Of Two Mondays.
Elton John will reportedly compose all of the music for the production, while playwright Paul Rudnick will write the story inspired by both the film and book. John recently shared his excitement for the project in a statement shared by Deadline,
"I'm a huge fan of both the book and the feature film, and a huge aficionado of the fashion world. I can't wait to sink my musical teeth into this hunk of popular culture."
In addition to her Golden Globe win, Streep also received one of her 20 Oscar nominations for The Devil Wears Prada, so it's possible that a Tony Award could be in her sights, should she participate in the stage adaptation. If she does decide to sign on to the project, an E.G.O.T. — the acronym for winning the grand slam of four major entertainment awards: Emmy, Grammy, Oscar and Tony — could potentially be in her very near future. To date, Streep is one of very few actors that have been nominated for all four, so adding a Tony Award in the win column could eventually lead to a major hallmark for the 67-year-old star. So, I'm just saying, it'd be a win-win situation for her — and me.
Either way, I'll just be here holding out hope for the casting news to drop. I'm not going to lie, I wouldn't be mad if Anne Hathaway, Emily Blunt, and oh yeah, Adrian Grenier — especially Adrian Grenier — returned to reprise their roles in the film either.
Oh, just bring them all back... I'm here for all of it.