Why Oprah Attending Princess Eugenie's Wedding Isn't As Farfetched As You Might Think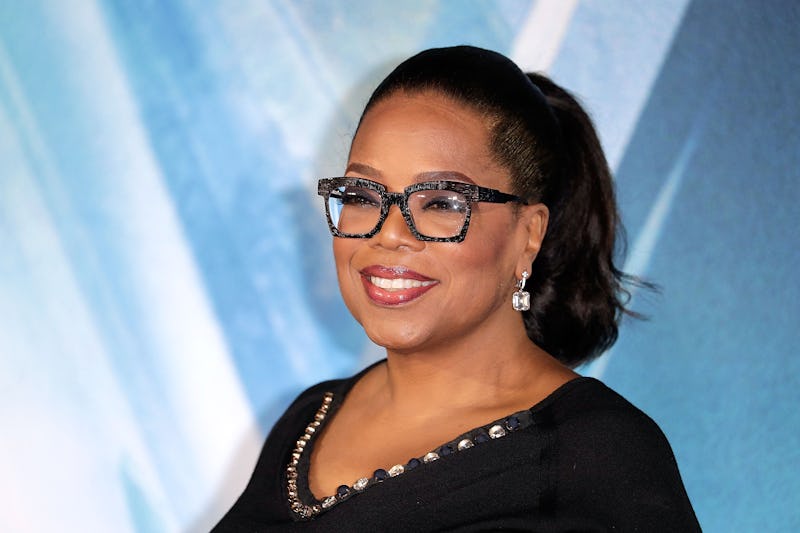 John Phillips/Getty Images Entertainment/Getty Images
The guest list for this year's second royal wedding will likely be pretty stacked with A-list stars. Both the bride and groom have several famous friends, but is Oprah Winfrey one of them? The media mogul attended Prince Harry and Meghan Markle's nuptials back in May, so will Oprah be at Princess Eugenie's wedding to Jack Brooksbank, too? Well, it could go either way, to be totally honest. She does go way back with Eugenie's mom, Sarah "Fergie" Ferguson, Duchess of York.
Ferguson was married to Eugenie and sister Beatrice's father, Prince Andrew, Duke of York, from 1986-1996. During that time, she gained a good bit of notoriety in the media, which is how she first came to meet the Queen. No, not the Prince's mother — the Queen of Daytime TV, Oprah Winfrey.
It's not exactly clear when the Duchess and Winfrey first crossed paths, but in 1999, Ferguson appeared on Oprah to promote her weight-loss guide, Dieting With The Duchess: Secrets and Sensible Advice For A Great Body. The two women were tasked with baking a scone during Ferguson's spot on the show, and warmly engaged in light — yet seemingly genuine — banter for the clip's entirety.
Years later, Ferguson and Winfrey would end up connecting on a much deeper level. In 2011, Winfrey interviewed the Duchess about her very public past, her friendship with the late Princess Diana, and her somewhat rocky relationship with the rest of the royal family. According to Harper's Bazaar, that interview led Winfrey to tap Ferguson for her very own, six-episode documentary series, Finding Sarah.
During one episode of the show, Ferguson opened up to financial guru Suze Orman. The Duchess spoke candidly with Orman about her difficulties with managing money, and credited Winfrey for helping her get her life back on track.
"I think my financial problems have come from desperately trying to please, from my addiction to approval and to thinking that I'm not worthy, so I have to buy people's love," she admitted. "What I didn't have until Oprah came into my life ... and [the reason] I am so grateful to her, was the toolbox to know how to handle the twists in the road."
Whether or not Ferguson and Winfrey have continued to keep in touch over the last few years, however, remains to be seen. The media mogul has certainly maintained contact with at least a few other members of the current royal family, though. In July, she notably attended the wedding of Prince Harry and Meghan Markle.
According to a source for the The Mirror, Winfrey spent a good deal of time with Markle's mother, Doria Ragland, during a reportedly lengthy interview prior to the wedding. The source claimed that the two women primarily spoke about their personal struggles with racism, which certainly could have created a bond between them, potentially leading to Winfrey's invite. Neither women have confirmed or denied that this supposed interview ever occurred, though.
In the August edition of O, The Oprah Magazine (as per Cosmopolitan) Winfrey wrote about her experience attending Harry and Markle's July nuptials. "I was unprepared for the depth of emotion I felt stepping onto the grounds of Windsor Castle," she wrote. "It literally took my breath away. I exclaimed out loud to no one in particular: 'Whoa! This right here is a whole 'nother level!'"
At the moment, it's not clear if Eugenie and Brooksbank have sent Winfrey an invitation to their own royal wedding on Oct. 12. If they did, though, perhaps the positivity of the mogul's last experience at Windsor Castle — combined with the opportunity to catch up with Ferguson — will move her to make a repeat appearance.