Princess Eugenie's Wedding Wouldn't Be The Same Without The Queen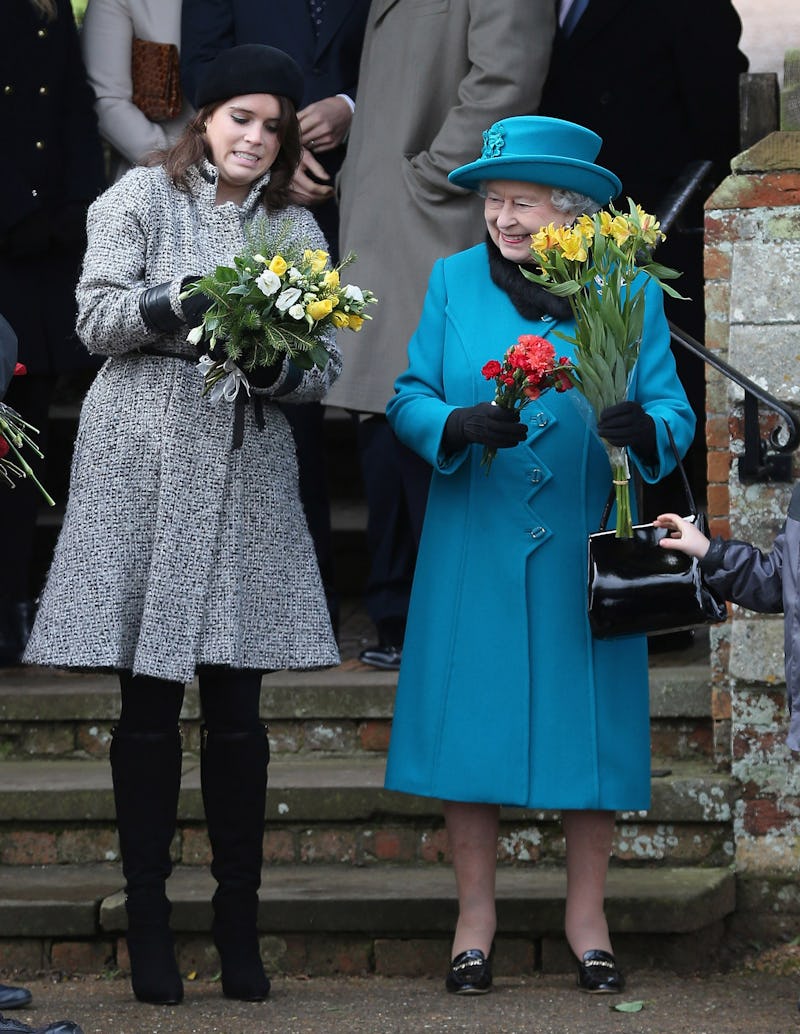 Chris Jackson/Getty Images Entertainment/Getty Images
When it comes to a British royal family wedding, it's usually quite the affair. Sometimes even celebrities attend, but, more importantly, you might be wondering if the Queen will be at Princess Eugenie's wedding to Jack Brooksbank on Oct. 12. Seeing as Queen Elizabeth II is Eugenie's grandmother, one would think she'd be in attendance, but you never know when it comes to the Head of the Commonwealth. Sometimes she has a very busy schedule or has been known to miss an event due to being under the weather.
At this time, there hasn't been an official announcement regarding whether or not the Queen will be at the actual wedding. If she weren't to attend Eugenie's ceremony, well, the day certainly wouldn't be the same.
According to a Sept. 14 report from Hello! magazine, the Queen is said to be at Eugenie's nuptials held at St. George's Chapel at Windors Castle. Yes, Eugenie and Brooksbank are getting married at the same location as Prince Harry and Meghan Markle. Harper's Bazaar also reported on Sept. 21 that "it's currently thought that the majority of the British royal family will turn out to celebrate the big day."
Let's say for some reason the Queen isn't at Eugenie's ceremony, she will still be part of the day in a big way. According to a Sept. 14 press release from the royal family, the Queen will host a reception at Windsor Castle for the newlyweds and the guests. The reception will take place after the traditional carriage procession, where Eugenie and Brooksbank will take a short ride through part of Windsor High Street, another royal family press released revealed on July 3.
Eugenie and Queen Elizabeth are said to have a close relationship, so it would be surprising if she wasn't at her granddaughter's wedding. After announcing her engagement to Brooksbank in January, Eugenie told The One Show (via Hello! magazine) exactly how her grandmother reacted to her exciting news.
"Granny actually knew right at the very beginning, she was one of the few people who knew," Eugenie said about the Queen learning about her engagement. "She was very happy, as was my Grandfather." Brooksbank also added, "It was very, very nice that she was so happy for us."
Unlike Queen Elizabeth, People reported in July there's a chance Prince Philip, Eugenie's grandfather, will not be at the wedding. First of all, Philip retired from public life in August 2017. He also had a hip replacement in April. Those two factors could impact whether or not he shows up, though, he did attend Harry and Markle's wedding in May.
However, People also reported that Philip's not-so-close relationship with Sarah Ferguson, Eugenie's mother, may influence his decision. Apparently, the two have been at odds since Ferguson and Prince Andrew, the Queen and Philip's son and Eugenie's father, split in 1992.
"He does what he wants," a "well-placed insider" told People. "He made a supreme effort for Harry. I would be very surprised if he did go, because he is so estranged from Fergie. I think he will decide at the 99th hour."
Who knows what will happen, but let's hope the Queen shows up. Seeing how happy she was for Eugenie's engagement, it would be truly unfortunate if she wasn't at the wedding.