Harry & Meghan Won't Live At Buckingham Palace, But Their New Digs Are Pretty Cool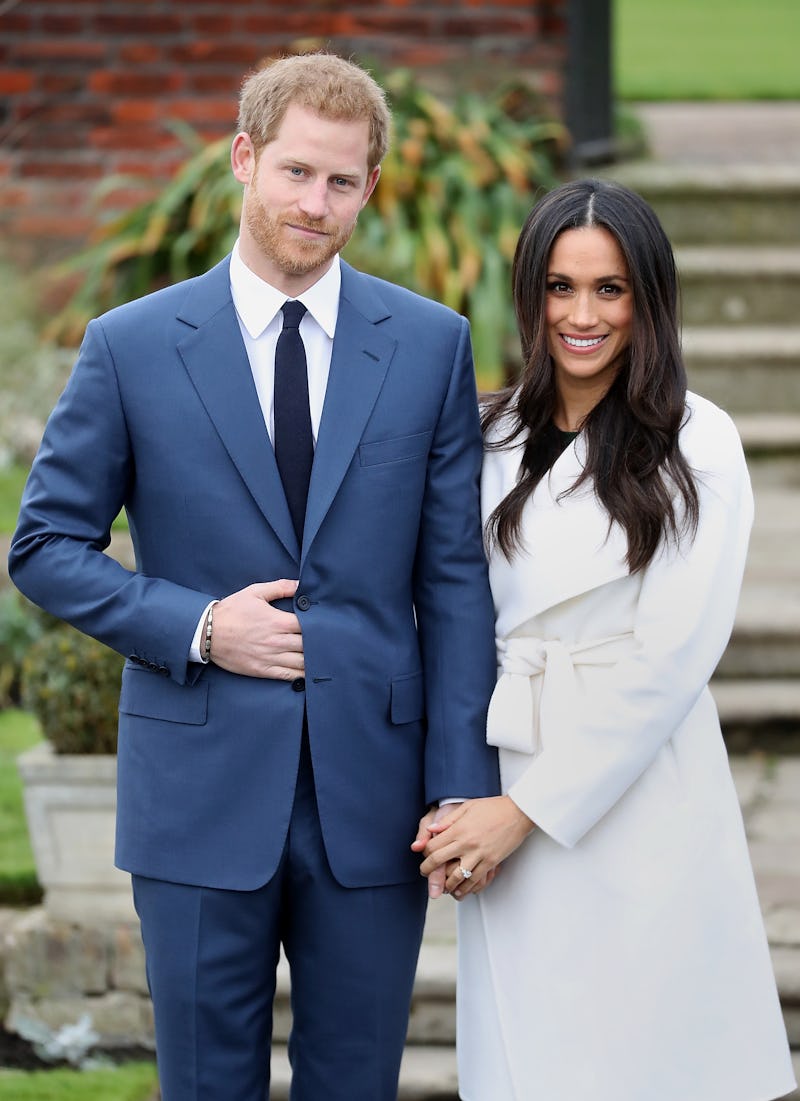 Chris Jackson/Getty Images Entertainment/Getty Images
It seems as though Monday, Nov. 27, 2017 will forever be known as the day the internet went wild over news that Prince Harry and Meghan Markle were engaged to be married. One of the main things people might be wondering is whether Harry and Markle are planning on living at Buckingham Palace — especially since their engagement got a lot of more casual royal fans interested in the family and the palace and the royal family go hand in hand. As it turns out, after becoming engaged Harry and Markle won't be living at Buckingham Palace, but will instead be living at Kensington Palace.
Although Buckingham Palace is probably one of the best known palaces in the UK, it certainly isn't the only one. According to the BBC there are over a dozen properties across the UK where members of the royal family reside, including various palaces, estates, and even the Royal Yacht Britannia. The Queen and the Duke of Edinburgh split their time between five properties besides their royal yacht including Windsor Castle, Balmoral Castle, Sandringham House, the Palace Of Holyroodhouse, and Buckingham Palace — which is the Queen's working residence in London. Buckingham Palace is known as the administrative headquarters of the reigning monarch, and therefore Her Majesty, The Queen stays there during the week when she isn't traveling.
And that is why Harry and Markle unfortunately won't likely ever live in Buckingham Palace, as it is traditionally home to the current ruling monarch, as it has been since 1837. Harry is currently fifth in line for the throne, as the BBC notes, so it would take a very Game of Thrones style series of tragic events for Harry to become king.
As the royal announcement, which was issued by the Prince of Wales and Duchess of Cornwall's official residence, Clarence House, notes, Prince Harry and Markel "will live in Nottingham Cottage at Kensington Palace." Clarence House made the official announcement just hours before the newly engaged couple appeared outside of Kensington Palace for a photo call, where Markel showed off the ring Harry gave her.
Outside of her future home Markle told photographers that she was "so very happy" about becoming engaged to Harry. Once married in the spring of 2018, Markle is expected to become known as Her Royal Highness Meghan, the Duchess of Sussex, since it has been speculated that his grandmother will grant Prince Harry with the title of Duke of Sussex on his wedding day. Which, as TMZ pointed out, could cause some citizenship issues for Markle as protocol dictates that a person must be an English citizen to hold a royal title. Luckily, it seems as though there are exceptions to those rules.
Prince Harry already lives at the Nottingham Cottage by himself and has done so for the past four years. Harry's brother and his wife (the Duke and Duchess of Cambridge, also known as Prince William and Kate Middleton), also previously lived in the cottage.
According to the Daily Mail, Nottingham Cottage is known as "Nott Cott" by palace insiders and is one of the smallest homes on the the 17th century estate. When he first moved into the cottage a few years ago, Harry reportedly installed a hammock in the back yard. Once she moves in, Markle will probably want to make a few customizations of her own to make the place feel like home.
Although they may not be living in Buckingham Palace, it seems likely that Harry and Markle will be spotted at the palace, if only to visit Harry's grandmother, the Queen. Plus, it's a pretty short drive between the palaces, so definitely a convenient commute.