'Rogue One' Could Win An Oscar In This Category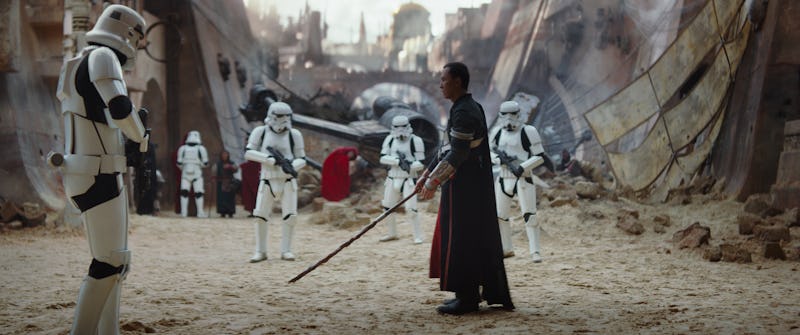 Walt Disney Pictures
It's Oscar season, which means loads of movies — especially those that came out late in 2016 — are hoping to hear their names called when the Academy announces its nominees on January 24. And in addition to so-called prestige films like La La Land, Moonlight, and Manchester by the Sea, other types of movies are also hoping to earn some Oscar love — even Rogue One. But does the Star Wars movie really have a shot? Will Rogue One be nominated for an Oscar?
It could be, but probably not in any of the major categories. As well-received as the movie has been, it has almost no shot at drawing a nomination for Best Picture, Best Director, or any of the acting categories; as it simply has not received any buzz leading up to the awards. Last year, Star Wars: The Force Awakens was a huge phenomenon, and there was a lot of speculation that it could wind up nominated in the Best Picture category. But even that movie didn't end up being nominated for the Oscars' biggest prize, and instead had to settle for nominations in five separate technical categories — though it failed to win in any of them. So could it be that Rogue One will follow in the same path?
I would say the five categories that The Force Awakens was nominated in will be Rogue One's best chances at an Oscar as well. They are as follows: Best Original Score, Best Sound Editing, Best Sound Mixing, Best Film Editing, and Best Visual Effects. It seems like La La Land could very easily win four out of those five categories, given the film's music and striking cinematography, leaving Best Visual Effects as the category in which Rogue One could most likely find some Oscar love.
One big advantage Rogue One may have in the category is its CGI recreations of Grand Moff Tarkin and young Princess Leia. Controversial as it was to digitally recreate a deceased actor in Peter Cushing, you can't deny the technical wizardry involved in doing so. The film effectively changed the game, with the use of actors as we know them possibly coming into question in the future, and the Academy may reward the movie for its forward-thinking mentality — or it may punish it for shaking things up too much.
In any case, Rogue One's visual effects got people talking, and that could definitely earn the movie some attention at the Oscars.