The Truth About The Spice Girls Releasing New Music Will Give You So Much Hope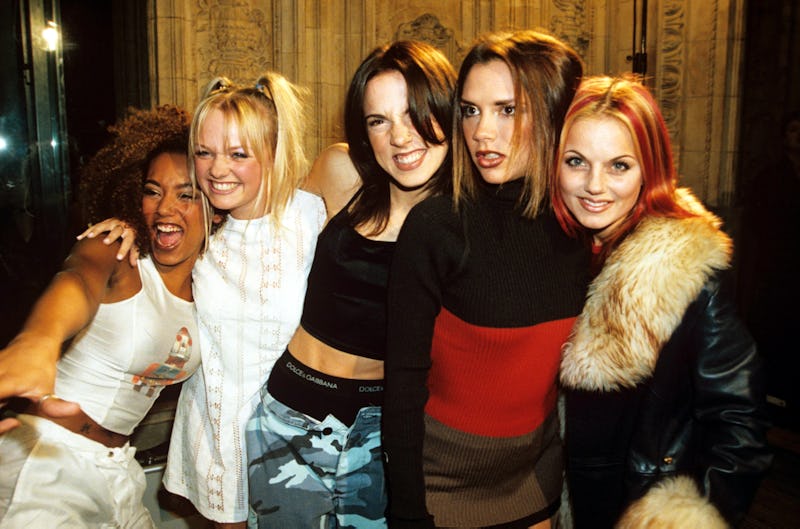 Richard Young/Shutterstock
I doubt you'll be hearing the news from me, but just in case you are, make sure you're not sitting, as you may fall off your chair. I have four words: SPICE. GIRLS. REUNION. TOUR (!!!) Say you'll be there, and you'll be back where you belong — crying and screaming along to the hits that have soundtracked some of your best memories. Getting to see all of those classics live is probably a once in a lifetime thing, but will anything else be added to the setlist? Since they're reuniting, will the Spice Girls be releasing new music?
While rumours of a reunion tour have practically been burning since all five of the Spices reunited for an iconic performance at the 2012 Olympic Games, reports of an upcoming album surfaced around a year ago. On Nov. 12, 2017, NME alleged that all five girls would be recording a full length album, as well as releasing a TV special. While the tour's been confirmed, there hasn't been much sign of either of the above — so, maybe the greatest Christmas gifts are on the way? The Spices had reportedly been in talks about a reunion since summer 2017, but now it's been six long years since they last performed together, the time to spice up your life has been long overdue.
"As it stands, they will be working together on a series of projects, which will include an album and a TV special celebrating the Spice Girls," a source told The Sun on Nov. 11, 2017. Something similar was brought up again back in February, when, as The Independent reported, a source close to the girls confirmed that they'd spent the afternoon scheming together on Feb. 2, 2018. While they're pretty vague on matters of new music, the Spices did say that "The time now feels right to explore some incredible new opportunities together."
"We all agree that there are many exciting possibilities that will once again embrace the original essence of The Spice Girls, while reinforcing our message of female empowerment for future generations," the statement read, as reported by The Independent. All focus since then has pretty much just centred on the upcoming tour, and whether or not Becks will be making an appearance. And nope, she won't, by the way.
But it's still anyone's guess as to whether you'll get to hear Posh's vocals on a potential new album. While it sounded like a sure thing a year ago, unless the girls do a surprise drop, it doesn't look like a new batch of Spice Girls songs will be around anytime soon. I've asked the group's rep whether you can expect anything soon, but even if new Spice Girls material doesn't arrive for a while, they have enough bangers and classics to fill several set lists.
And while all of their old hits more than hold up, I wouldn't mind hearing what a new Spice Girls song would sound like, and how it would inspire the next generation of powerful women. But until then, it's still "Viva Forever."