A 'Set It Up' Sequel May Happen, But It Might Not Be What You Think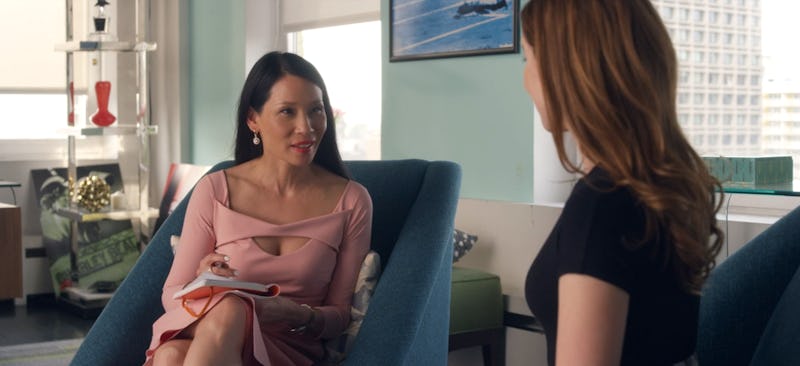 Neteflix
Netflix's Set It Up may be just one of the latest additions to rom-com movies, but it's already being hailed for revitalizing the genre. So is it really any surprise that fans are already asking if there will be a Set It Up sequel. And this isn't just a fan pipe dream since director Claire Scanlon discussed the potential for a Set It Up 2 in a phone interview with E! News. She revealed that she and writer Katie Silberman already have some plans for a second movie about the beloved characters. And if Scanlon's idea comes to fruition, the focus wouldn't be on Zoey Deutch's Harper or Glen Powell's Charlie, but on Lucy Liu's Kirsten. Spoilers for Set It Up.
Even before the movie premiered on Netflix, Scanlon and Silberman were thinking about a Set It Up sequel. "Katie's already come up with the idea. She already has a plan. We were joking about it on set," Scanlon told E! News. But while you might expect a sequel to follow Harper and Charlie's love story, Scanlon has other ideas. "[Katie] was like, 'They go to a wedding! They want to set up their friends at a wedding!' I was like, 'No the sequel should be about Rick and Kirsten!' They're not getting together, but their respective relationships."
In Set It Up, assistants Harper and Charlie fell in love by setting up their bosses Kirsten and Rick (Taye Diggs). So the romance would only be intensified if they were busy matchmaking at say, Becca and Mike's wedding, or even Rick's second wedding to ex-wife Kiki. But Harper and Charlie already got their happy ending — and learned that Cyrano-ing doesn't always have the best of results — so Scanlon has a different idea: Set It Up 2 should specifically focus on Liu's character Kirsten.
"To me what would be interesting to see is Kirsten, where does she go next? The character Rick has clearly opened a door for her and made her realize, 'I'm worthy of a personal life and I deserve this,'" Scanlon told E! News. "I'd love to see where that goes. Honestly, it's the Kirsten character that I would want to explore."
Both Kirsten and Rick start the movie as cruel bosses to their assistants, but as the film progresses, it's revealed that there's much more to Liu's character than just being difficult. While Rick doesn't really have an excuse for the way he treats people, Kirsten explains that she is harsh because she wants Harper to be prepared for how she will be treated as a woman in the sports media industry. Kirsten doesn't operate out of meanness, she is tough because she knows firsthand what it takes to build a career as a woman in sports journalism. And a sequel could be the perfect opportunity to explore how she learns to balance her career and her personal life without losing the ambitious working woman attitude she so embodies.
Kirsten also goes through a great character arc in the film, which would make her even more fun to watch in a potential sequel. Although she struggles to accept Rick's infidelity initially, once she truly realizes that Rick is using her, she has the courage and self-respect to cancel their wedding in the very public setting of the airport. Imagine where she could go in a Set It Up 2.
Kirsten is also full of no-nonsense hilarity that elevated the movie, making her one of the standout characters in the film. Add all of this to the fact that Liu as the main character would be revolutionary because she's an Asian-American woman over 40, and a Set It Up sequel about Kirsten almost seems like the only way to go.
Set It Up is already a favorite because of how it embraces rom-com tropes while simultaneously being self-aware. And a sequel with Kirsten at the front would be an even more original take on the genre. So while fans will certainly want to see Harper and Charlie again, they should have faith in Scanlon's vision. After all, she's one half of the team who gave viewers the unexpected hit of the summer and reminded everyone how good it feels to watch people fall in love. Set It Up 2, if it happens, couldn't be in better hands.