Here's Where You Can Stream 'This Is Us' Season 2 Before The Third Season Premieres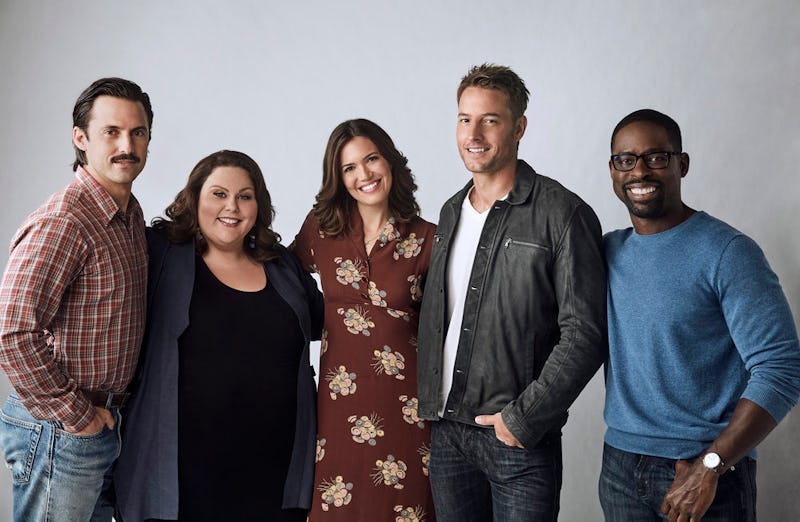 Maarten de Boer/NBC
With its third season due to premiere on Sept. 25, many fans may be wondering if Season 2 of This Is Us will be available on Netflix – and for very good reason. Since its debut in 2016, This Is Us has quickly became one of the most beloved dramas on TV, and now that it is is gearing up to make its big return to television later this month, there are many who may be be looking for a way to binge on some of the show's best moments.
While the series is most certainly worth a revisit, it appears highly unlikely that Netflix will be offering it for viewing anytime soon due to Hulu's exclusive contract with the beloved family drama. In May 2017, Hulu won a bid to have streaming rights for This Is Us for all current and past episodes of its 2016 and 2017 seasons, according to The Hollywood Reporter. The outlet reports that Netflix and Amazon also bid on the project, but ultimately lost out in the biding process with Twentieth Century Fox Television Distribution, which issued a co-exclusivity deal to Hulu and NBC Entertainment for SVOD (streaming video on demand) rights to the series.
Details surrounding the deal reveal that the series will be available to Hulu subscribers to Hulu subscribers through both the service's app and website. PopSugar notes that episodes are also available to cable or satellite customers who are able gain access via the NBC app or website.
It's definitely a great time to get prepared for This Is Us' Season 3 debut as there seems to be a lot of major stuff on the horizon for the Pearson family. Back in June of this year, Mandy Moore, who plays the family matriarch, Rebecca Pearson, dished on what fans can expect in the upcoming installment to TV Guide. Although she didn't give much away, Moore did promise that the upcoming installment was going to be This Is Us' "most ambitious" and "best season yet." The 34-year-old actor teased, "There is going to be some great stuff unfolding in Season 3." She continued gushing about the show's direction, adding:
"I am really, really excited for everybody — for Beth, for Toby, like their own stories, learning information about everybody, getting a fuller picture of who Jack and Rebecca were when they first started dating, who Jack was during the Vietnam War."
Viewers were left in a cloud of confusion at the end of the second season when a conversation between Randall and a future version of Tess appeared to hint at the fate of a female characters on the show. The clip, which featured Randall telling his apprehensive adult daughter that it's time "to go see her," had fans scrambling to make sense of the moment and lead many to speculate that Beth's future may be in jeopardy.
However, those rumors were put to rest when it was later revealed that Beth would be actually getting more screen time. In an April 2018 interview, Susan Kelechi Watson, the actor who portrays Beth, told The LA Times, "I don't think I'm dying. That's a rumor."
The Season 2 finale also offered a sneak peek into Kate as she tries to cope with Toby's struggles with depression, and also gave a glimpse into Kevin's relationship with his new girlfriend, and Beth's cousin, Zoe. A recent teaser, which was shared and later by NBC on YouTube, offered fans some major insight into Beth's probable reaction to Kevin and Zoe's relationship. "She probably thinks it's not a good idea," Watson teased in the clip. "To Beth, worst case scenario is they get together."
Given This Is Us' reputation for making viewers ugly-cry in just about every episode, it'd probably be be a good idea to have a box of tissues on stand-by when revisiting the Pearson's past.