Zayn Opened Up About His Relationship With Gigi Hadid & Why They Don't Need A Label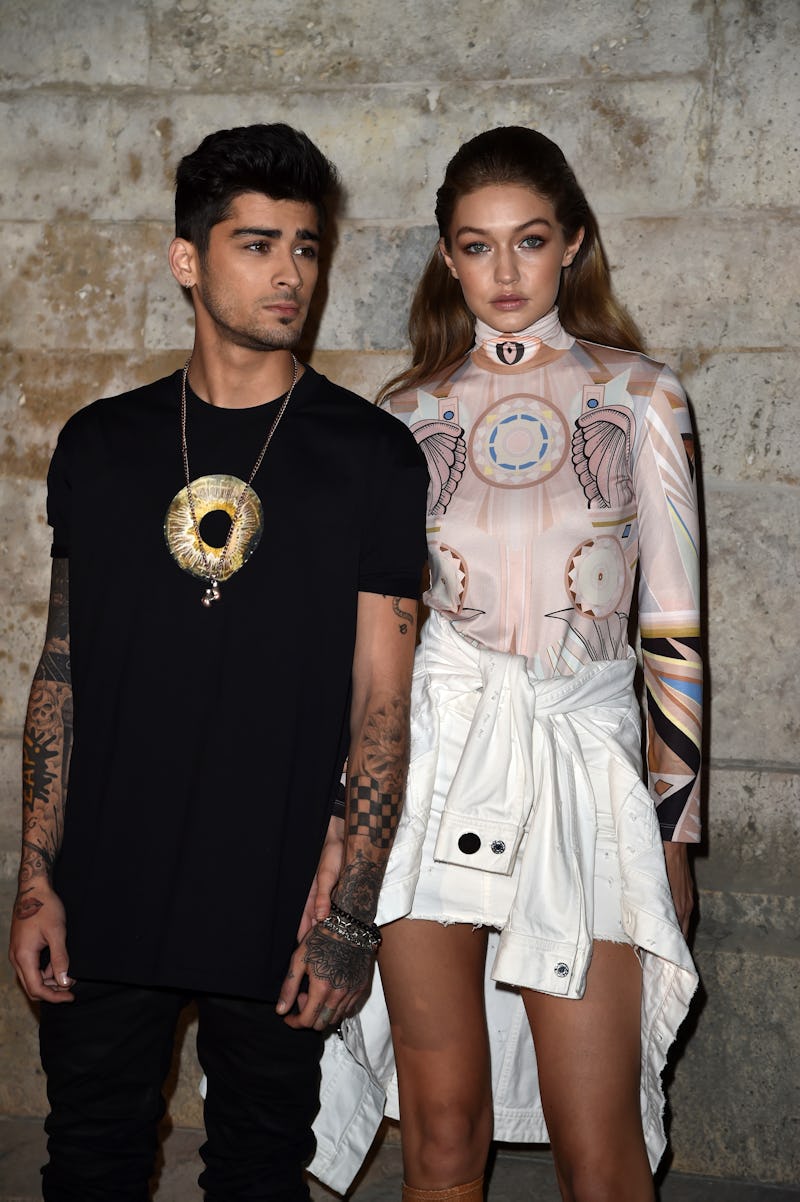 Pascal Le Segretain/Getty Images Entertainment/Getty Images
It's unclear whether Zayn Malik and Gigi Hadid are officially back together, and the singer thinks that's fine. In a GQ cover story published Monday, June 18, Malik said he and Hadid don't need to label their relationship for anyone. During the interview, Malik mostly brushed off speculation that the pair was an item again, "I'm really thankful that I met her," he said, telling the magazine that he and Hadid are "still really good friends, and we're still in contact."
"We're adults. We don't need to put a label on it, make it something for people's expectations," Malik continued, stating that while he was making his first album he "had a very negative outlook on things. That might have been adolescence or testosterone or whatever the fc*k was running through my body at the time. She's helped me to look at things from a positive angle."
Regardless of whether their relationship is romantic at the moment or not, Malik and Hadid don't appear to have harbored any hard feelings, and he even expressed his admiration for her look at the Met Gala in May, telling GQ, "Gi stole the night, though. The stained glass on her dress. Everyone else just put a cross on."
Malik's remarks that he and Hadid are still friends might help make sense of the recent rumors surrounding their relationship, which has been fodder for a game of are-they-or-aren't-they over the past few months. The on-again-off-again couple broke it off back in March, but in April they were spotting kissing while out in New York City in pictures published by TMZ, leading many people to believe they'd rekindled their romance. (A few weeks ago, Bustle reached out to reps for Hadid and Malik for comment on their status, but did not receive a response.)
To make matters murkier, just weeks before that, Malik was spotted leaving Hadid's NYC apartment, according to People. On top of that, in an April interview with Ryan Seacrest on his radio show, On Air With Ryan Seacrest, Malik said his recent single, "Let Me," was inspired by his relationship with Hadid.
"I was in love and I think that's pretty evident and I was aspiring to be in love with someone for the rest of my life and the rest of theirs, as we all do," Malik added of the track, hinting at his split. "Things change and we move forward in life and times change but that's what I was thinking when I wrote it. … That's the whole point of life. We go through experiences so we have memories and stories and things to write down and contemplate and think about."
Months ago, Malik and Hadid first confirmed their split via Twitter, both posting their own statements. On March 13, Malik wrote,
"Gigi and I had an incredibly meaningful, loving, and fun relationship and I have a huge amount of respect an adoration for Gigi as a woman and a friend. She has such an incredible soul. I'm grateful to all of our fans for respecting this difficult decision and our privacy at this time, we wish this news could have come from us first. We love you all. xZ"
That same day, Hadid tweeted a similar note. She acknowledged, "Breakup statements often seem impersonal because there is really no way to put into words what two people experience together over a few years .. not only in the relationship, but in life in general." However, the model added,
"I'm forever grateful for the love, time, and life lessons that Z and I shared. I want nothing but the best for him and will continue to support him as a friend that I have immense respect and love for. As for the future, whatever's meant to be will aways be. xG"
Fortunately, Malik said he and Hadid are still good friends, and there doesn't seem to be any bad blood. And as for the future, based on his comments, it seems that there's always a possibility the pair might get back together — just don't expect them to publicly label their relationship.