The Super Sexy Spot Where Anitta Loves To Spritz Her Fragrance
The singer shares her must-have beauty products.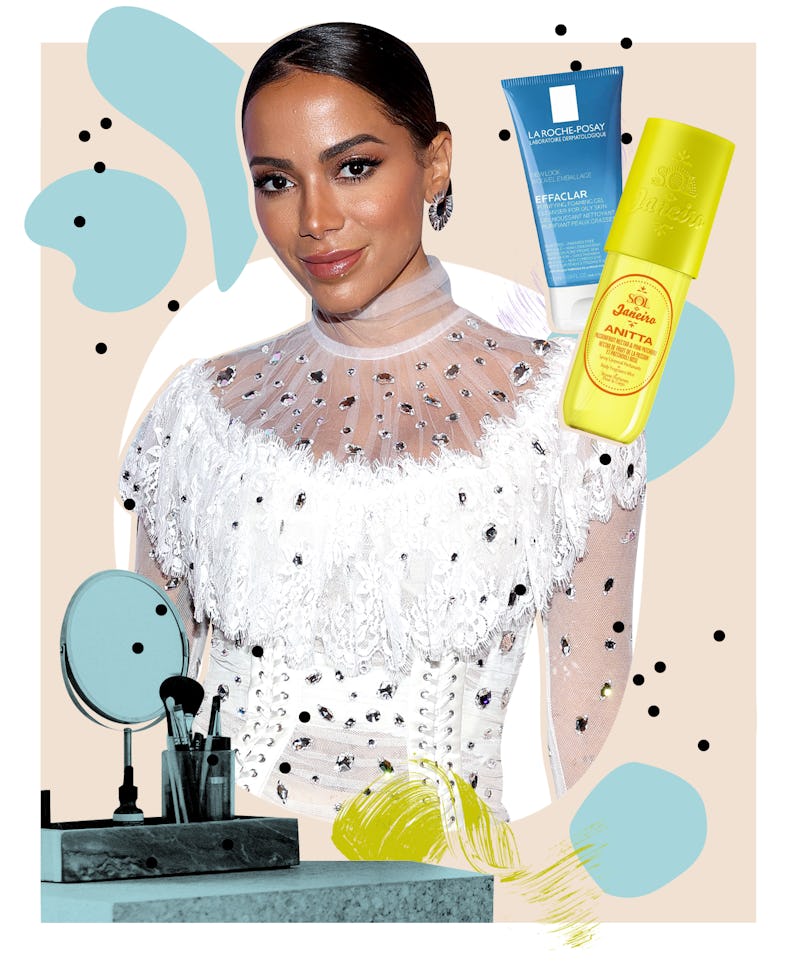 Rodrigo Varela/Getty Images
In Bustle's Beauty Detail, we dive into the beauty bags of our favorite talents for intel on the rituals that keep them glowing and the MVPs (most valuable products) they can't live without. Here, Anitta tells Bustle about her new fragrance collaboration with Sol de Janeiro, the reason why she's so candid about plastic surgery, and all of her favorite beauty buys.
Your favorite scent can trigger a cascade of positive emotions, give you that little boost of confidence, or make a lasting impression on anyone who comes close enough to catch a whiff. And given that impact, it's fun to be strategic about where you spritz it on, methodically placing fragrance on specific areas like the collarbone or that hidden spot behind the ear. Ask Brazilian pop star Anitta where she prefers hers, and she'll tell you without hesitation that she likes to go all out.
"I [spray fragrance] everywhere. Everywhere — even down there. I don't care. I put it in my panties," Anitta tells me over Zoom. "I like smelling good everywhere."
It's this love of smelling good that sparked her recent collaboration with Sol de Janeiro. The Perfume Mist, which launched Tuesday, Aug. 10, is all about good vibes. With notes of passion fruit, patchouli, and vanilla, it's a sweet smell that's like a bottled version of a warm embrace. I tell Anitta that while I've never been to Brazil, I imagine that this fragrance captures what I could expect once I do head south: warmth, energy, and fun. She co-signs immediately.
"We are very warm, energetic, and magnetic people," she says. "I want to spread the Brazilian message to everyone. The message — to me — is this energy [of] self-love. Be healthy. Be happy."
Anitta explains that in Brazil, beauty is defined by how you feel, not how you look. "I understand a lot of people say I'm [wrong] and [Brazilians] are talking about the physical beauty. But we really believe that the way you feel inside is the way people are going to see you physically," she says.