The DIY Brazilian Beauty Treatments Camila Coelho Swears By
The style and beauty entrepreneur spills her secrets.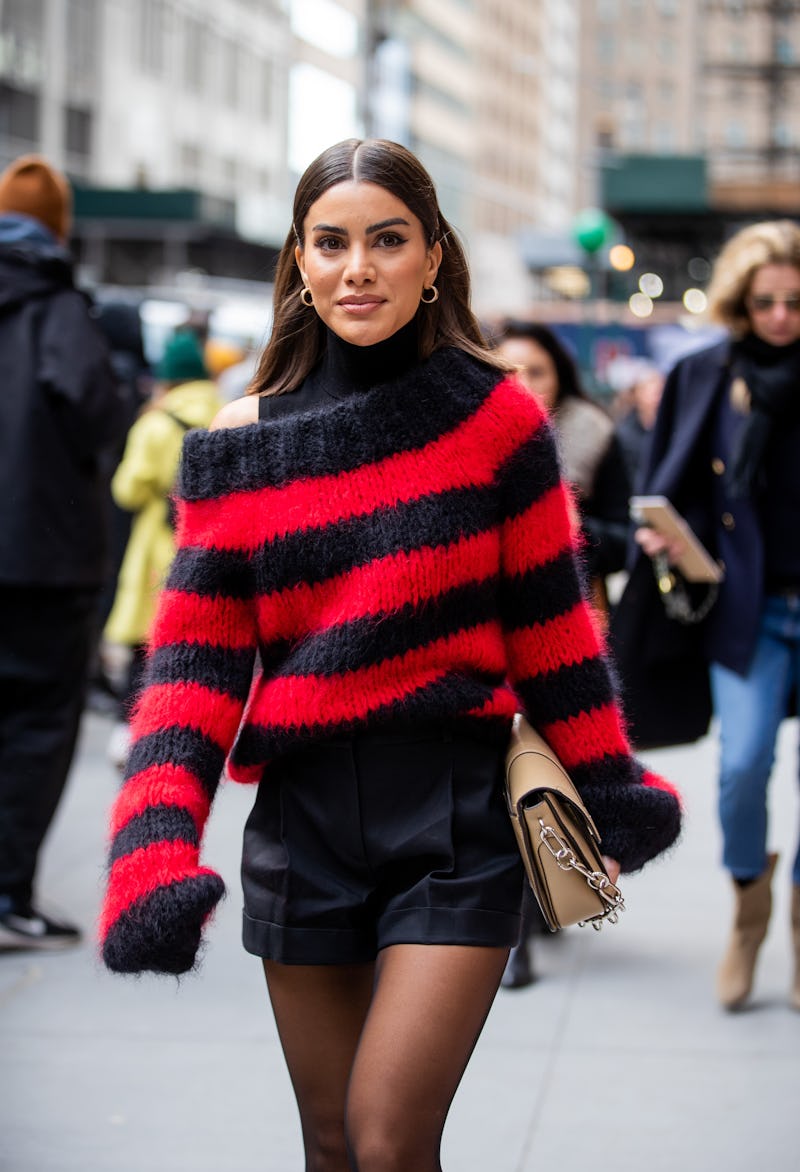 Getty Images/ Christian Vierig / Contributor
If you're one of her nearly nine million followers on Instagram, you already know Camila Coelho's beauty and style game is always on point. The Brazilian influencer and entrepreneur may post selfies showing off an on-trend graphic eyeliner look, colorful makeup creations, or a perfectly bronzed face beat, but she's actually really passionate about holistic skin care and her wellness routine.
The fashion and beauty aficionado grew up in a super-small town in Brazil and says she spent the majority of her days outside. "I grew up in this tropical country going to the beach or the pool all the time," she tells Bustle. "I feel like I'm my happiest when I'm at the beach." So it's no surprise Coelho just expanded her swimwear line — the Camila Coelho Collection, which is sold through Revolve — as an ode to her roots. "Being outside and in the sun is in my blood, so it makes me really happy to have a swim line. I'm really passionate about it," she says.
It also makes sense Coelho has her own beauty brand: Elaluz, which consists of skin care essentials (think oils and treatments) spiked with — of course — plenty of Brazilian botanicals. But, despite the fact she's created a tanning cream and a 24-karat gold-enhanced lip mask, she swears her overall philosophy on beauty stems from how she's feeling. "I take care of my skin every day, and the same with my body," says Coelho. "But I'm also about whether my mind is well. So I have self-care rituals to make me feel good mentally — because when you're happy, your body and your skin react in a positive way."
Here, Coelho chats about her go-to wellness and beauty rituals, which include long baths, getting outside, and concocting DIY beauty treatments she's picked up from her grandmother.
How has your upbringing influenced your approach to beauty?
My childhood in Brazil definitely ties into who I am when it comes to makeup and skin care. I grew up seeing my mom and my grandma doing homemade hair masks and face masks, and I remember doing it with them. I also have a photo of myself when I was six where I'm wearing red lipstick on because I was always playing with my grandmother's makeup. It's a Latina thing too — we love makeup and we love to take care of ourselves. I definitely have so much of that in my blood.
What are your favorite DIY beauty treatments you picked up from your family?
One is a face mask that's just two ingredients — it's so easy, but it's one that [my mother and I] would do the most because it makes your face so smooth. It's just honey and sugar, and works as a soft scrub for your face that deeply hydrates. Just blend both together, put it on and scrub it after leaving it on for 10 minutes.
"When you're happy, your body and your skin react in a positive way."
For the hair, there's one we used to love because it makes your hair so shiny. The key ingredients are avocado and aloe vera — you put them in a blender and put it all in your hair, leave it on under a hair cap, and stay outside so the sun warms it up.
What are some more high-tech essentials in your beauty routine?
For a facial I do myself, I'll use a steamer and then use this tool that's supposed to take your blackheads out. Wearing makeup it's so easy to get blackheads — so I use that on my nose, then use regular skin care afterward to moisturize. I also love trying face masks, whether it's a sheet or a cream, I've been all about home facials during COVID.
What are your go-to wellness habits? Did you adopt a lot from your Brazilian roots?
In Brazil, it's a thing to take walks — everyone takes walks every day. Being active is huge for us, but it's not always about going to the gym. You can play volleyball at the beach, go biking, rollerblading — I love hikes, especially in Los Angeles because of the amazing views. Biking is one of the things my husband and I have recently gotten into; we bike to the beach a lot. Being outside and breathing fresh air is really key for taking care of my mind and de-stressing, and that is what makes me feel good in my body and in my skin.
This interview has been edited and condensed for clarity.