The 10 Best Shoes For Back Pain, According To Experts
Tons of supportive styles starting under $40.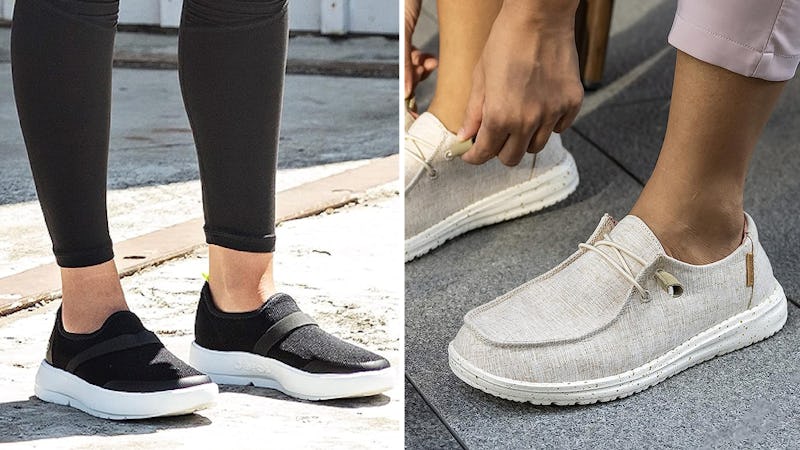 Amazon
We may receive a portion of sales if you purchase a product through a link in this article.
When chiropractor Dr. Todd Sinett sees a new patient, he often starts with their feet. That's because there's a direct correlation between your shoes and possible back pain. Proper support, cushioning, and stability are crucial in order to find the best shoes for back pain. In fact, board-certified podiatrist Dr. Anne Sharkey explains, "The feet are the foundation of the body," so "wearing poor shoes is like functioning with an unstable foundation." To narrow down the options, I've consulted with Dr. Sinett, Dr. Sharkey, and an orthopedic surgeon to break down must-have features, provide recommendations, and offer tips on what to avoid.
The Experts
Dr. Todd Sinett, DC, is a licensed chiropractor and applied kinesiologist in New York City. He is the founder of Tru Whole Care, a multi-specialty health center, and the author of five books.
Dr. Anne Sharkey, DPM, is a board-certified podiatrist and currently practices at the North Austin Foot and Ankle Institute in Texas. She is also the co-host of the health and fitness podcast, From Tits to Toes.
Dr. Rojeh Melikian, M.D., is an award-winning, board-certified orthopedic surgeon. Based in California, he is a physician partner at DISC Sports and Spine Center and specializes in microscopic and reconstructive techniques.
What To Consider When Looking For The Best Shoes For Back Pain
Support
If you're experiencing back pain, having shoes with a supportive sole is essential. According to Dr. Sinett, "Shoes should have a firm sole, as well as good arch support. Stiffer soles can also help reduce strain on the spine and absorb shock better." And to find out if your shoe's sole is supportive enough, orthopedic surgeon Dr. Rojeh Melikian suggests "holding the shoe on either end and trying to bend it in the middle. If it collapses or bends easily, it may not be the right shoe for those with back pain."
Cushioning
Additionally, chiropractor Dr. Sinett believes that cushioning is another important feature when it comes to shoes. It can reduce impact and vibration when your foot hits the ground, which will help with preventing back strain. Materials like memory or EVA foam, rubber, or other high-quality options can provide comfort and shock absorption. You can also look into a pair of insoles that can add more cushioning to any shoe.
Stability
When considering back pain and shoes, Dr. Sharkey points to stability as a key attribute, adding that you must look for shoes that fit well. Dr. Sinett says, "Shoes with a wide base help distribute your weight evenly and reduce strain on your back." Keep an eye out for shoes with a rounded toe box or wide sizes, which can help with cramped toes and give your feet wiggle room to move and stretch.
What To Avoid
Across the board, every expert advises against shoes with heels if you're looking to reduce back pain. Dr. Sharkey says: "Avoid heels higher than 2 inches which can increase stress and strain through the low back." And Dr. Melikian adds that those with lower back pain should focus more on sneakers that can be more supportive for the feet.
While running shoes can be a great option for back pain, there are also great loafers, sandals, and ballet flats that can also provide proper cushioning and stability. Scroll down for a variety of the best shoes for back pain.
1. Expert Pick: A Wildly Popular Running Shoe
Pros:
More than 23,000 reviews and an overall 4.7-star rating
Cushioning is durable, responsive, and shock absorbing
Narrow and wide sizes available
American Podiatric Medical Association (APMA) Seal of Acceptance
Available in more than 30 colors
Cons:
Can run small, according to some reviewers
If you have high arches or neutral feet that need shock absorption for your back pain, Dr. Sharkey recommends a cushioned shoe like the Brooks Ghost sneaker. They're designed with Segmented Crash Pad, an integrated system of shock absorption, and cushioned with BioMoGo DNA and DNA LOFT, so every step is supported from heel to toe. The shoes are lightweight, flexible, and have a breathable upper to keep your feet cool and dry.
Whether you're running errands or running on the treadmill, these sneakers offer the stability you need. Not only that, they're American Podiatric Medical Association-approved, a certified diabetic shoe, and come with more than 19,000 five-star ratings. And because they come in more than 30 colors, you're sure to find one that fits your style.
One Reviewer Wrote: "I absolutely love my Brooks, I cut hair and I'm on my feet 8-10 hours a day on hard flooring and these shoes are my absolute favorite. Lower back pain and my knees hurt but with these shoes it makes a huge difference. I just pray that never discontinue or change the shoes."
Sizes: 5 – 13, including narrow and wide sizes | Colors: 38
2. A Fan-Favorite Pair Of Walking Shoes
Pros:
Over 74,000 reviews and an overall 4.5-star rating
Available in 30 colors
Comes in narrow and wide sizes
Flexible sole and springy insole
Cons:
May not be the best option for high arches, according to some reviewers
When it comes to walking shoes, Amazon reviewers love these Skechers sneakers with a springy insole to cushion your stride and a lightweight, flexible sole to support your foot. The breathable mesh upper keeps feet from getting sweaty and the padded collar makes sure your feet stay comfortable. Some reviewers reported that the top of the shoe might be uncomfortable for those with high arches, but many fans recommend these sneakers for back pain. One shopper raved, "I teach, and I never complain about back pain or tired feet with these." They also come in narrow and wide sizes.
One Reviewer Wrote: "An athleisure shoe to wear with leggings and inside the house for comfort. My old shoes had lost their comfort and I need something with lots of spring and cushiness to help my knee and back pain. I can run down the stairs again. A nice plain slip on wide width shoe that goes with all my black leggings and looks new and clean. Room for toes and I add an extra insole for springy comfort."
Sizes: 5 – 13, including narrow and wide sizes | Colors: 30
3. These Highly Rated Loafers That Come In A Ton Of Styles
Pros:
Over 119,000 reviews and an overall 4.7-star rating
Elastic laces
Lightweight, each shoe weighs under 5 ounces
Removable memory foam cushioning
Machine washable
Breathable canvas upper
Available in 75 colors and prints
Cons:
With more than 110,000 reviews, a stellar 4.7-star overall rating, and 70-plus style options, it's easy to see why these Hey Dude loafers are a popular choice with shoppers (and a favorite for those with back pain). The shoes are lightweight — each one weighs less than five ounces — and the breathable canvas upper makes sure your feet stay cool. They have a flexible, slip-on design with elastic laces, and feature a removable memory foam insole that reduces sweat and odors. And even if they get a little dirty, you can throw them in the washing machine and air dry.
One Reviewer Wrote: "I am 32 weeks pregnant and purchased these hoping to ease the lower back and hip pain that I have been experiencing and to find a slip-on shoe that I can wear compression socks in. I had been going to the chiropractor for a couple months with no improvement in hip pain and within a week of wearing these, my back and hip pain was almost gone. They are lightweight so wearing them in the summer with socks isn't too hot. I wear them pretty much everywhere (not wearing for super dirty or strenuous activities, but they have survived a petting zoo or two) and I haven't seen much wear and tear or staining, which is a plus for the office."
Sizes: 2 – 12 | Colors/Prints: 75
4. These Adjustable Sandals For Less Than $40
Pros:
Over 19,000 reviews and an overall 4.6-star rating
Lightweight, molded footbed
Springy cushioning
Includes wide sizes
Cons:
Sizing can run large, according to some reviewers
If you're looking for a pair of sandals that offer stability and cushioning for back pain, then this pair of Skechers is a great option. They have a molded footbed that supports your feet, and flexible, springy cushioning for shock absorption. The insole is comfortable and responsive to every step, and they're made of materials that are so lightweight that one reviewer reported, "You will forget you are wearing shoes." The straps are adjustable and they're made of a soft fabric that won't irritate your skin. The 0.75-inch platform gives you just a little bit of height without making things uncomfortable.
One Reviewer Wrote: "I am a day of the wedding coordinator and usually get [in] 25 to 30,000 steps in on the day of a wedding. Usually by the reception I am popping Advil for my lower back pain and feet soreness. The first day I wore these, I did not have to take any medicine, I did not have a sore back or feet. I love these."
Sizes: 5 – 12, including wide sizes | Colors: 10
5. Expert Pick: A Pair Of Sneakers For Flat Feet
Pros:
Breathable mesh
Durable outsole
Supportive midsole that gives you the feeling of propulsion when moving
Narrow and wide sizes available
Cons:
Can run small, according to some reviewers
Dr. Sharkey specifically recommends these ASICS sneakers and calls them her favorite pair for flat feet and back pain. And Dr. Melikian adds that the ASICS brand makes shoes that "tend to be very supportive for your feet and have the right type of insole."
Designed with an OrthoLite X-55 sockliner, these shoes give your feet stability and a feeling of being propelled forward as you walk. For support, it utilizes TRUSSTIC technology in the midsole that keeps the shoe's structural integrity and prevents your foot from twisting. And if you find that your foot rolls inward when you step or run (aka overpronation), which can contribute to flat feet, the sneaker's Dynamic DuoMax Support System will reduce stress and stabilize the area. The upper is made of a breathable mesh to keep feet cool and narrow and wide sizes are available.
One Reviewer Wrote: "Best shoe I've found for my over pronation. I don't run but work out, walk and stand for long periods of time. Had surgery to rebuild my foot so I've searched many brands for the perfect shoe. This brand is it and has even alleviated my back pain to the point I do not go to a chiropractor or doctor any more for it. I will say this new version has a slightly smaller toe box than the previous version."
Sizes: 5 – 12.5, including narrow and wide sizes | Colors: 18
6. These Sneakers That Come With A Lot Of Width Options
Pros:
Include narrow, wide, and extra-wide sizes
Available in 27 colors
Lightweight and breathable
Soft cushioning targeted at flexible zones
Cons:
If you're searching for a variety of width options including narrow, wide, and extra-wide sizes, these New Balance sneakers are a solid pick for back pain. And with Fresh Foam X cushioning, you'll feel softness targeted under your foot's natural zones of flexibility. One reviewer raved, "They are like walking in clouds." The knit upper is breathable, but also stretchy and supportive for a snug fit. Note that the brand recommends ordering down from your normal size, as the sneakers can run large.
One Reviewer Wrote: "I am a mature woman with severe lower back issues And bad knees. The best thing I like about these sneakers are I did not have to put another insert in them. 1) New Balance offers women wide width 2) Great cushion with good support 3) FABULOUS style and color. I totally love them and I would recommend."
Sizes: 5 – 13, including narrow, wide, and extra-wide sizes | Colors: 27
7. Expert Pick: These Supportive Sneakers
Pros:
Removable, foam-padded insole
Memory foam collar at the ankle
APMA Seal of Acceptance
Includes wide sizes
Cons:
For those experiencing back pain, Dr. Melikian recommends HOKA running shoes for their support and insoles. The removable insoles are foam padded, and the sneaker's midsoles are made of durable EVA that also absorbs shock and provides stability. One reviewer reported, "I almost feel like I'm bouncing when I walk." There's even a memory foam collar that cradles your ankle while you're running or walking, and a breathable lining to keep feet from overheating. The shoes are lightweight, weighing just 8.9 ounces per shoe, and have the APMA Seal of Acceptance for promoting good foot health.
One Reviewer Wrote: "One of the most comfortable shoes made. I have an extremely bad back and a lot of pain when walking. These shoes are easy to slip on, easy to toss in the washer, fit perfectly. I'm on my third pair."
Sizes: 6 – 11, including wide sizes | Colors: 11
8. A Pair Of Sneakers With A Unique Shock-Absorbing Cushioning System
Pros:
Over 4,500 reviews and an overall 4.4-star rating
Breathable mesh
Comfortable insole
Cons:
What makes these On Cloud sneakers stand out is their CloudTec sole. Yes, it's comfortable, but it's also part of a cushioning system that's designed to be particularly good at absorbing impact, reducing the stress on your feet, and adapting to your running style — all great for back pain. Plus, they have a rounded toe that gives your feet plenty of room to move and stretchy laces that provide a snug fit. There's a cushioned collar that protects your ankle and reflective accents that can provide some visibility if you're running or walking when it's dark. With a breathable upper, lightweight construction, and rubber sole, you will feel like you're walking on air with every step.
One Reviewer Wrote: "12hrs of concrete floors & my back doesn't hurt… & my legs aren't tired by the end of the day!"
Sizes: 5 – 11 | Colors: 18
9. Expert Pick: A Pair Of Slip-On Shoes With Shock-Absorbing Technology
Pros:
Four-way stretch mesh
Machine washable
APMA Seal of Acceptance
Shock-absorbing cushioning & arch support
Cons:
If you're walking around the house, beach, or pool, Dr. Sharkey loves these OOFOS shoes for back pain. In fact, she recommends them instead of being barefoot because "they offer support and shock absorbing technology." It all comes down to the brand's OOfoam, which can reduce pressure on your feet, joints, and back, while the footbed cradles and supports your arches. They're designed to support foot mobility, make walking easier, and help with any kind of recovery. Made with a four-way stretch mesh, they're also breathable, machine washable, and come with APMA's Seal of Acceptance for promoting good foot health.
One Reviewer Wrote: "I have a bad back and knees. I have suffered from plantar fasciitis. I'm in pain everyday. I work in school and I'm constantly on my feet. These shoes are lightweight, comfortable and stylish. I wear them with dress pants, jeans and some dresses. I cannot say enough about them. I have recommended them to so many people!"
Sizes: 5 – 12 | Colors: 5
10. A Comfy, Dressy Pair Of Ballet Flats With Ample Cushioning
Pros:
Over 6,000 reviews and an overall 4.3-star rating
Includes wide sizes
Breathable, soft lining
Cushioned and contoured footbed with arch support
Minimal heel
Cons:
Can run big, according to some reviewers
These cute Naturalizer ballet flats have a few features that make them a great choice for back pain. They're made with a cushioned and contoured footbed featuring arch support, something that Dr. Sinett endorses, and a slight heel. The lining is breathable and soft to keep your feet comfortable (with or without socks) and they include wide sizes. One reviewer reported, "I want these in every color! There was no 'breaking-in' period, they were comfortable from the very beginning." Best of all, the simple design goes with any outfit from jeans to skirts.
One Reviewer Wrote: "I work customer service, have flat feet and painful bunions. Unfortunately I am always on my feet over 8-9 hours, my feet are usually in pain after a long day if I don't wear quality shoes. Those are perfect and I never had any pain so I decided to get a second pair with different color. Even after long hours, my feet feel great and no more back pain. I will be purchasing different colors from this store next paycheck. Much recommended if you have a problem feet and gotta work on your feet but you don't want to sacrifice your fashion!"
Sizes: 5 – 12, including wide sizes | Colors: 13
Also Nice: A Set Of Cushioned Insoles
Pros:
Over 60,000 reviews and an overall 4.3-star rating
Made of a breathable and shock-absorbing EVA material
Stabilizes the heel
Provides arch support
Cons:
Some reviewers found the insole too firm
To help with back pain, sometimes you just need a little extra cushioning in your favorite shoes. That's where these highly rated insoles come in. They're made of EVA material for shock absorption and measure just five millimeters thick, so they're slim enough to fit in most shoes. Plus, they feature a foam layer for comfort and energy return with every step. They offer arch support (which Dr. Sinett recommends), can ease stress, and stabilize your heel while making sure your weight is distributed across your foot. And, according to the brand, the insoles can offer support in your shoes for up to two years.
One Reviewer Wrote: "The arch is intense, it hurt my feet for the first 4 days of wearing. My back pain was immediately relieved, though. It slipped right in the shoe easily and I didn't need to trim it at all. I stand/walk 16 hours a day, as I have two jobs, so it did work wonders on my back pain. It didn't elevate too much to squeeze my foot into my shoe either. Other than my feet needing adjusting to the intense arch, it really did what it needed to to restore support. I'm a fan. Great quality for the price."
Sizes: 6 – 14.5 | Colors: 3