The 'Botched' Doctors On Brow Lifts, Selfie Dysmorphia, & Season 7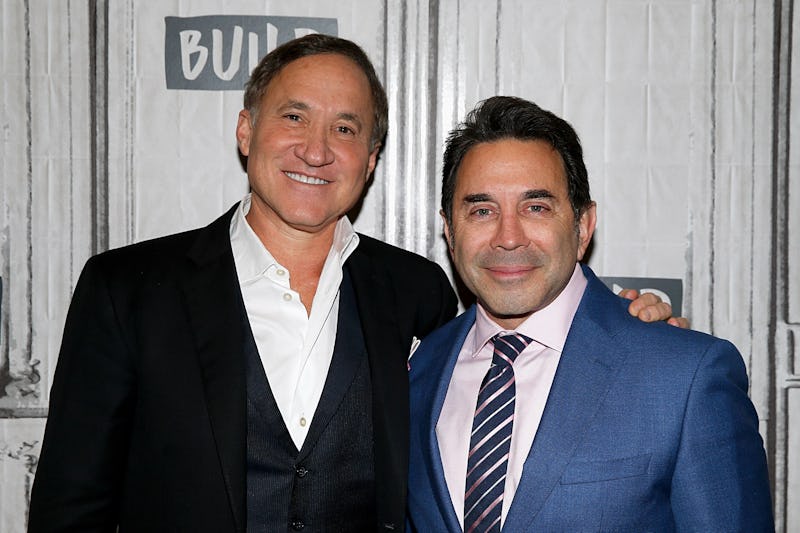 Dominik Bindl/Getty Images Entertainment/Getty Images
Abdomen holes that look like shark bites, lactating breasts in armpits, and IUD-induced nose deformities are just a few of the unconventional cases Dr. Paul Nassif and Dr. Terry Dubrow will tackle on Botched Season 7, which recently premiered on E!. While the reality show has long-documented extreme cases of plastic surgery (remember Rodrigo the Human Ken Doll?), the newest season is shaping up to be even more shocking — and emotional — than ever.
"It's kind of a Botched-by-nature angle this season," Nassif tells Bustle. "It's not just breasts. It's Holly, who postponed her wedding for five years because of her nose. It's rock 'n' roller David, who stopped entertaining because his eyes got destroyed following a cosmetic surgery. It's really, really intense and sad. You just feel horrible about what's happening to them."
This season is particularly unique in that many of the patients are seeking plastic surgery for accidents, trauma, or congenital deformities that have gone badly, specifically on oft-overlooked body parts, explains Dubrow. He cites the "shark bite" case — which was not actually a shark bite, but an injury from a car accident that resembled one — as a particularly memorable and rewarding procedure from Season 7. "This strapping, young guy came in and had half of his abdomen missing. I thought, my gosh, he reminds me of myself at that age because he's very into sports, hanging out, and having friends just like any other dude, and he can't do any of it. We've got to find away to make him a new abdomen."
Naturally, the season also feels different because of the pandemic. "We were in the first [part] of the season and then COVID-19 hit," Dubrow says. "It changed everything. People who had active complications got worse while we were waiting to operate on them. It made the season much more interesting — and much more difficult." While both Nassif, who specializes in rhinoplasty and facial plastic and reconstructive surgery at his Beverly Hills office, and Dubrow, whose plastic surgery office is in Newport Beach, spent a couple of months on pause (save virtual visits with post-op patients), they opened their respective practices and resumed filming Botched in May of 2020. "Who knows how to protect themselves better with masks, gloves, disinfectants, and sterilizing solution than plastic surgeons?" jokes Dubrow.
The Botched stars are seeing an influx of patients seeking plastic surgery, which mirrors recent statistics. According to the American Society of Plastic Surgeons, there's been a heightened demand for cosmetic procedures during the COVID-19 pandemic, with nose reshaping and eyelid surgery among the top procedures performed in 2020. "Eyes are the new lips," says Nassif. "I'm seeing a heck of a lot of patients who want to do an eye lift, a brow lift, or play with the flap on the lower eyelids." He adds that he's also performing a lot of neck lifts due to "tech neck," wrinkles that occur on the neck from looking down at your phone or laptop all day long.
Nassif has noticed an increase in minimally-invasive cosmetic procedures, such as subtle fillers, Botox, skin-resurfacing Halo laser treatments, and microneedling on the scalp for hair growth. He says the demand is likely due to mask-induced skin problems — but also "selfie dysmorphia" by way of social media filters. "It's not a good thing, obviously. People start thinking it's really them. But people are taking care of their skin better. We're seeing a huge demand in people asking, 'What can you do to make me look better?'" But Nassif adds that it's important to be mentally prepared for plastic surgery — that is, be realistic about the outcome and make sure disorders like body dysmorphia or OCD aren't negatively impacting your decision-making.
Dubrow also recommends taking it slow when it comes to plastic surgery. With tons of new techniques and technology on the rise — from new kinds of fillers to skin-tightening devices like J Plasma — he says it's wise to think before diving into such procedures. "There's so much pent-up demand and a whole new group of people who are considering plastic surgery because of Zoom. And they want it right now," Dubrow says. "These relatively untested procedures — that normally first get exposed to a small number of people before [being tweaked] — are being done on giant swaths of patients. I hate to use the words 'experimented on,' but it is a practice of medicine, a practice of plastic surgery. Until we figure out what works and what doesn't work, you're being practiced on, so be very, very careful about new techniques." In other words, exercise caution...you might just end up being Dr. Paul Nassif and Terry Dubrow's next guest on Botched.