23 Years Ago, Britney Spears Made The Visible Thong Her Trademark Look
Oops, she did it again. And again.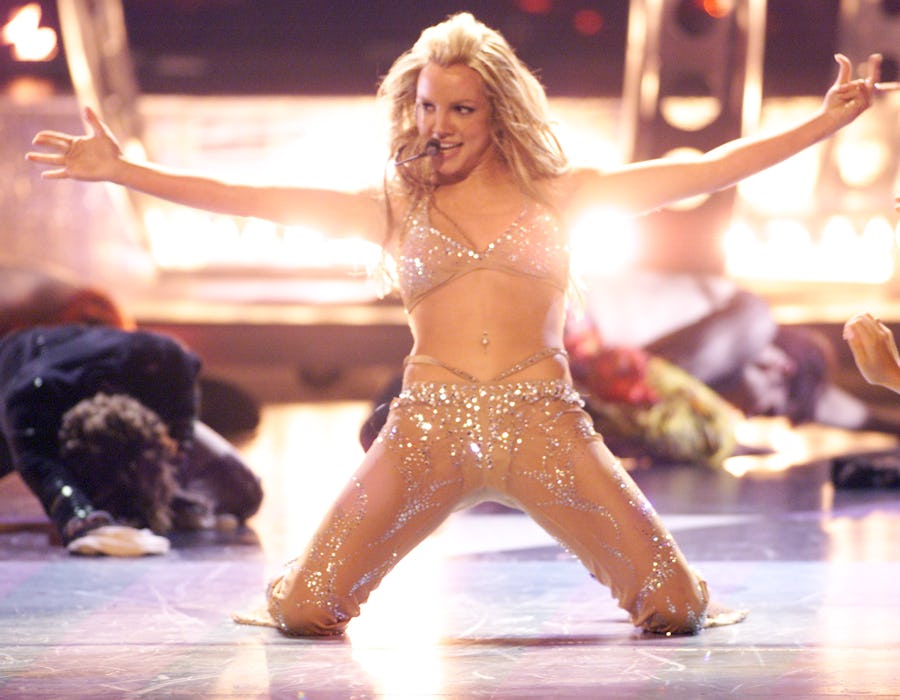 Scott Gries/Hulton Archive/Getty Images
Thanks to the likes of Dua Lipa, Bella Hadid, Kim Kardashian, and countless others, the uber-controversial whale tail is back in the zeitgeist and, for better or worse, affixed on the behinds of fashion girlies across the globe. But before these contemporary style queens helped the early aughts exposed-thong look boomerang right back on trend, there was first the OG: Britney Spears.
The princess of pop debuted her first whale tail-style 'fit at the 2000 MTV Video Music Awards, where she performed a medley of Rolling Stones' "Satisfaction" and her hit "Oops!... I Did It Again." She wore a bedazzled black suit, white button-down, and a fedora hat à la Michael Jackson, before ripping off the outfit to reveal a whole second look underneath: a glimmering flesh-toned co-ord set.
The saucy set by David Dalrymple mimicked a glimmering birthday suit. It included a crystal-encrusted bra and matching flare pants blinged-out with Swarovski crystals. Adding even more spice to the look, the bottoms were completely sheer, save for the thong-shaped smattering of crystals.
Her ensemble even came equipped with a built-in whale tail, giving the illusion of exposed underwear straps. (One could argue that this sparkly look is the older sibling of Spears' infamous "Toxic" music video outfit.)
Frank Micelotta Archive/Hulton Archive/Getty Images
KMazur/WireImage/Getty Images
Though Spears was by no means the first, nor the lone champion, of the thong-peeking-out-of-your-bottoms aesthetic, she contributed largely to the style's hold on society, especially since she made it her signature style for years after that outing.
The singer took this trend absolutely everywhere — on stage, the red carpet, and even out shopping. There was no occasion the visible thong did not fit. She sported all possible iterations of the Y2K-defining trend, from showing off a whale tail look to more subtle choices, like jeans with cut-outs made to look like straps.
She also experimented with the undies-forward style and brazenly wore a thong outside of her pants in her "I'm A Slave 4 U" music video. It's now one of her most iconic looks of all time.
Jim Smeal/Ron Galella Collection/Getty Images
Jim Smeal/Ron Galella Collection/Getty Images
Frank Micelotta Archive/Hulton Archive/Getty Images
KMazur/WireImage/Getty Images
Let's give credit where credit is due: Britney Spears walked so Dua Lipa could run.