Every Carrie Bradshaw Outfit From And Just Like That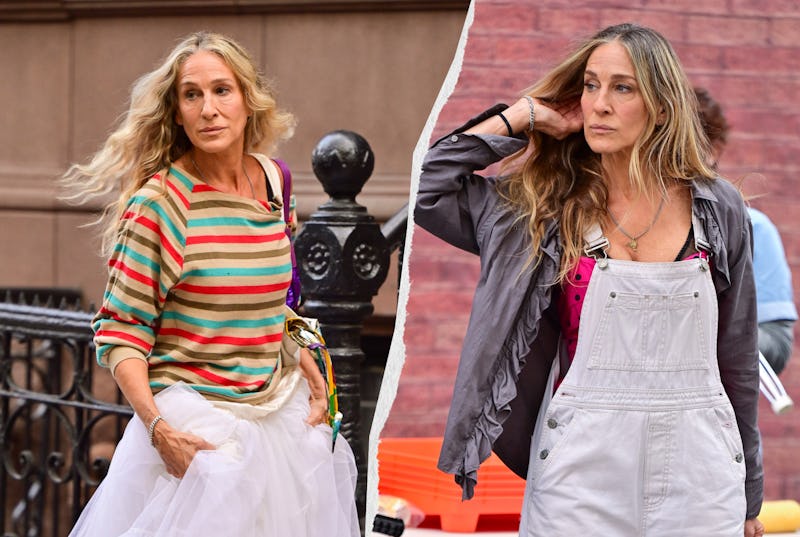 Getty Images
The world is abuzz about HBO Max's And Just Like That… AKA the Sex and the City reboot. Pictures from the set of the reboot are taking fans back nearly 20 years, to a time when Carrie, Miranda, Charlotte, and Samantha regularly graced their television screens. Alongside the stories of friendship and relationship ups and downs, SATC fans became enamored with the fashion, with the four friends stepping out in four very unique, yet equally covetable, sartorial points-of-view.
The brainchild of expert costume designer Patricia Field (who is now working on Emily In Paris Season 2), the fashion on Sex and the City was a character in and of itself. From Carrie's iconic tutu to Charlotte's fit-and-flare silhouettes; Miranda's power suiting to Samantha's sultry dresses, you'd be hard-pressed to find a fashion enthusiast in the late '90s and early 2000s who wasn't influenced by the show's costumes.
Now, with the 2021 iteration And Just Like That..., costume designed by Molly Rogers and Danny Santiago, old and new fans have the chance to experience Carrie, Miranda, and Charlotte's fashion once again (Samantha Jones will not be returning). Through sneak peeks, however, it's become clear that the fashion is totally different this time around.
Each character's approach to fashion is a bit more relaxed, which will likely correspond with the plot as they mature and their personal lives appear more settled. However, Carrie's famously adventurous style is still eliciting strong reactions, from her lehenga to her kitchen gloves.
Scroll down for everything Carrie Bradshaw's worn on the Sex And The City reboot so far, from her iconic tutu to '90s overalls.
This article was originally published on