Carrie Bradshaw Just Revived The Rosette On And Just Like That
And just like that, the flower has officially returned.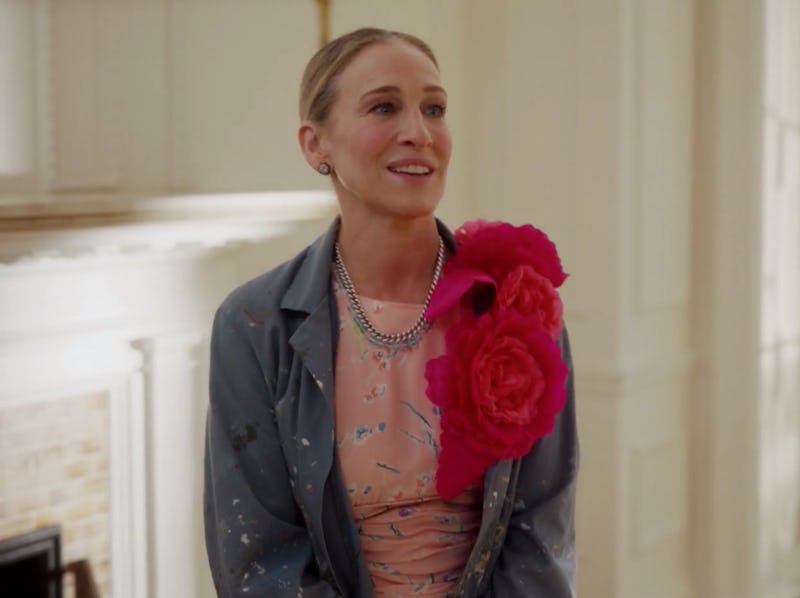 Screenshot via HBO
No one does rosettes better than Carrie Bradshaw. While the 3D floral look has dominated runways this year (on shoes, necklaces, dresses, you name it) and has been worn by all of fashion and Hollywood's most stylish (Hailey Bieber, Selena Gomez, and Kendall Jenner included), the OG just wears it differently.
SATC fans know the flowers punctuated Carrie's signature style. Over the course of six seasons and two movies, Carrie wore the floral appliqués with gusto, often turning out in 'fits that bore massive blooms. New York's favorite columnist especially liked wearing them as an accent on one shoulder. Fortunately for fans aching to see more of Carrie's old aesthetic, she revived the look on the second season of And Just Like That.
In Episode 9, things were getting serious with Aidan after their highly-anticipated reunion. So much so, in fact, that Carrie decided to let go of her apartment and buy a new place for them to live — a decadent property with four bedrooms and three-bathrooms. In true Carrie fashion, she turned to her besties first before making a big purchase and took Miranda and Charlotte to see the apartment to get their opinions.
During her "tour," Carrie wore a floral-on-floral dress. The pink midi was covered in delicate flowers that also boasted a 3D bouquet of pinkish red roses on her left shoulder. She paired the dress with a long gray coat that was covered in paint splatter. Meanwhile, Carrie merchandised the look with sparkly slingback pumps and a silver chain necklace.
It was a great fashion moment, sure. But it was also symbolic of where Carrie is at in life. She's moving forward and letting go of her past, all while feeling very much like herself. For reference, here are some looks from the SATC archives when Carrie rocked the rosette appliqué look.
Screenshot via HBO
James Devaney/WireImage/Getty Images
Screenshot via HBO
Screenshot via HBO
It's quintessentially Carrie.