Copper Hair Color Is Trending, But Here's What No One Is Telling You
Be prepared for the maintenance.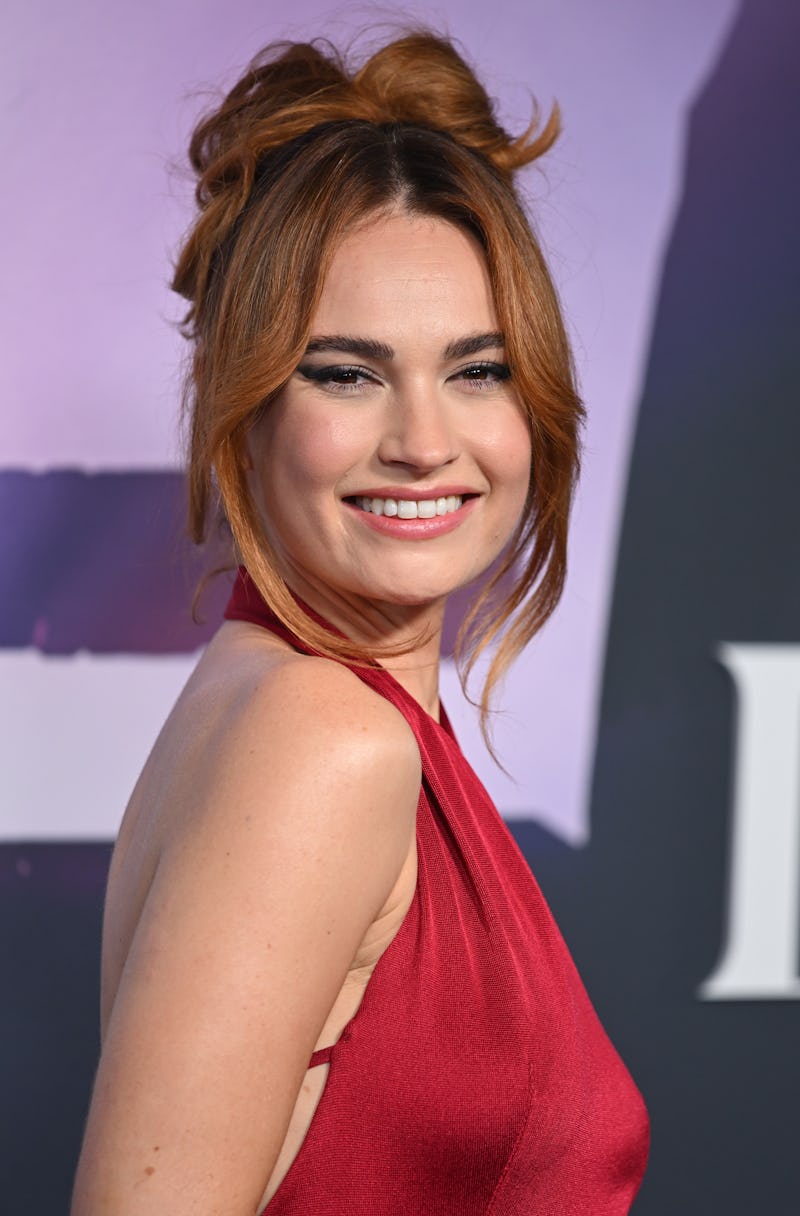 Karwai Tang/WireImage/Getty Images
Sunset-inspired hues of red velvet, dreamy apricot, and bold copper have been *in* for quite some time now — with celebs like Kendall Jenner, Phoebe Dynevor, Lily James, Halsey, Sydney Sweeney, SZA, and many more getting in on the buzzy hair color trend.
Though unlike fresh makeup trends that wash off at the end of a long day, or daring fashion fits that can be added to your wardrobe for the perfect moment: Dying your hair is much more of a commitment. And while you may be dreaming up some copper hair looks for spring and summer, Bustle tapped the experts for insight on what you may want to consider before making that salon appointment.
1. Use Your Skin Tone To Help You Determine Your Perfect Shade Of Copper
George Papanikolas — Matrix's global ambassador, and a hair guru who works with the likes of Ana De Armas and Khloé Kardashian — says that finding the right tone of red may be a good place to start: "Warm coppers and gingers are the most flattering for cool, [light] skin tones. Cooler coppers and auburns are most flattering on warm skin tones. Neutral skin tones can go either direction and have the most flexibility in choosing their shade since they fall right in the middle."
Not sure your skin's undertone? Asking yourself these quick five questions may help.
2. Make Sure Your Hair Is Healthy Enough For The Process
Greg Gilmore — Moroccanoil's global color ambassador, and a cut and color connoisseur who calls celebs like Skai Jackson his clients — shares how important it is to trust the pros: "Permanent color takes patience, strategy, and proper execution. It's important to choose a professional who you feel can give you the perfect tone of copper that is suitable for you, and can determine through consultation if the hair is healthy enough to withstand that type of process."
3. Think About Your Current Hair Color
Going From Light To Copper
For platinum babes, honey blondes, and beyond — Papanikolas says this of going copper: "If your hair is virgin, or already blonde, then it's a very easy transition to copper. Lighter hair needs to have additional copper deposited to achieve these hues, and since the copper color molecules tend to be very small, they tend to fade quickly...especially on previously bleached or blonde hair."
As for going back to your OG hue? "Going back to your lighter color is a harder process since you will need to strip out any dye and then bleach it." And as we all know, the more harsh bleach, the more damage for your locks.
Going From Dark To Copper
Going from a brunette or raven black hue? Papanikolas shares: "Previously colored dark hair will need to have the artificial color stripped out to an orange tone first before you can apply the deeper copper color. Darker hair naturally pulls copper tones when you lift it, so enhancing it with additional copper tones gives it a strong foundation to adhere to, and usually has minimal fading."
But what about going back to your signature color? "Going back to a darker color is a bit easier for brunettes. You can either opt for a darker hair dye, try a hair color remover, or you can naturally let your roots grow back."
4. Consider Your Hair Type
For Thicker Curls & Coils
Gilmore has worked with all hair types — and for those who may have thicker strands or curlier textures, he says: "A stylist would have to take a different approach in regard to the color application. Curly or coily hair, in most cases, requires more product so that one can totally saturate the strands and more time processing. If the sections that are being colored are not fully saturated then you run the risk of an uneven lift, and thus an uneven color. If you have curly or coily hair, make sure you talk to your stylist about the process to lift your specific hair type and color."
For Thinner Strands & Waves
As for those with thinner hair? He notes: "Typically, finer hair is more delicate than thicker hair, which means it can process more quickly. This is something your colorist will need to take into consideration to prevent over-processing and potentially damaging the hair."
5. Be Aware That Copper Hair Color Can Be Seriously High-Maintenance
If you're curious about the upkeep, Papanikolas says: "Copper tones need to be retouched every four to six weeks since the root regrowth comes in at half an inch per month. When you retouch the roots is also the right time to refresh the ends. Since reds tend to fade the fastest, [I recommend] Matrix's Keep Me Vivid Velvetizer as a leave in treatment before styling as it acts as a UV filter and heat protectant for additional fade protection."
Gilmore adds: "I think the biggest factors you consider should be the budget you'll spend on upkeep and the maintenance required to keep color hair healthy. A copper color can be achieved in one sitting, however, to keep the color vibrant one will need to refresh the tone of copper about once or twice a month. For the best long-term results, a client should really follow the instructions set by their colorist and always prioritize their home maintenance. I like to recommend color-safe shampoos and conditioners that are specifically for color-treated hair. The Moroccanoil Color Care Shampoo and Conditioner are a great option as its argan oil-infused formula prolongs your color, while helping to repair the hair's cuticle for a healthier look."
6. Try A Less Permanent Solution If You're On The Fence
The TL;DR: Copper is quite the commitment. And while countless factors may play into your decision, there *are* some other solutions to get in on the trend without as much of the fuss.
Of course, a faux hair moment is always a quick option to play with your look — but for a semi-permanent solution, Gilmore says this: "A great non-permanent option for those with naturally lighter hair is Moroccanoil's Color Depositing Mask in Copper. It is a temporary mask that has all the benefits of a regular hair mask, but also deposits pigment."
As for those with darker hair? He explains that a semi-permanent solution is not necessarily an easy option: "If the hair is naturally dark, it will need to be lifted with permanent color, high lift cream color, or lightener in order for one to see a copper tone. So knowing this, it's very important to be sure you would like to try copper hair before you do it."