Meet The Fashion Exec Designing Clothing From Fishing Nets
Sonia Martin, Everlane's VP of design, opens up.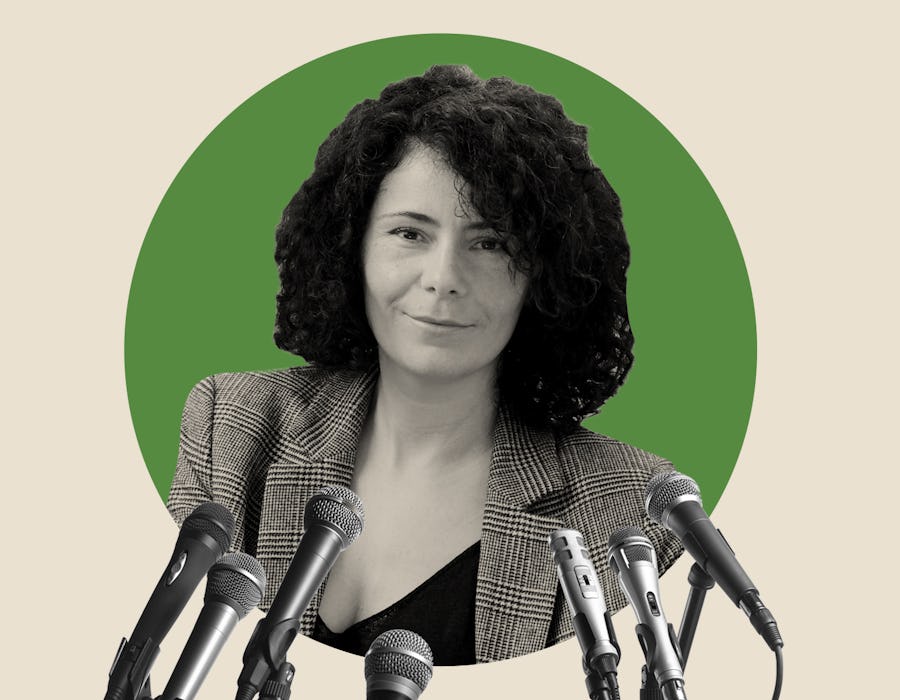 Courtesy of Everlane
In Bustle's Quick Question, we ask women leaders all about advice — from the best guidance they've ever gotten to what they're still figuring out. Here, Everlane's vice president of design, Sonia Martin, tells Bustle about working for a sustainable fashion company, knowing when someone's advice is bad, and being "forever curious."
In 2019, Sonia Martin started a new chapter in her professional career when she decided to ride the direct-to-consumer wave. With years of experience at fashion powerhouses like Banana Republic and Juicy Couture, Martin was ready to leave legacy brands behind for an emerging, mission-driven startup that was shaking up the industry. Enter Everlane, a DTC darling known for its stylish basics and transparent supply chains.
"Everlane started with a single question of why ⁠— why does a T-shirt need to cost so much?" Martin, the brand's vice president of design, tells Bustle. "With the unpacking of that question came the promise of radical transparency, ethical factories, and sustainable basics. It was, and very much remains, simply the right thing to do."
Although the 10-year-old brand may be relatively young — especially for the fashion world, which revolves around legacy brands — Everlane's success over the past decade suggests that it has staying power. (It also doesn't hurt that Meghan Markle can't get enough of its chic jumpsuits, tote bags, and loafers.)
Martin says she's always most excited about products that incorporate responsible raw materials or afterlife considerations.
"I love our new Forever Platform Sneaker, which is made of organic cotton and is 100% recyclable," she says. "We even give you the shipping label to send it off to be recycled once you have finished with your product. We also have another new category for the brand [swimwear] coming out later this month made from recycled fishing nets and plastic that I can't wait to share with the world."
Here, Martin reflects on the helpful (and not-so-helpful) business advice she's received over the years, the best ways to recharge, and what it takes to be a successful fashion executive.
In the early years of your career, what was the toughest challenge you faced and how did you overcome it?
There isn't one single challenge that really stands out to me in my early career, but there is a repeating one: finding balance. I grapple with this one every day. As a working mother, I strive to be present and loving for my daughter while doing the best work of my life. My solution so far is simply being kind to myself. Kind words only.
When you look back on your journey, what surprises you the most?
The most striking is that I still love what I do, some 20 years later. As a designer, your journey will never be complete. You will be learning forever. I love that aspect.
What's the most valuable business advice you've ever received?
After working for six years in England, I decided I wanted to move to America and get a job in New York. I met with a recruiter and as I presented my portfolio, I started listing off all the things I was good at — "I can do this, I can do that, I am good at this…" He then politely stopped me and said, "I'm sure you can do all these things, but what is it that you want to do?"
I was stopped in my tracks. I still get goosebumps now. I had never thought to ask myself what I wanted to do, and I didn't have an answer. He suggested I come back when I did. I left feeling winded and somewhat embarrassed. However, it was the best question I have ever been asked. It allowed me to stop, think, declare what I want, and then move forward with intention.
On the flip side, what's the worst business advice you've ever received?
"If you take a year off now, you'll never be able to get back into the industry." Twice in my career, I have taken a year out. Both times it has been the best decision I've made. I never like the fear of something hold[ing] me back. The fear often inspires me to do it.
One of my many mantras is "you only have one life, so just do it." The other mantra I use all the time is "you will only ever know what you decide to do, so it doesn't matter what you actually decide."
How do you recharge? What does your typical self-care routine look like?
I, for one, have been told many times that I'm "always on." Being with my daughter and husband is the easiest way for me to recharge. The focus on something greater than just my workday is grounding. I also find simply lying on the ground and staring at the sky for at least 30 minutes [to be] pretty incredible, too.
Do you have any insider anecdotes to share about product development or life as a fashion executive?
Everyone — and I mean everyone — has an opinion about clothing. People feel very inclined to share that with you, no matter what stage the sample is at. As a designer, you have to get comfortable with this pretty quickly. The other thing I'd share is how much goes into creating a single garment — from the initial idea, to the prototype, to the raw materials, to assigning color, to the manufacture, the shipping, the styling, the marketing. It continues to amaze me how many people touch every single product we bring to life.
What does an aspiring fashion exec need to know to be successful?
Be engaged, be passionate, and be forever curious. It's important to be open — open to feedback, to change, to being wrong, to the ideas of others as well as your own.
We only include products that have been independently selected by Bustle's editorial team. However, we may receive a portion of sales if you purchase a product through a link in this article.
Shop Everlane Best-Sellers