I Tried The Visible Thong Trend As A Size 18 Woman
Free the nipple, free the thong, and free us all from shame.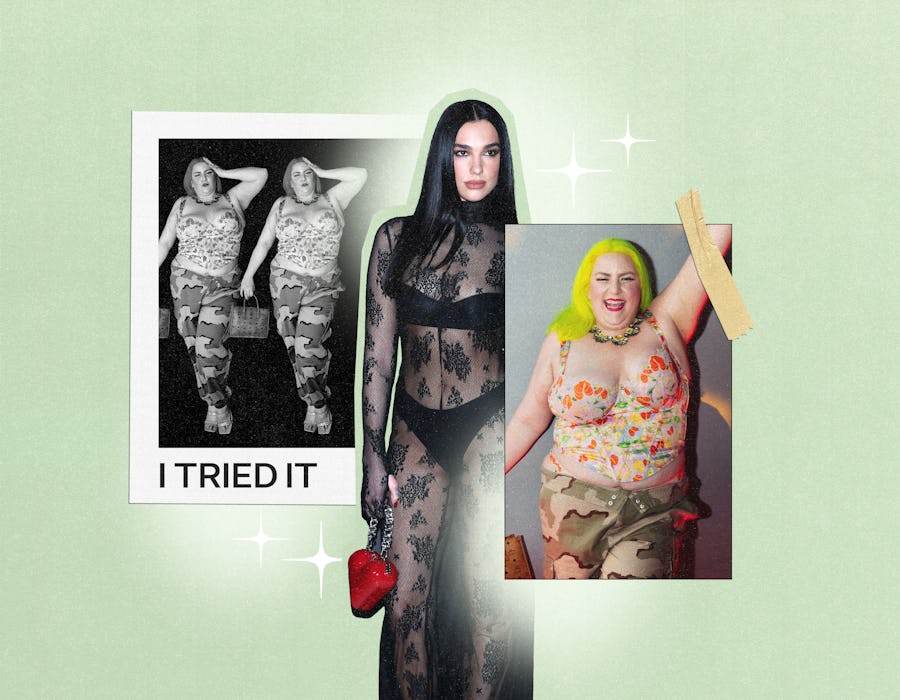 I Tried It
We may receive a portion of sales if you purchase a product through a link in this article.
The Y2K trend I feared growing up has officially resurfaced and is being sported by fashion's elite. Back in full force, the '90s-era exposed thong trend can be seen everywhere from the pages of Vogue to the highest-level of tastemakers (read: Florence Pugh, Hailey Bieber, and Dua Lipa).
The controversial style made its show-stopping fashion debut back in 1997, when low-rise jeans and thin bodies ruled both runways and television screens. Having been plus-size all my life, this created problematic body image issues for me growing up, which took years to work through.
Decades later, I am now a fashion editor, constantly translating the latest clothing trends for plus-size bodies. But given the exclusionary nature of this aesthetic and my fear of it growing up, this assignment hit different.
Though I have posed half-naked in front of millions as a plus-size lingerie model, I had yet to try the exposed thong trend IRL — until now. And I was actually looking forward to finally rocking the hotly-debated undergarment.
I wanted to serve full Bella Hadid: cool-girl style vibes, with a Margie Plus twist. I wore my new floral Savage X Fenty corset, with the matching thong peeking out of oversize camo pants (ASOS FTW). Finishing the outfit off, I chose my favorite pair of strappy, rhinestone heels that I scored on Amazon. I felt hot and ready for a Friday night of dancing.
Photo by Harald Austad
Photo by Loamis Media
Photo by Harald Austad
Photo by Harald Austad
I stepped out at Sunset, an A-list Hollywood nightclub inside of the West Hollywood Edition hotel. Billie Eilish threw her iconic 21st birthday party there, and everyone, from the Biebers to Doja Cat, has been spotted within its walls — so you know your girl had to come correct.
The marble room was filled with beautifully-dressed Hollywood elite and I immediately noticed that I was, yet again, the only plus-size woman in the room. The visible shock on the faces of passers by was also noticeable — shock at a larger body wearing trends that are typically only for the thin. Here in Hollywood, it's an unusual sight.
I shook off the stares and went about my business, documenting my ensemble over a game of pool with my hubby, Harald Austad. My friend and stylist Zerina Akers arrived, wearing an equally body-baring sheer look. Thanks to her see-through dress and exposed briefs, I was no longer the only one wearing lingerie in public. We hyped each other up as we posed for a pic, helping to ease any worry I had.
As soon as the rest of my squad arrived at the club, I felt invincible. I was beyond confident in my look and had the best time dancing under the disco ball. My first time rocking a visible thong was a complete success.
It was both liberating and empowering to take back a trend often saved for thin figures. As a size 18 woman, showing my body without shame is a feminist act in itself. Though many would prefer me to cover up and hide, I take up space unapologetically. I am proud to be part of a community that pushes the boundaries of society says fat people can wear.
Women of all sizes should have sole ownership of their bodies in every form — what we do with them and what we put on them. Free the nipple, free the thong, and free us all from shame. Just do you.