Everything To Know About Carrie Bradshaw's Favorite Bag: The Fendi Baguette
Carrie Bradshaw is back — and so is her favorite bag.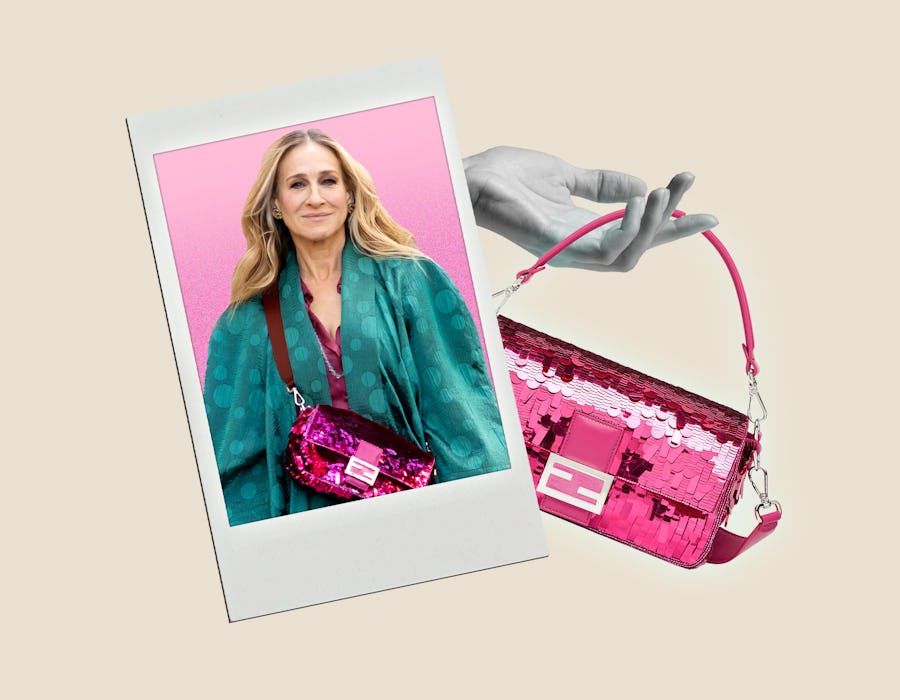 MEGA/GC Images/Getty Images
Secure The Bag
We may receive a portion of sales if you purchase a product through a link in this article.
"It's a Baguette," Carrie Bradshaw famously said, before handing her sequined Fendi to an armed robber. The year was 2000, and the season 3 episode of SATC catapulted the small accessory to it bag status. To this day, it's still one of the most popular handbags in pop culture canon.
Designed by Silvia Venturini Fendi under the artistic direction of Karl Lagerfeld, the rectangular purse was first released three years before it was forcibly taken off of Carrie, in 1997. Despite being touted by style savants in the late '90s (a young Paris Hilton was spotted carrying multiple colorways), it mostly flew under the radar until that fated SATC episode, which made the Fedi Baguette a household name.
As you may have guessed, the handbag was named after the famous French pain Parisians so chicly carry home from the baker. But various iterations that have been released over the years — over a thousand of them — are anything but low-key, boasting sequins, shearling, exotic skins, and other eye-popping details.
The Baguette has been so wildly successful, in fact, that the Italian luxury brand even staged a 25th-anniversary show at New York Fashion Week last September just to commemorate the purse. Naturally, the guest list was stacked — with attendees including Kim Kardashian, Kate Moss, K-drama legend Lee Minho, and Sarah Jessica Parker herself, a self-proclaimed fan of the bag. She even collaborated with Fendi on four new paillette-covered Baguette designs to celebrate the milestone.
Though Parker's SATC character owned several iterations of the bag (thanks to the stylistic genius, Patricia Field), the Baguette wasn't just an accessory for Carrie and the gang — it was a plot point. Even Samantha Jones (Kim Cattrall) landed her own Baguette storyline when she got kicked out of the Playboy Mansion for accusing a Bunny of stealing her (fake) Fendi purse.
Now, with HBO Max's SATC reboot, And Just Like That..., Carrie is back to her old ways, from her (divisive) Aidan reunion to a return to her original arm candy. This time, she donned a sequined Fendi Baguette in sparkling fuchsia.
Though it never really left the zeitgeist, the Baguette boomeranged right back. It was quickly on the arms of the fashion set after being reinterpreted in new styles and sizes in 2019. Since then, style leaders like Zoe Kravitz, Gigi Hadid, and Bella Hadid (who walked for the bag's 25th-anniversary fashion show) have been seen toting it.
Just last January, Fendi partnered with Tiffany & Co. to release two styles in the iconic Tiffany blue. Needless to say, they quickly sold out.
Robert Kamau/GC Images/Getty Images
Robert Kamau/GC Images/Getty Images
Raymond Hall/GC Images/Getty Images
Raymond Hall/GC Images/Getty Images
Not to worry, the bag is shoppable in many iterations — in canvas, leather, sheepskin, nylon, and the brand's signature FF jacquard print, among others. And since 2019, the bag comes in several sizes — a large, a midi, a mini, and even a cube — with varying lengths of leather or chain straps.
Prices range from $1,590 for a cube, $2,390 for the classic shape, and up to $8,400 for more exotic skins. You can even choose to DIY your own bag. If you want a piece of pop culture, go for the iconic purple sequined option. It's Carrie Bradshaw-approved.