13 Foot Tattoo Designs That Are Ridiculously Cute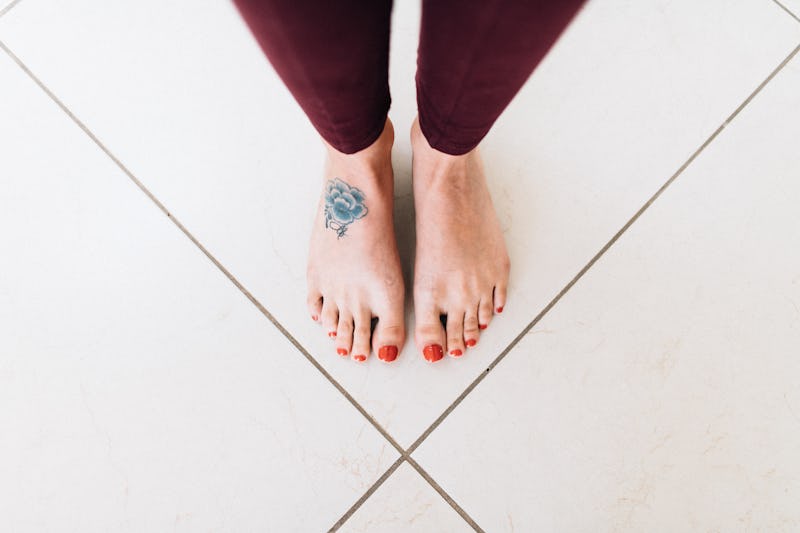 ferrantraite/E+/Getty Images
Whether you're a first-time tattoo-getter or you're an ink veteran, foot tattoos are a great spot to get some body art. If you go with a dainty design, it can totally be discrete — so that's a plus if you're just dipping your toe (ahem) into tattoos. From stars like Demi Lovato to Rihanna, plenty of celebrities have ink on their feet. If you want to see what the hype is all about, narrow down your expedition to find the perfect one with these 13 foot tattoo ideas.
Believe it or not, but there are so many options for ink placements on your feet for what seems like such a small canvas. You can get a tattoo dangling from your ankle down onto the top of your foot (à la Nicole Richie), opt for minimal designs on your toes, or get a design on the sides of your ankles — basically, where there's skin, there's a potential spot for body art. And, if you've been searching for a design that's noticeable when you wear open-toed shoes (it is finally spring, after all), foot tattoos can add that extra edge.
Where else to look for tattoo inspo than Instagram? Scrolling through the app, you can find thousands upon thousands of cool design ideas. To help you figure out what to get for your next ink, check out these 13 super-cute foot tattoos — there's a design for all kind of ink enthusiasts, from the adorable to the more bold.