20 Matching Tattoo Ideas, From Pinky Promises To Pets
Grab your BFF and make some plans.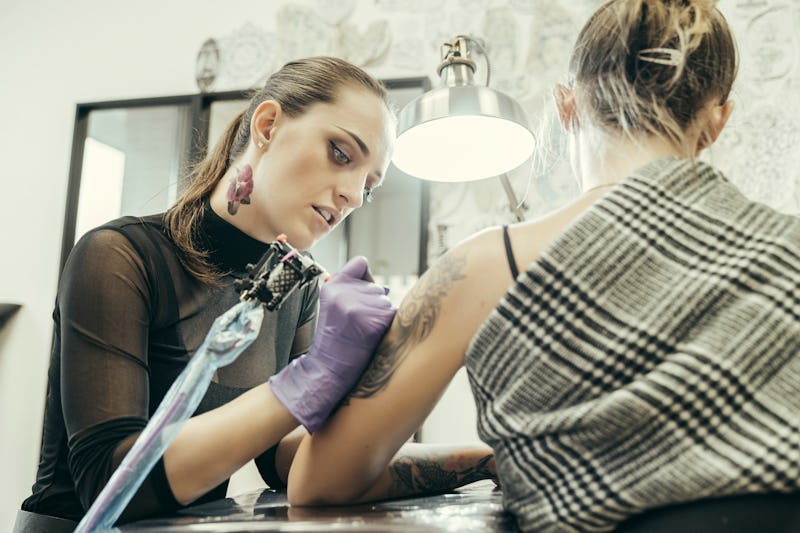 Westend61/Westend61/Getty Images
Sure, some people might say getting a matching tattoo with a friend or romantic partner could be risky given a potential falling out. But as long as you keep a few things in mind — and as long as you're sure you'll still like it even if you no longer like the person you got it with — it's a great way to symbolize an important relationship.
First up: Before you head in to get your new bit of body art with someone, make sure you've checked out your desired tattooer. "Always do your research," says Ink's Alysha Howard. "Every artist has a different skill set, so find the artist that you feel will make your idea real. I know how intense instant gratification can feel, but trust me, if you do it right the first time you'll be happier long term."
Artist Huka of Royal Heritage Tattoo adds that you should also think of the tattoo as a standalone piece. She tells Bustle that matching symbols or illustrations, rather than names, are a good option if things change within your relationship. "This way you don't need a cover-up," she says, "just a new reason to tell people why you got it ... consider if you would still like the tattoo if you didn't like the person you got it with anymore. The answer should be yes!"
Howard adds that it's always best to make an appointment — particularly with matching pieces of art — to ensure you get who you want, what you want, and that the designs get done together. She says two artists can do simple pieces, like lettering, but if you want a specific tattooer's style, that same person will need to work on both people.
If you need inspiration, Howard says designs inspired by travel, flowers, and dates are rising in popularity, and Huka is seeing a rise in minimalist pieces. If you're looking for more ideas, here are 20 matching tattoos to consider.