Straight From Constance Billard, These 'Gossip Girl' Reboot Trends Will Be Everywhere Come Fall
Juicy tidbits certainly aren't the only thing the stylish series has to offer.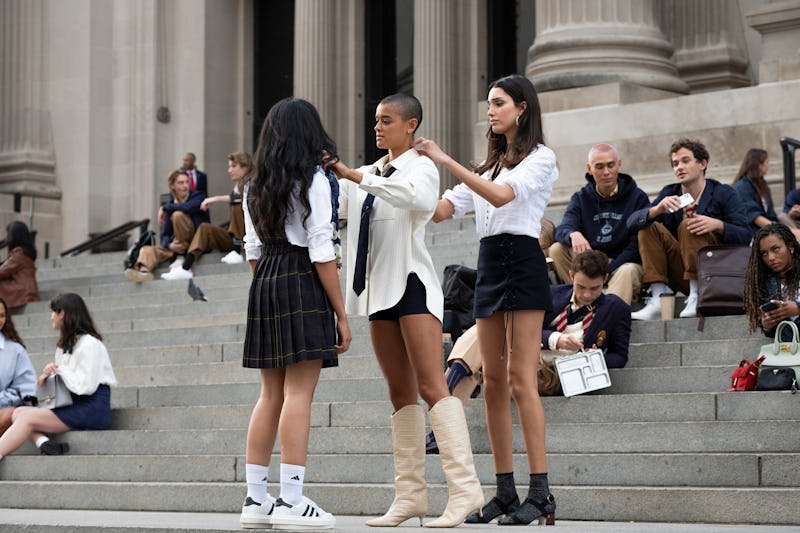 Photograph by Emily V. Aragones/HBO Max
With Gossip Girl officially back on our screens, the outfits of those Constance Billard coeds are similarly back on everyone's minds and mood boards. Much like its predecessor, the new show's queen bees are dripping in the designers of the moment. From Christopher John Rogers to Balenciaga, it's the wardrobe that prep school dreams are made of — and soon-to-be-iconic Gossip Girl fashion trends are born from.
None other than costume designer Eric Daman is responsible for the luxe looks that are gracing the steps of The Met once more. As the costume designer for the original Gossip Girl series, Daman has proved that while trends may change, the influential style of those fictional Upper East siders is forever.
The revamped show's current looks embody the sought-after closets of cool-girls of today, with the cast of fashionable characters rocking activism-focused details, unique street style, and CFDA-winning designers.
Proof that the juicy tidbits aren't the only thing the HBO Max series has to offer, there are five Gossip Girl fashion trends I'm predicting will be everywhere come fall. Shop them all below.
Bustle Shop is Bustle's shoppable guide to editor-approved buys in fashion, beauty, wellness, and lifestyle. We may receive a portion of sales if you purchase a product through a link in this article.
Bustle Shop brings you the editor-approved buys we can't get enough of and think you'll adore, too. Best of all, you can shop all of the products above directly on this page without visiting multiple retailers. Simply click on an item to learn more, choose your size or favorite color (if applicable), and then hit "add to cart." When you're done, you can click over to your cart in the top right corner of your screen to purchase all your stellar selects at once. How easy is that?
Questions about shipping, returns, or your order in general? Click here for more information.
Explore more of Bustle Shop (and our fashion, beauty, and lifestyle must-haves) here.