The Gossip Girl Revival Was Filmed At Multiple Iconic NYC Locations
You'll notice some hotspots from the original series.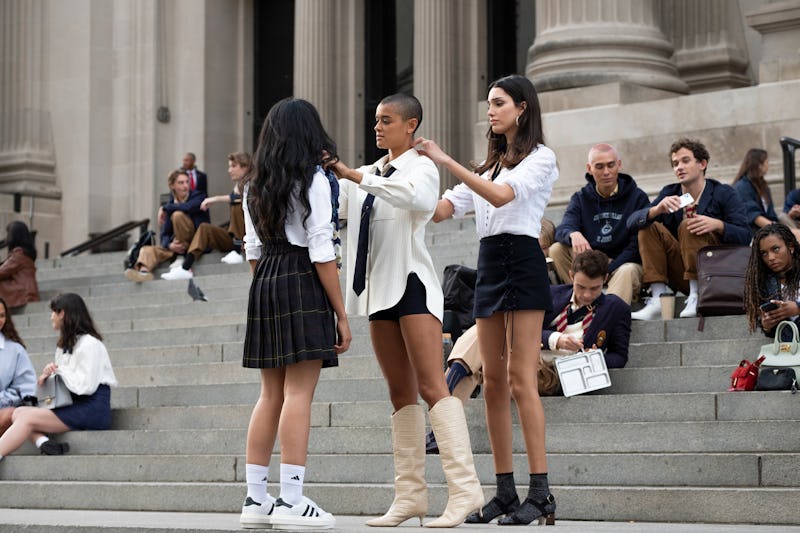 Emily V. Aragones/HBO Max
The CW's original Gossip Girl featured a main cast of Blake Lively, Leighton Meester, Chace Crawford, Penn Badgley, Taylor Momsen, and more. But one of the teen drama's most iconic characters wasn't a person — it was the show's setting: New York City. All of Gossip Girl's romance and drama went down in front of countless luxurious high-society locations in Manhattan, specifically the borough's elite Upper East Side, where the characters attended Constance Billard School for Girls and St. Jude's School for Boys. Superfans of the original series may have already tripped to NYC to see its most memorable filming locations, but now that Season 1 of HBO Max's Gossip Girl reboot is rolling out, there are more sites to see.
The Gossip Girl revival sees a new group of teens attending Constance Billard, aware of the famous group of students who preceded them. It takes place eight years after the original Gossip Girl website went dark and reimagines its social surveillance through social media rather than an anonymous blog. Starring actors include Emily Alyn Lind (Revenge), Eli Brown (Pretty Little Liars: The Perfectionists), Tavi Gevinson (Scream Queens), and Thomas Doherty (High Fidelity), among others. As you watch all of the fresh drama of HBO Max's Gossip Girl unfold, take a look at several NYC locations the show's been filmed at so far.
This article was originally published on