A Guide To Guaiac Wood, 2023's Trendiest Perfume Note
Your new signature scent is here.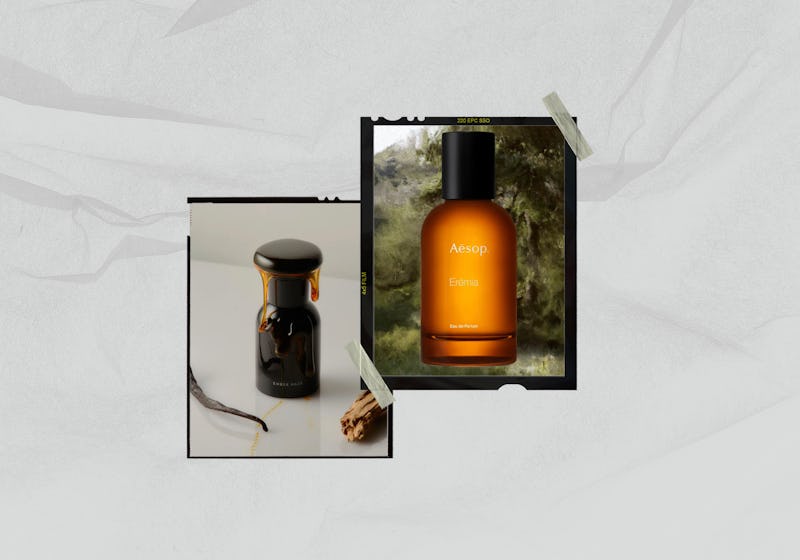 Váhy; Aesop
We may receive a portion of sales if you purchase a product through a link in this article.
Guaiac wood — phonetically pronounced "gwai-ak" — has quickly become one of the buzziest notes in perfumery, present in countless indie fragrances (and a few more popular scents, too).
Native to the northern coast of South America, the minds behind Aesop's cult-loved scents explain that the raw material used in perfumery is "found in resinous guaiacum trees." And while there are some false narratives around the origin of the raw material linking it to the (also very popular) palo santo tree, the perfume note is similar in essence, but actually entirely different.
When used in fine fragrance compositions, Aesop's experts share with Bustle that "guaiac wood has always acted as a nice link between heart notes and base notes." In other words? After a scent's first few spritzes, those initial top notes (such as bergamot or lemon) softly dissipate. Soon after, what remains is the heart of the scent — which often features a bouquet of florals among other notes — along with the base notes, which mostly house woods, ambers, musks, and more.
Guaiac wood often lives somewhere between the heart and base notes of a fragrance, creating some serious dimension and depth for a long-lasting, sensual aroma that lives on skin hours after application. What's more? The Aesop team further describes the scent as "resinous and lightly smokey," and "can add an amber-like depth that balances out and sweetens more powdery notes," which means it's perfect for a more modern nose.
In need of a new signature scent that may not be entirely mainstream? Here are 14 perfumes that feature guaiac wood (one of which just so happens to be Priyanka Chopra Jonas' current go-to).
14 Perfumes With Guaiac Wood
The Aesop team tells Bustle: "Perfumer Barnabé Fillion worked with Aesop to create a fragrance that felt really green and fresh, like a summer's day. Erémia is a Greek term used in the New Testament to denote an isolated natural environment in which one is likely to have intense spiritual experiences. We harnessed this idea through herbaceous notes that play nicely with a woody, earthy undertone for a scent that can transition from day to night."
Priyanka Chopra Jonas' current scent — which she recently revealed on the Call Her Daddy podcast is a part of her character development process as an actor — is a luxe concoction called My Love Has The Colour Of The Night. As for the notes? Guaiac wood is met with black pepper, patchouli, and vetiver for a scent that is lush, earthy, subtly spiced, and tender.
Sunny and bright, Windows Down is brimming with vibrant notes of juicy grapefruit, zesty bergamot, honeyed neroli, delicate florals, and of course, smooth guaiac wood.
A dreamy fragrance inspired by the cottagecore aesthetic, Smiley Face Garden is bursting with romantic notes of earthy guaiac wood, warm amber, bright neroli, and roses in full bloom.
Energized and sparkling, Magnetic Wood features notes of citrusy green mandarin, exotic bergamot, lush iris flowers, and smooth woods.
Reminiscent of the bohemian lifestyle so associated with the '70s, Bo is for the wild and carefree as heady notes of tobacco leaves, incense, vanilla beans, and guaiac wood dance around you.
By The Fireplace recreates those moments spent by an open fire with notes of vanilla, chestnut, and guaiac wood.
Bringing with it a sense of warmth and sensual smokiness, Ember Haze is defined by notes of spiced cardamom, almond bitter, earthy patchouli, and vanilla-drenched guaiac wood.
Seductive in that it's meant to be shared, Layton is sophisticated, lush, and filled with depth. Lavender, geranium, amber, pink pepper, vanilla, woods, and a unique caramelized coffee note melt together to create its notes.
Described as the "deepest and darkest of all le Labo creations," Vetiver 46 prominently features a luxurious vetiver note, with aromas of pepper, guaiac wood, labdanum, and cedar wood supporting it.
Like an afternoon walk through southern magnolia trees and cedars, Green Cedar smells of sweet magnolia flowers, heated cardamom, subtly smokey guaiac wood, and smooth cedar.
A perfume that's main focus is the beauty of guaiac wood, Molecule 01 + Guaiac Wood is a minimalist's dream as a forest of unique woods envelop your senses.
A fragranced representation of that period of time when summer is replaced by monsoon season, Vettiver Mousson is filled with evocative notes of earthy vetiver, heady jasmine, warm ylang ylang, and smokey guaiac wood.
Inspired by the notion of finding one's strength through softness, Pure Noir features rose, papyrus, saffron, and sultry woods.