Hailey Bieber Serves Mermaid Vibes In Daring Unseen Oscars Look
Worn to attend Beyoncé and Jay Z's after party, no less.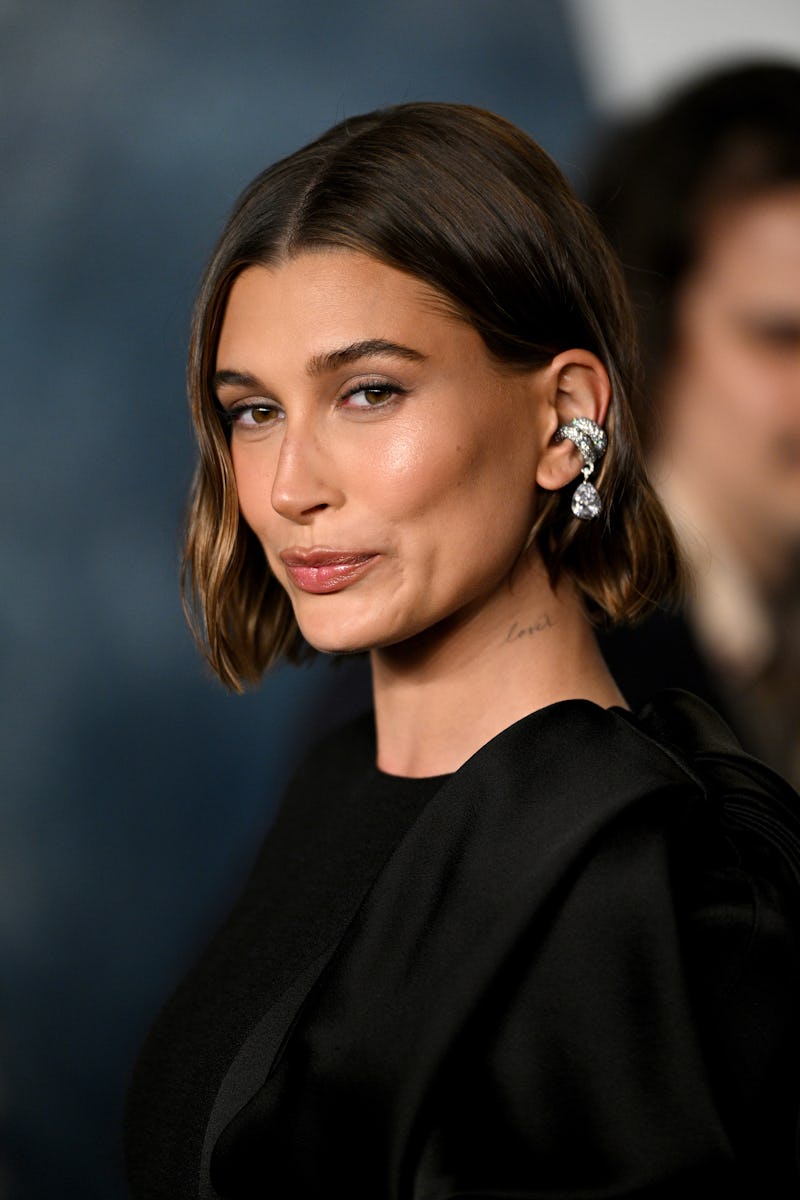 Lionel Hahn/Getty Images Entertainment/Getty Images
The Oscars may feel like it was a lifetime ago at this point (it wasn't) but the fashion finds just keep on coming. Case in point? Hailey Bieber's daring mermaid dress. From fashion month to the Oscars' champagne carpet, the 26-year-old model and Rhode founder has served so many great looks of late that, frankly, it's hard to keep up. Think of the gilet and rosette heels at Moncler or the patent leather mini dress in Milan — pure high fashion goodness.
Her latest look, shared on Instagram on Mar. 14, is a Maison Valentino couture mini ensemble, complete with reflective silver and aquamarine discs reminiscent of mythical fish scales, serving mermaid realness. Held together with a sea green strappy tie-up, the dazzling outfit showed off her the model's back. Paired with black Valentino pumps adorned with a delicate bow, Bieber accessorised the outfit with chunky silver hoops (and a major diamond) and a sultry, smokey eye.
Bieber wore the same pair of earrings by New York-based jeweller Ana Khouri to the Vanity Fair Oscars party, too. The entire outfit was styled by Karla Welch, the model's go-to stylist, with Bryce Scarlett on hair, and Mary Phillips on makeup.
According to several fan pages, Bieber wore the mermaid look to attend Beyoncé and Jay Z's Oscars (after) after-party. Earlier in the evening, the model arrived at the Vanity Fair Oscars after-party in an elegant black Yves Saint Laurent gown that highlighted her newly styled power bob haircut.