10 Hip Tattoo Ideas That'll Inspire Your Next Trip To The Parlor
From barely there to side-encompassing works.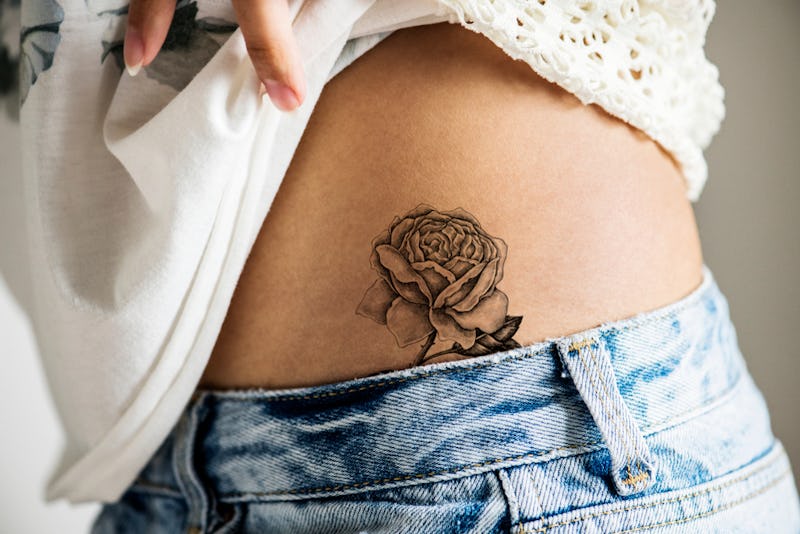 Rawpixel.com/Shutterstock
One of the most obvious ways to add a touch of art to your skin is with a tattoo. Essentially, every square centimeter of your body can serve as a canvas — so you have plenty of space to work with when planning where to put some ink. Not sure where to start? Hip tattoos can be a chic and discrete spot for pretty much any design you have in mind.
Related: Everything To Know About Getting A Finger Tattoo
While you should brace yourself for one of the more potentially painful ink experiences (depending on your pain threshold), hip tattoos make up for it by being incredibly versatile. They're a great placement option for when you want something you can conceal but that you can also show a peak of with, say, a high-slit dress. Plus, with summer approaching, it's the perfect ink spot to showcase while lounging poolside.
Regardless of what type of tattoo you're looking for, there are endless options for hip tattoos — you can get everything from a delicate micro-tattoo that is practically imperceptible to a statement piece that covers the side length of your body.
To help you figure out exactly what you want (because, TBH, you can weed through ink designs for hours upon hours on end), here are 10 cool hip tattoo ideas from Instagram to inspire your next trip to the tattoo parlor.