I Tried Olaplex's First-Ever Dry Shampoo — & Now I'm Obsessed
Finally, a dry shampoo that actually works.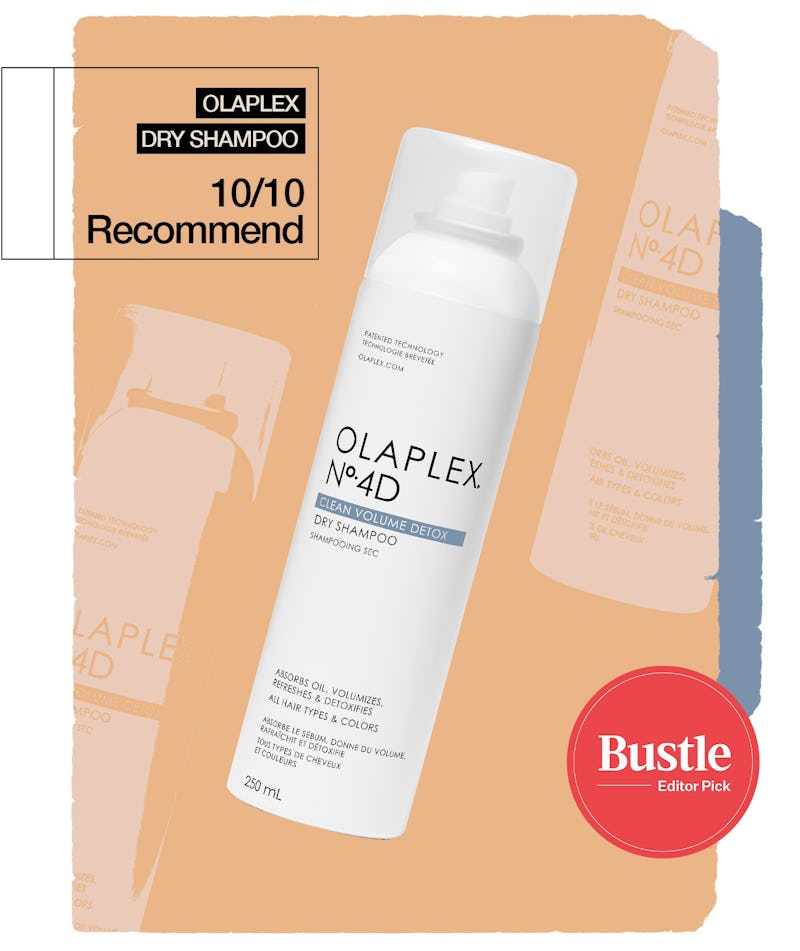 10/10 Recommend
We may receive a portion of sales if you purchase a product through a link in this article.
There's a part of me that truly believes that had Marilyn Monroe not been a, nay, the platinum blonde, the lyrics of "Diamonds Are A Girl's Best Friend" would have extolled the virtues of dry shampoo rather than rocks. (Plot of Gentlemen Prefer Blondes not withstanding.) But with her iconic (and I use that word sparingly) bleached hair almost certainly wouldn't remember the power, and therefore value, of a good dry shampoo. (By then her brunette days would have been long behind her, right?)
Either way, it was a debate I would often find myself before a big night out in my early 20s. Two of my best mates (both blondes) swore by dry shampoo for a pre-party zhuzh. My sometimes brunette, sometimes copper, mainly in-between mane meant prep to hit the town had to start hours in advance if I wanted clean hair. To this day it still takes me an inordinate amount of time to wash and dry my hair. I can't help it. But boy did I try to embrace dry shampoo! I was certain if only I mastered the art of it, dry shampoo would unlock a new level of "getting ready" and rid me of that low-level anxiety that followed me throughout the day or night when my hair felt like it looked on the wrong side of clean. Which was often. But no matter the methods and varieties of dry shampoo (aerosol and non-aerosol included) I tried, I mostly ended up looking like a bag of flour had fallen on my head and, ultimately, made me late to the party, figuratively and literally. But this week Olaplex launched its first-ever dry shampoo and I can categorically say has changed the way I feel about dry shampoo forever. Allow me to explain.
Fast Facts
Price: £28
Best For: Anyone who has tried and hated the dusty look of dry shampoos before.
Rating: 5/5
What I Love: The lightness! Not only is there no white residue in sight, but it leaves my hair actually feeling refreshed, not just masking the grease.
What I Don't Love: There isn't a pocket-friendly version – yet.
Olaplex Nº.4D Clean Volume Detox Dry Shampoo
Olaplex pretty much made bond building a haircare category. But up till now, their collection focused on helping improve the quality of hair. Well, this is their first dry shampoo and as such targets the scalp. And we all know a healthy scalp is the key to healthy hair by now. Despite the convoluted name – Olaplex Nº.4D Clean Volume Detox Dry Shampoo – it really does what it says on the tin. "I recommend it because it is weightless, without any build-up and does not dull the hair," says the brand's newest Global Styling Ambassador, Jimmy Paul, who calls the dry shampoo a "must-have."
"And it has the bond building technology that Olaplex is famous for to relink the damaged hair bonds for stronger, healthier hair," says Paul. Fellow Global Styling Ambassador Laurent Philippon, who has been involved with testing and developing of the dry shampoo, adds: "It's also totally transparent so it adapts to all hair colours leaving the hair, without a 'dusty' effect while being light, shiny, and healthy." Basically, the dream.
As for the active ingredients: rambutan seed extract, a sustainably sourced antioxidant, neutralises odour-causing impurities at the scalp and soothe at the same time. For oil absorption, ultra-fine micro starch which is sourced from rice, is the real hero. Combined with Olaplex's patented bond building technology, which adds structure, strength, and stability to the bonds which literally make up hair strands, it's hard to argue with the cleaning, detoxing, and strengthening blend.
How To Use Olaplex Nº.4D Clean Volume Detox Dry Shampoo
The instructions are simple: Shake well before using, separate hair into sections, and spray six to ten inches away from the hair, directly onto roots. Wait for 30 seconds before massaging into scalp. Brush out, and go. Letting the product sit and do it's thing before working into your scalp is key.
My Experience With Olaplex Nº.4D Clean Volume Detox Dry Shampoo
As established, my relationship with dry shampoo has been tense at best and deeply disappointing at worst. Even when tinted or colour dry shampoos became "a thing" they never quite matched my hair and often left more of a residue than even the dreaded dusty look. What's more, my hair never felt clean, even if at times it felt like it looked a little less greasy. Not so with Olapex's dry shampoo, which is ridiculously light, to the point where it almost felt like it wouldn't achieve anything upon first application. But much to my delight it actually felt clean, or as clean as is possible without actually washing my hair. Best of all: no residue to speak of, even on my dark roots. There is that often used phrase about tinted moisturises or foundations that make your skin better as you wear it: "feels like my skin, but better." Well, this feels like my hair, but cleansed.
While I wouldn't personally use it for volume (not a department my hair is lacking in, luckily) I can see why Jimmy Paul and Laurent Philippon swear by it. It is light and buildable, and possibly best of all, it doesn't really smell of anything. Gone is the powdery and yet somehow greasy smell that lingers from other dry shampoos. The Olaplex Nº.4D Clean Volume Detox Dry Shampoo just smells of clean, really. Not a detergent pretending to be a fresh breeze, but a fresh breeze itself. A joy, and a triumph.
The Final Verdict
There is little 20-year-old me wouldn't have done for a dry shampoo that didn't leave me with the dusty, flour halo effect. I'm glad I can finally bask in that glory. Yes, it is expensive, but Olaplex has completely changed the way I feel about dry shampoo.