How To Rock The '90s-Style Lip Liner Trend, According To Pros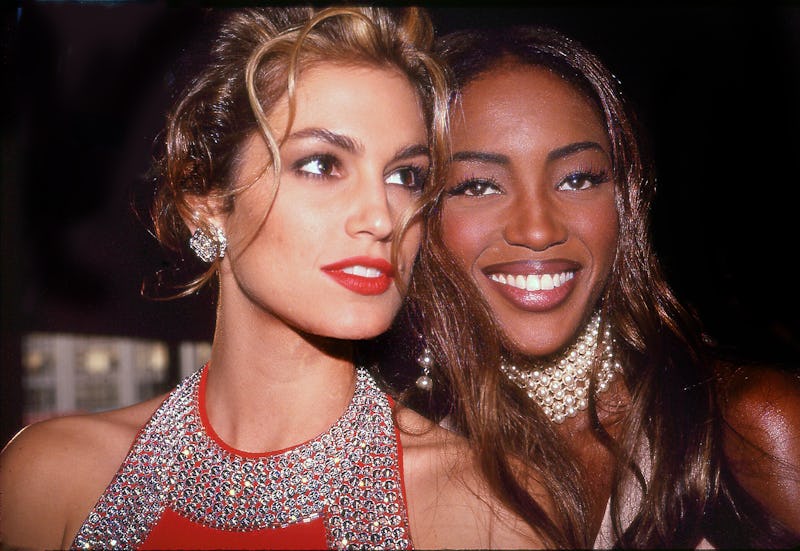 Rose Hartman/Archive Photos/Getty Images
It's redundant to say the '90s are back when they have been sneaking into people's closets and makeup bags for quite some time now — sometimes you have to wonder if they ever left to begin with. Regardless, it seems like every other week a bygone trend has a major resurgence (like claw clips, for example). Now, it's time to learn how to apply lip liner, the latest '90s resurgence.
Celebrity makeup artist Erin Parsons isn't surprised about the beauty trend revival. "History always repeats itself," she tells Bustle. According to her, the M.A.C. Cosmetics Lip Pencil in the spice shade was the first to change the game. Throughout the '90s, the most iconic supermodels — think Cindy Crawford and Naomi Campbell — rocked the signature chestnut-colored outline around their pouts.
After its glorious heyday, lip liner lost steam as all sorts of lipsticks, sans outline, dominated the makeup world. Once Kylie Cosmetics Lip Kits entered the shelves in 2015, the lining trend has slowly trickled back. Now, top makeup artists believe it's officially a 2021 trend, and celebs like Kim Kardashian, Megan Thee Stallion, and Lizzo have all recently worn lip liner looks.
But outlining your lips is not for the faint of heart. Replicating the '90s style requires some application skills that lipstick devotees may not have. For pro tips on how to apply lip liner, Bustle spoke with Parsons and makeup artist AJ Crimson, who reveal the four key tricks to wearing the trend.
We only include products that have been independently selected by Bustle's editorial team. However, we may receive a portion of sales if you purchase a product through a link in this article.
1. Prep Your Pout
The application process will literally go smoother if you're working with an even canvas. Because lip liner has such a small tip, it won't glide over patches of flaky skin that easily. The solution? Slough off any buildup first with a lip scrub.
"Exfoliate with a toothbrush using sugar and honey for a DIY scrub," says Crimson. After that, it helps to moisturize before moving onto your lip liner. "Be sure to lightly apply lip balm, allow it to penetrate, and pat off any excess," he says.
2. Pair Complimentary Lip Colors
The idea of wearing a dark liner can be daunting, but Crimson assures it doesn't have to be complicated. "Choose a deeper liner shade in the same family as the lighter lipstick shade," he suggests.
If the lipstick is a light beige, Crimson recommends using a brown or chocolate-colored lip liner. With reds, use a brick or Bordeaux pencil, and use deep purples for plum and mauve lipsticks.
Then for the actual technique: "After applying the liner, blur and blend towards the center using a lip brush," says Parsons. "Then add your lipstick directly in the center." Once that's applied, she recommends dabbing outwards so it looks "soft and less harsh."
3. Choose Your Application Method
There are actually three different ways to wear lip liner. Parsons is an avid fan of the liner-as-lipstick look, which involves filling in your full pout with a pencil. "I like to go all the way to the edge and [add] a tiny bit over to make your lips look fuller and enhance the shape," she tells Bustle.
You can also use a lip pencil to make your lipstick of choice last longer. "Just follow your natural lip line using the side of the pencil and glide it along the lip," says Crimson. This way, before applying your lipstick, you'll get "more of a blend-able effect and less of a harsh line," he says.
Crimson also recommends an application method that's more reminiscent of the aughts: Line the lips and then blend inward with a clear gloss.
4. Keep Your Eye Makeup Simple
The only thing more difficult than pairing your lipstick and lip liner shades is deciding what to do with the rest of your face now that you've made this bold choice. Both Parsons and Crimson advise keeping it natural.
"The rest of your makeup can be simple — go with lighter colors of eyeshadow and deeper crease shades," says Crimson. "I like contouring the eyes in neutral and soft browns." On the other hand, Parsons notes that a neutral liner-lipstick combo can really work with anything. Her go-to? Lots of mascara.