M.A.C. Is Reviving Its Most Iconic Lip Product From The Early 2000s
Meet the new and improved Squirt Balm.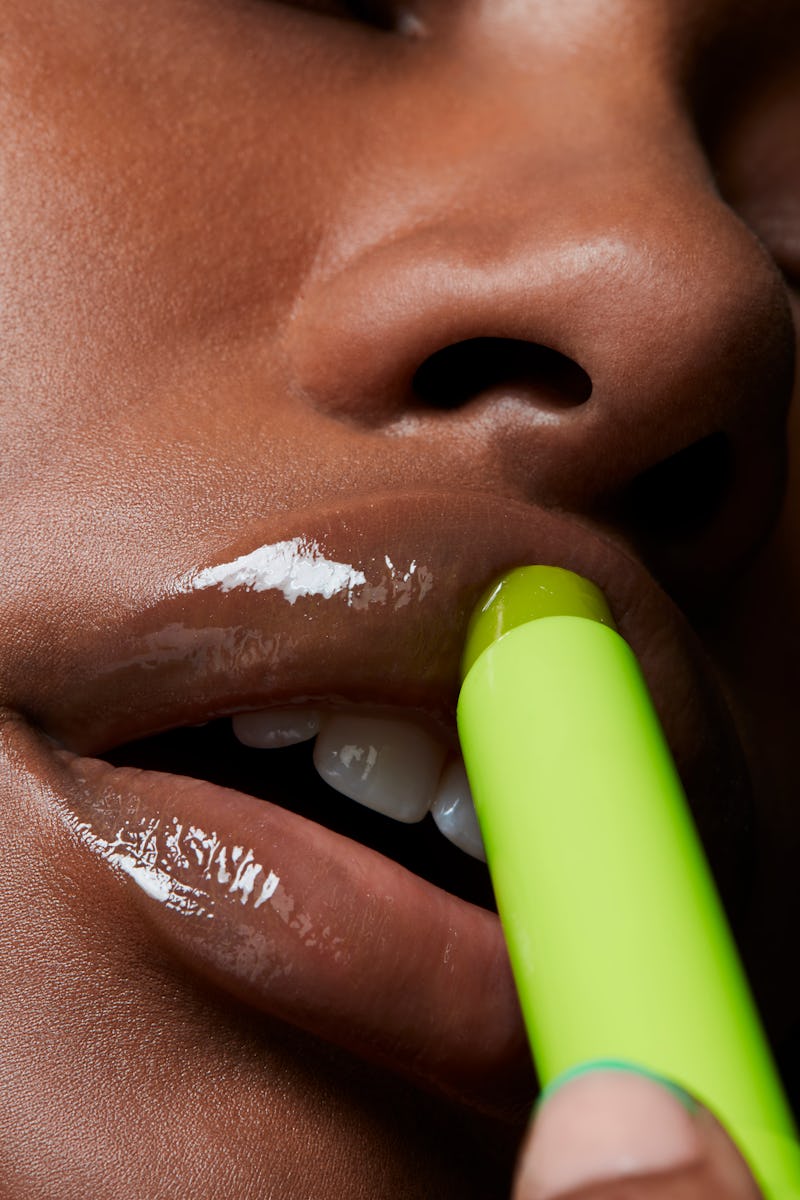 M.A.C.
Back in the early 2000s, there was one lip gloss that ruled the throngs of teens walking through malls. It was the iconic, lime green tube of the M.A.C Squirt Balm. And, now, the throwback product has been reimagined and re-released.
The lip product was first released as a Lipglass, a bestseller from the brand, in 2000. It quickly became a cult favorite — mainly due to the color-adapting powers of the gloss. Though it appears as Skittles-green as its packaging, the shade adapts upon application to neutralize the lip tone of the person wearing it. The end result? A universally flattering caramel-honey sheen that works perfectly as an everyday hue.
For the product's resurrection, M.A.C. decided to stick to the green-to-honey feature that made it a favorite to begin with. "M.A.C. is known for its breadth of shades, but the beauty of Squirt [Balm] is it looks green in the stick and will attract those daring to be different," Eva Yean, senior vice president of global product development at M.A.C., tells Bustle. "It's an OG fan favorite that we get so many requests to bring back."
While the Squirt Balm is still recognizable to those who had it in their middle school backpack at all times, it's been revamped into a balm rather than a Lipglass. After applying it, though, it gives off a lip gloss finish — so you get the winning texture-aesthetic combo of hydration and high-impact shine. This is thanks to the new formula, which is a solid product that liquefies (without being sticky, BTW) as it makes contact with your pout.
Another upgrade? It's got a plumping effect. The new Squirt Balm contains ginger root extract, capsicum, and menthol crystal, an ingredient trio that brings a tingling sensation and touch of fullness to your lips. Though products that plump are often associated with dryness and irritation, Squirt's formula has moisturizing shea butter, coconut oil, and avocado oil to offset any adverse effects and keep your pout healthy and voluptuous.
One thing to note: The relaunch is a limited release of only 1000 units... so, you know, ready your carts. The balm is part of M.A.C.'s Underground series which quickly brings must-have products from the development studio to consumers in limited quantities a few times a year. "Once it's sold out, it's gone," Yean says explaining "this is our way of rewarding our loyal fans with something special that no one else can get."
Squirt will be available for pre-order on April 21st.