Meghan Markle's Rothy's Flats Are Worth The Hype
Stylish, comfortable, eco-friendly, I can go on.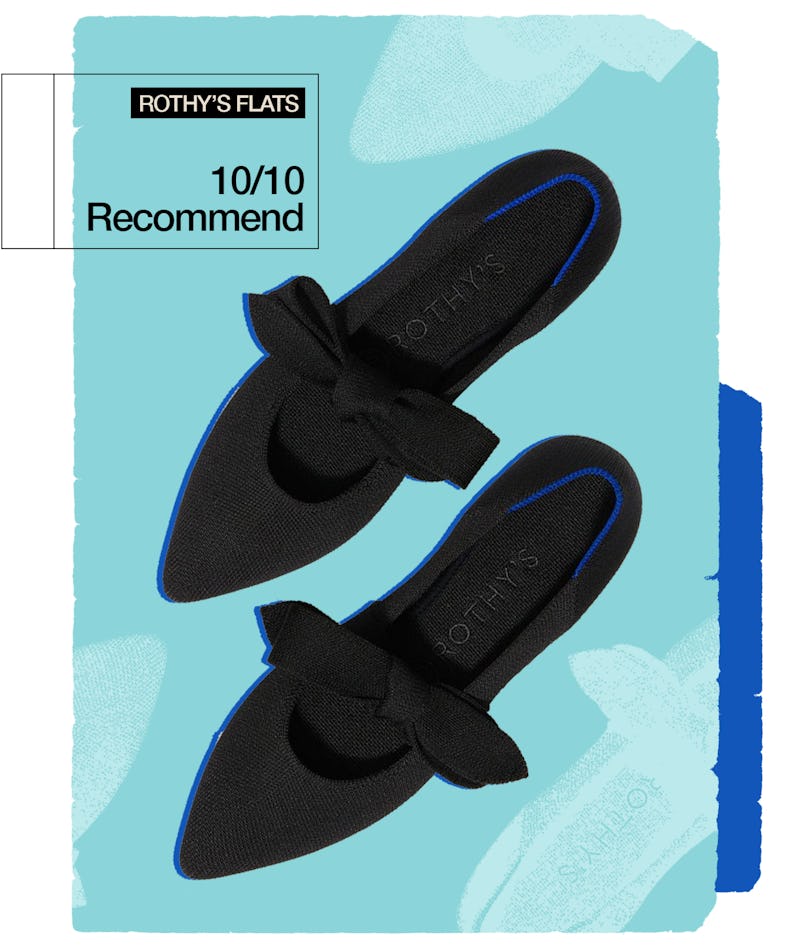 Despite the fact that my apartment is overrun with shoes of the high heel variety, I find it challenging to shop for flats. They're either so utilitarian that they look like orthopedic shoes, or so painful that I might as well be wearing stilettos. As someone who walks everywhere in New York City — from office meetings to market appointments to the subway and back — neither option really works for me. I need a pair comfy enough to help me survive a day of walking on gravel, but chic enough not to inspire side-eyes when I step on the elevator. Enter: Meghan Markle's Rothy's flats. I noticed that — for all her monochromatic outfits, halter gowns, and viral leggings — Markle's array of flats is where she really shines.
Her collection is practically vision board material: There she is walking through Cape Town, arm in arm with Prince Harry, wearing the perfect pointy nude pair. Or catching the Invictus games in Toronto in leather ones with a delicate bow on the toe. By the time she started regularly stepping out in Rothy's pointy toe flats, I couldn't move fast enough to try the brand for myself.
Like most of Markle's flats, Rothy's shoes look comfortable and still appear polished. They maintain their shape, putting my nude shoes — now stretched on both sides — to shame. They're also famously eco-friendly, knit from the brand's signature thread spun from plastic water bottles. I decided to try a variation on Markle's signature pair (the Point), going for the Mary Jane, a pointy toe style with a bow across the center for a playful touch.
Here's how Rothy's Mary Janes took my flat shoe game to new, royal heights.
First Up: The Basics
Flats come in every style and fit imaginable, but Rothy's iteration really stands out from the crowd. Thanks to a pointy toe and an understated bow tie, the Mary Janes look as elevated as pumps. They are impossibly comfortable with an algae-based foam that makes each step feel like you're walking on a cloud. I've walked in them all day around New York City, and they are as cozy as a pair of slippers.
The materials are eco-friendly and made to last: knit uppers spun from plastic bottles, the aforementioned algae-based foam, and insoles made partially from recycled rubber. They're even washable — just remember to pop out the insoles first.
Why I'm Obsessed
When it comes to flats, comfort is everything, but so is structure. Rothy's strikes the perfect balance between the two: They don't stretch, so won't lose shape like other pairs. Rothy's has zero break-in period — and you don't have to worry about the fit changing over time. (That said, I recommend buying them true to size or a half size up, since they won't stretch even after multiple wears — that's a good thing!)
The shoe's aesthetic is just as impressive. My Mary Jane flats come in colors like navy and mustard yellow with contrasting printed bows. There's a dotted cream pair with a striped bow I've been dreaming about, and another green plaid style I need to have for the holidays.
TL;DR
If you, too, are tired of your ballet flats falling apart at the seams, I'd highly recommend investing in some Rothy's. They are just as comfortable — with insoles and algae-based foam — but they exceed expectations when it comes to structure and fit. They're built to last; I'm at the one-year mark with my first pair and they're still going strong.
Add to that the eco-friendly materials (isn't it nice to feel good about your purchase?), pointy toe, knit material, and bow straps, and you'll field just as many compliments as if you were wearing heels. And they have the stamp of approval from Meghan Markle, the ultimate shoe influencer. Is there any better endorsement than that?
We only include products that have been independently selected by Bustle's editorial team. However, we may receive a portion of sales if you purchase a product through a link in this article.