Here's Why Everyone Dressed As A Cat For The 2023 Met Gala
Her name is Choupette Lagerfeld.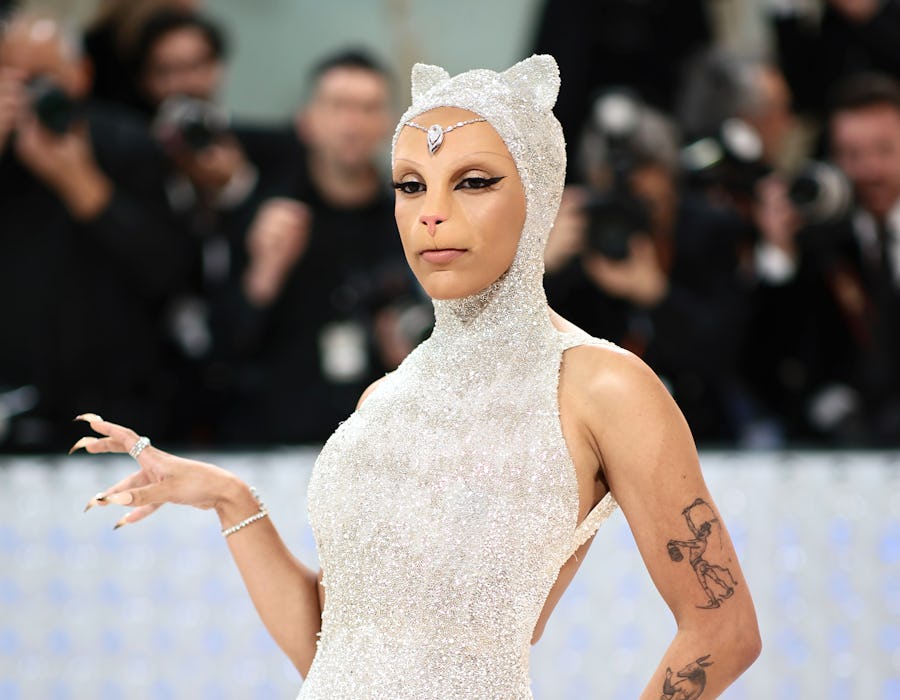 Dimitrios Kambouris/Getty Images Entertainment/Getty Images
If you saw any updates (read: memes) from the 2023 Met Gala, themed "Karl Lagerfeld: A Line of Beauty," you already know that several notable attendees dressed up as cats. It wasn't just coincidence, however. The choice was 100% on-brand for the night — let me explain why.
Much like Swifties and Olivia Benson, Taylor Swift's $97M cat, there's one feline that all fashion girlies know and love: Choupette Lagerfeld. The blue-eyed white Burmese kitty is the beloved offspring of the late designer. With over 213,000 Instagram followers, Lagerfeld's fluffy pet has long been an icon, often seen cuddled up with the designer until his passing in 2019.
The pampered feline's legacy is so strong, in fact, that she once landed in the pages of Vogue, clutched by Naomi Campbell as part of the May 2023 cover story. Kim Kardashian even recently posted a pic with her.
Choupette inspired a limited edition makeup collab with Shu Uemura and the campaign was shot by Lagerfeld himself. The cat also served as Lagerfeld's longtime muse — he equipped his eponymous label's products with her likeness (Choupette-printed bag, anyone?) and even released styles in the shade "Choupette blue" under Chanel.
Needless to say, Choupette was the light of Lagerfeld's life — so much so, that he even named Choupette in his will, leaving her with a sizable inheritance. It was only natural that at the 2023 Met Gala, some attendees honored the designer's kin. Among them was Doja Cat, who showed up in full feline prosthetics.
Jared Leto, on the other hand, walked the famed steps in a furry catsuit — reimagining the fashion staple in the most literal sense. Some were more subtle with their approach and carried cat-shaped accouterments instead, like Janelle Monáe and Chloe Fineman.
Choupette, BTW, was invited to walk the Met Gala's white carpet, but she declined per her Instagram account. As you'll see ahead, she was well-represented. Read on to see all the stars who honored the famed cat. Trust me, their looks are purrfect.