Why Your Body Care Routine Needs A Retinol
The star ingredient isn't just for your face.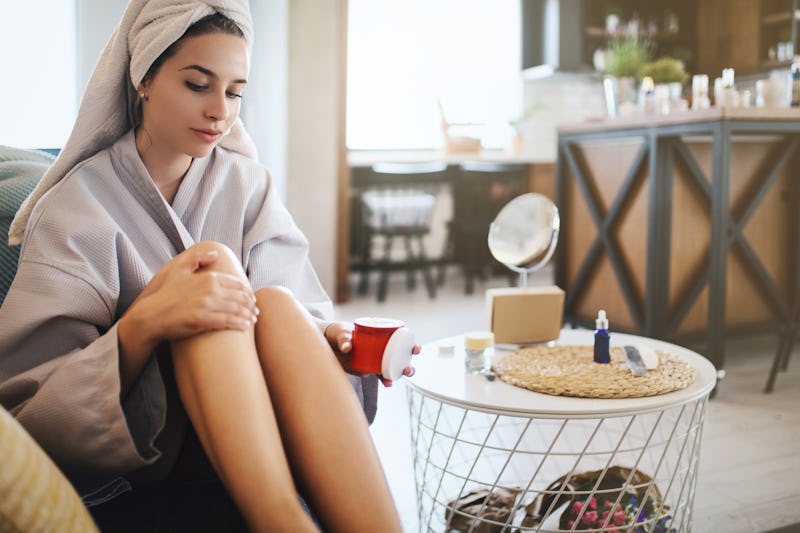 Getty Images/ Aja Koska
Retinol is a beloved skin care ingredient because of its powerhouse reparative qualities. But it's not just confined to use on your face: Retinol body lotions are treatments that deliver the same transformative effects below your neck.
The world of body retinols is similar to the one you know and love for your face care regimen: You apply topically to reap a long list of skin-boosting benefits. It fights acne (but, of course, your chest, arm, leg, and butt pimples), stimulates collagen, smooths fine lines, and helps even out any pigmentation. And there are both prescription-strength and over-the-counter options to choose from.
You might be thinking, "Well, why don't I just use the retinol products in my skin care routine for my body?" According to Dr. Mariano Busso, board-certified dermatologist and founder of Busso Dermatology, you're more likely to experience intense irritation, especially in areas like the chest — which is why you should shop for body care-specific retinol formulas. That said, there's still a chance of a skin reaction (it is retinol, after all).
"If irritation occurs, seen as peeling or redness of the area, stop the treatment and apply moisturizers until it subsides," he tells Bustle. Once your skin has calmed down, he says you can dilute your retinol product by mixing it with a moisturizer to avoid further issues. Otherwise, remember to apply the product at night, avoid direct sun exposure (since retinol can make your skin extra sensitive to UV rays), and use lots and lots of SPF.
As far as prescription-strength options go, Busso says Tazorac was the first FDA-approved retinol for bodily use, but it is usually prescribed for psoriasis and other similar conditions. Then, in 2019 the FDA approved the first new RX retinol in over 20 years — Aklief (triafatorene) 0.005% cream. Aklief is a vitamin A derivative in the retinoid family (much like Tretinoin, a popular prescription retinoid) "but it is the most potent of them, being effective at the low concentration of 0.005%," Busso explains. (As a refresher, "retinoid" is a blanket term for all vitamin A derivatives and includes retinol.) And, like other retinoids, it brings you the benefits of fighting acne, sun damage, and signs of aging — but it's less irritating than the other Rx options, he says.
The appeal of Aklief is it's a true remedy for body pimple woes, which are a common skin concern. "Aklief fulfills a space that was much needed: a treatment that prevents the development of acne lesions on the body," says Busso.
Just to reiterate, like other retinoids, Aklief will require a prescription from your dermatologist. But if you're looking to upgrade your body care routine, these are the retinol body lotions to stock up on.
We only include products that have been independently selected by Bustle's editorial team. However, we may receive a portion of sales if you purchase a product through a link in this article.
Retinol Body Lotions
The Sensitive Skin-Friendly Option
The Paula's Choice body lotion is the perfect combo of nourishment and treatment. It's gentle, fragrance-free, and uses retinol to smooth out wrinkles and fine lines, vitamin C to amplify its hyperpigmentation battling effects, and vitamin E for ultimate hydration.
The Budget Buy
Retinol products can get pricey very quickly, but Rosen Apothecary's lotion rings in under $20, which just sweetens the skin-boosting deal. The star ingredient is retinol (of course) but it's also packed with caffeine for an extra-firming boost along with pure argan oil for moisture.
The Splurge
Chantecaille's retinol lotion may be a splurge — but, in addition to the rejuvenating properties of the vitamin A derivative, it's also packed with collagen to amp up how supple your skin will feel after regular use.
The Multitasker
This is a true treatment for the skin beneath your neck: It has practically every nourishing nutrient your complexion needs to glow and thrive, including retinol, vitamin C, omegas 3, 6, and 9, peptides, and hyaluronic acid (whew). Basically, it's a multivitamin in topical form.
The Scented Option
If you like pina coladas... and hydrating your skin, this luxe body cream — which is spiked with retinol and marine collagen to soften your skin — smells like one. The good news? The tropical fragrance comes from pineapple and papaya extracts, which are also working to brighten your appendages.
An Ultra-Hydrating Body Butter
Yes, you can get your retinol in whipped body butter form with this one from Josie Maran. The formula is heavy on argan oil and the creamy texture melts right into your limbs for extra moisture.
The Skin Protector
For a solid dose of retinol, antioxidants, and moisture, this one's your best bet. Your skin gets to soak in aloe vera, hyaluronic acid, and protective vitamins (via botanical extracts) with every application.
Studies referenced:
Cosio, T. (2021). Trifarotene: A Current Review and Perspectives in Dermatology. Biomedicines. https://www.ncbi.nlm.nih.gov/pmc/articles/PMC7996910/
Huang, T-H. (2018). Cosmetic and Therapeutic Applications of Fish Oil's Fatty Acids on the Skin. Marine drugs. https://www.ncbi.nlm.nih.gov/pmc/articles/PMC6117694/
Mukherjee, S. (2006). Retinoids in the Treatment of Skin Aging: An Overview of Clinical Efficacy and Safety. Clinical Interventions in Aging. https://www.ncbi.nlm.nih.gov/pmc/articles/PMC2699641/
Tolleson, W. (2005). Photodecomposition and Phototoxicity of Natural Retinoids. International Journal of Environmental Research and Public Health. https://www.ncbi.nlm.nih.gov/pmc/articles/PMC3814709/
Experts:
Dr. Mariano Busso, board certified dermatologist and founder of Busso Dermatology