3 DIY Nail Art Hacks, Straight From Gigi Hadid's Nail Artist
Mei Kawajiri has some pretty brilliant mani tips.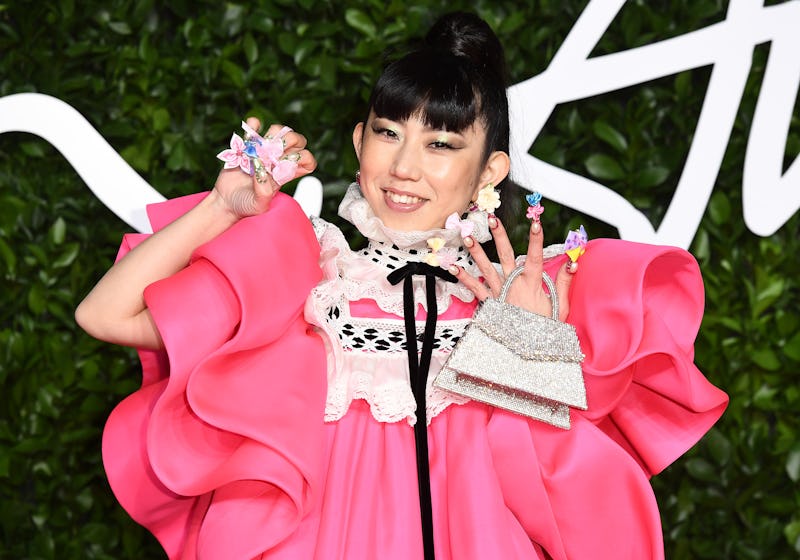 Getty Images/ Jeff Spicer/BFC / Contributor
I don't mean to brag, but I became a true expert at giving myself manicures over the pandemic. I do the whole shebang: file, buff, handle the cuticles, and paint (in the lines, mind you). But I'm the first to admit that doing my own nail art at home is a feat I've yet to conquer.
For insider tips on the DIY beauty task, I spoke with the absolute master of the subject: Mei Kawajiri, aka Nails by Mei. Kawajiri is the artist behind the swoon-worthy tips of A-listers like Dua Lipa, Gigi Hadid, and Marc Jacobs (among plenty of others). A scroll through her Instagram will delight your eyes with 3D nail art, hand-drawn anime characters, and countless vibrantly colored designs that'll make you want to book a salon appointment, stat.
The nail pro — who recently collaborated with stick-on brand ManiMe for a Pride-themed collection — actually has a relaxed mindset about manicure art. But she still recommends abiding by the home-mani basics, like using a base and a top coat and cleaning up your cuticles. "I don't cut too much [of the cuticle]," Kawajiri tells Bustle over Zoom. "I just push it back." If you want your mani to last as long as possible — whether you're using polish or stickers — she recommends using acetone on your nails before applying anything, because the natural oil on your nail beds will prevent your product from sticking as well as it should.
As for the designs? Kawajiri says that there's not just one approach. "Unless you want to go to a nail salon for perfect, sharp lines, it's very hard. You can use a stencil by yourself, but, otherwise, you can be more creative and fun and just enjoy using many different materials." Below, she shares the three different nail art tips every home manicurist should try out.
How To Do Nail Art At Home
1. Embrace The Imperfect
Kawajiri is all about messy designs. "Depending on what kind of nail you like, this is a personal thing," she tells Bustle. "But my boyfriend just painted my nails, and they're not perfect — but I like it. I think nail art doesn't have to be perfect or have straight lines. Nail art is more casual, you know, like painting on a paper." If your cloud drawing isn't the shape you wanted it to be, that's OK.
2. Draw With A Sharpie
One nail art hack to consider? Using a Sharpie to draw with. "You can use any kind of tool — sometimes I use a Sharpie marker," says Kawajiri. "I wanted to do graffiti nail art so I paint one coat of gel, then wipe with alcohol to make it not sticky, and then paint with a marker. Then I paint with a gel top coat and seal it all in." Just make sure to use a base coat so the pen doesn't stain your nails.
3. Use Nail Stickers
Even nail decals get Kawajiri's stamp of approval. "You can put something like a little sticker or cut a little picture and apply it, then put on a top coat," she says. IDK about you, but I'm inspired to become my own nail artiste.